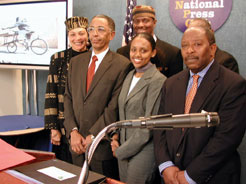 WASHINGTON (FinalCall.com) – The ongoing high profile condemnations in this country of the Sudanese government are "counterproductive and inaccurate," according to a group of Black media, human rights and community leaders who have just returned from that country. "I want to echo the words of the feeling that I got both in the capital and when we traveled to Darfur, of optimism about the future there in Sudan," Michael Davis, executive director of the Universal Human Rights Network, told reporters at the National Press Club Jan. 25.
"Not only has the government recently signed the peace accord with the North-South rebels, but there's been a new peace accord with the opposition out of Cairo. So I think that we have a unique opportunity to bring peace to Darfur," continued Mr. Davis, the former western regional director Amnesty International USA.
On the question of "genocide" which the U.S. Congress and State Department have both accused the Khartoum government of committing in Darfur, delegation members were clear–and their findings were later corroborated separately by a report submitted Jan. 27 to United Nations Secretary-General Kofi Annan by a five-member independent commission he sent there to investigate violations of human rights in Darfur.
"From my own eyes, I think that while something is going on there, and there is certainly a loss of life which is regrettable to all of us, I don't know that it reaches the level of what is commonly called genocide," said Mr. Davis, himself a former U.S. Delegate to the UN Human Rights Commission, in response to a question from The Final Call.
The UN commission on Sudan concluded Jan. 27 that systematic, government-backed violence in the western region of Darfur was not genocide, but that there was evidence of crimes against humanity with an ethnic dimension, according to The Los Angeles Times which quoted diplomats familiar with the report. The official report is not expected to be made public until the Sudanese government has a chance to review it, and until it has been presented to the Security Council sometime in early February.
The UN report documents violations of international human rights law, incidents of war crimes by militia and the rebels fighting them, and names individuals who may have acted with a "genocidal intention." But there was not sufficient evidence to indicate that Khartoum had a state policy intended to exterminate a particular racial or ethnic group, according to the newspaper.
"I went on this delegation, probably as objective as you can enter a situation like this," said Rahiel Tesfamariam, editor of The Washington Informer. Her perspective is unique. Members of her own family were given refuge in Sudan during the conflict between Ethiopia and Eritrea.
"What I told myself was that I would go into it blindly, and try to piece everything together, based on what I saw with my own eyes," she said. "Everyone we spoke to told us over and over again that what the world has tried to do, the global community, is make this a political issue, when first and foremost, it is a humanitarian issue.
"Oftentimes, the U.S. tries to permeate its own issue of division onto African cultures. But they told us repeatedly, 'There is no racism here. We don't have a concept of racism.' (Are) there differences of complexion and features? No one will deny that. But are they torn in the sense that they don't have that love for their fellow Sudanese? I don't believe that's true," Ms. Tesfamariam continued.
At the same time, Sudan completed its own inquiry on allegations of genocide and human rights abuse, with results that, on the surface, are similar to the UN commission's. The Sudanese inquiry concluded that massive human rights violations by the military, rebel groups and warring tribes occurred, but that the violence did not constitute genocide. The report draws a comparison with genocides in Cambodia, Rwanda and Bosnia. It also says that unlike those mass exterminations, there was no Sudanese state policy with the goal of eradicating a particular group. They found evidence that government forces had bombed areas hosting armed opposition, and had killed civilians.
The GPAC delegation said it wants to support peace. "We are countersigning the peace accords and are seeking to empower Black Americans in new ventures and networks with Sudan through knowledge and information," said Hodari Abdul-Ali, leader of the government-sponsored delegation of Black leaders and executive director of the Give Peace A Chance Coalition (GPAC) in a statement.
"If African Americans and their leadership took 'pro-Africa' rather than 'no-to-Africa' positions, more in our communities would be providing guidance toward better trade, social and business networks for Americans and African Americans with Africa," said Mr. Abdul-Ali. "While we were in Sudan, an official Sudanese committee of inquiry determined that serious human rights abuses were committed in Darfur, but rejected claims of ethnic cleansing and systematic rape, to which we concur," the delegation said in its official summary.
"Serious human rights violations took place in the three states of Darfur, in which all parties to the conflict were involved to varying degrees, thus leading to human suffering of the people, causing internal displacements and people taking refuge throughout the region. But there was not systematic and widespread abuse that would constitute a crime against humanity," the delegation's official summary continued.
"I tried my best in terms of this genocide–or this alleged genocide–to ask where might I find mass graves? Where might I find huge skeletal remains, as we saw in Rwanda, where more than a million people were killed in virtually hand-to-hand combat?" Mr. Davis asked rhetorically.
"I have to say, and that's not to say they don't exist, but in my trip to the Sudan and down in Darfur, I did not hear of those kinds of instances. And that is not to reduce the tragedy of what has gone on in Sudan. There is an enormous humanitarian crisis in Darfur. I believe that, as Americans, and particularly as African Americans, we need to reach and we need to work with the government who is now showing signs that their attention is on Darfur, and encourage that they resolve that problem," Mr. Davis said.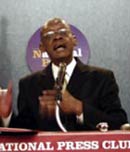 The 12-member delegation consisted of eight men and four women, and visited the country between Jan. 12-21. Their visit came on the heels of the signing of a peace treaty between the Sudanese government and the southern Sudan People's Liberation Movement (SPLM) after 20 years of civil war.
In addition to Messrs. Davis and Abdul-Ali, and Ms. Tesfamariam, the delegation members included: Samuel Bilal, reporter for the Muslim Journal newspaper; Ademah Hackshaw, president, Hackshaw Communications, and a former TV network news producer; Jacqueline Kakembo, president, African and American Women's Association; Monica Morgan, photojournalist representing The Michigan Chronicle newspaper; James Mtume, award-winning composer and musician and talk show host on WKRS-FM New York City; Bilal-Sunni Ali, talk show host on WRFG-FM Atlanta; Shawna Tobechukwu, reporter, Minneapolis Insight News; Tobechi Tobechukwu, photographer, Minneapolis Insight News, and William Reed, Outreach Coordinator, GPAC.
"Constructive engagement with Sudan will be more fruitful than the vinegar-of-dissent, disinvestment and protest marches of the lobby for regime change," said Mr. Reed in a statement.
"The signing of the peace accord is historic and long overdue. The road ahead will be treacherous for the Sudanese, both in the north and south. To make peace a success in Sudan, the U.S. must change its position from 'pro-South,' to pro-Sudan," Mr. Reed concluded.