FCNNEWSSOURCE
Slavery And The Making of America (PBS Online)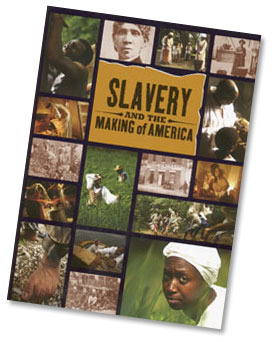 (FinalCall.com) – Dante James is an Emmy-winning filmmaker who has been the brains behind a number of PBS-sponsored presentations. His impressive resume includes such celebrated documentaries as "Marian Anderson," "Politics: The New Black Power," "The Great Depression" and "America's War on Poverty." He was also the executive producer of "This Far by Faith: African-American Spiritual Journeys," the six-part series that aired on PBS in 2003.
Recently, he spoke with me about "Slavery and the Making of America," a four-hour series set to air Feb. 9 and 16 on PBS from 9-11 p.m. in most of the country. Dante served as the series' producer, and wrote and directed its first installment.
Kam Williams (KW): How did you come up with the idea for this series?
Dante James (DJ): Actually, [NYC PBS station] WNET came up with the idea and the money, and called me.
KW: What's involved in mounting a production like this?
DJ: It was an 18-month process. I probably spent the first three months just reading, reading and reading. After also consulting with some experts, I wrote concept papers with the help of a scholar and a researcher. The concept papers defined the parameters and identified potential stories. From there, we developed the visual guidelines, outlines that could be turned into a treatment.
KW: Why did you assign yourself the first installment, which chronologically covers the introductory years of slavery in America?
DJ: People thought that it would be the most difficult to do, because there was absolutely no visual support for it. No etchings, no drawings, no sketches, nothing. So, every visual had to be created. I welcomed the challenge.
KW: Why did this series strike me as being very humanistic?
DJ: We didn't set out to do a film on the institution of slavery. Rather, we wanted to share the stories of enslaved people and show how they eventually made significant contributions to the dismantling of slavery.
KW: I was a Black Studies major and consider myself well-read on the subject, yet I was surprised at how much new information I learned from the series. How did you come up with so much new material?
DJ: This is part of a wealth of new scholarship which has only been published over the past five years.
KW: But not only is the material you're using new, so is the point of view.
DJ: Most of these interpretations of slavery come from the point of view of the enslaved.
KW: And many of the voices seem to be those of Black women.
DJ: That was by design. That was something we considered very important, because enslavement for women was very different than it was for men. It presented an entirely different set of problems and implications. Telling the stories of Harriet Jacobs and other women enabled us to get to some of those issues Black females faced.
KW: I was shocked to hear an account from a Black woman's perspective of being sexually molested while standing on the auction block by potential bidders.
DJ: It's a pretty vile and repulsive thought that there were no limits in terms of what the owners could do.
KW: When this airs on PBS, how do you expect Middle America to respond to programming which depicts slaves so sympathetically?
DJ: I'm not asking for sympathy for the slaves in this series. I think empathy is a better word, because we want people to develop an appreciation for another person's feelings. I would hope that these films could be the first steps, or maybe just a step towards something similar to what happened in South Africa with the Truth and Reconciliation Commission, with the idea being that slavery could be seen as a festering wound on America, which needs to be opened up and cleansed before it can begin to heal. And I am hopeful that looking at slavery from the point of view of the enslaved will make a contribution to the beginning of the healing.