FCNNEWSSOURCE
A conversation with Ja Rule and Minister Farrakhan (FCN Webcast)

(FinalCall.com) – Though he was named Jeffrey Atkins when he was born in Queens, New York, on February 29, 1976, today he is known only as Ja Rule. A founder of Def Jam's notorious Murder Incorporated, the gravel-throated baritone's distinct voice and impassioned rhymes catapulted him to the top of the charts as one of the world's leading gangsta rappers.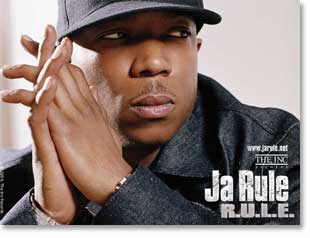 Ja made the jump to movies in 2000, since appearing in such hit flicks as Scary Movie 3, Turn It Up, The Fast and the Furious, The Cookout and Half Past Dead. His latest film is Assault on Precinct 13, a crime thriller where he lends a little street credibility to the production, typecast as Smiley, an imprisoned felon.
Kam Williams (KW): You've parlayed your success in rap into a film career. Is that an easy transition to make?
Ja Rule (JR): No, the movie business is very different from the music business. You see, a lot of rappers are not disciplined. That's why we rap for a living, 'cause we don't have to be disciplined. We don't have to hide what we do image-wise. The worse we are, the cooler we are. So, it's different for a rapper when he gets into this movie business.
You have to be on point. You gotta' be on time. There's a lotta studying involved. You got homework. You have to read your script, go over your character, and then create an inner character for the character.
KW: As a role model, how do you teach your fans that it's not so cool to be undisciplined?
JR: First of all, you have to understand the background of rappers, where we come from. Even Michael Jordan and Bill Cosby come from the ghetto. The difference is that, if you go into the NBA, there's a farm system set up for you which alienates you from being anywhere near anything that has to do with your old upbringings. Hip hop doesn't have that. So, if I become a millionaire overnight, I really haven't been taught how to use that power, because there's no farm system. So, you can't really blame us for these situations when they get out of hand.
KW: But aren't gangsta rappers setting a bad example for impressionable young fans when they wage wars against each other?
JR: It is counterproductive on the part of the artists. But you gotta look at the people behind the scenes that make the money off these artists that go out and feud. They don't want the wars to stop because it makes them money.
KW: You have your own record label. Can't someone of your stature control his own image?
JR: It's the media. I recently got some bad press because of a shooting at one of my afterparties. Here's the skinny on that. I'm a rapper. Let's say I do a concert, and then the promoter books me an afterparty that I get paid to attend. If the Crips and Bloods have a gang-bang shootout there, it gets printed in the paper as a 'Ja Rule Shootout.' So, if Ja Rule throws a party, all the 'hood kids' come, a fight breaks out and I get blamed for the situation. It's sad because my after-party is never going to be packed with White people, because these parties are all thrown in the 'hoods of America.
KW: Would you like to not always have to defend your gangsta image?
JR: I would love that. But you know it's never going to be like that, because people love negative press more than positive press. It's unfortunate that as hard as I work, as many good things that I do, it's just the negative ones you always hear about.
KW: Is that the downside of hitting it big in rap?
JR: I wouldn't call it a downside. It just comes with the territory.
KW: Do you fear any of the rappers who have a beef with you?
JR: Nah, my life's in God's hands. Whatever's going to happen to me, God has written for me already.