Bethune-Cookman College Online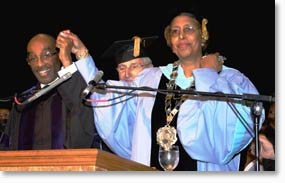 DAYTONA BEACH, Fla. (FinalCall.com) – When Dr. Mary McLeod Bethune retired in 1942 as president of the Bethune-Cookman College, which she started in 1904 with passion and pennies, she wanted to pass the mantle to another woman, but unfortunately couldn't.
"Well, here I am today," exclaimed Dr. Trudie Kibbe Reed on Jan. 22 when she was installed during the 100th anniversary of the school as its fifth president and the first woman since Dr. Bethune. "It is not enough to talk about the accomplishments of Mary McLeod Bethune. We have a responsibility to take that legacy and make a difference."
Making a difference is exactly what Dr. Reed plans to do, since being on the job since August. Her goal is to lay a foundation for the next 100 years by establishing the Institute for Civic Participation and Social Responsibility.
"The institute will provide a forum for students to work with international leaders to address and resolve disparities in areas of education, health care and economic empowerment," she told the audience of students, faculty, friends, administration and family.
"Something is gravely wrong with this country. Statistics shout out that we are really in trouble," she explained. "We have failed as parents and the caretakers of our youth. We must take back our community and give hope to our youth. I have the energy and commitment to raise questions and hold people accountable."
Dr. Reed's installation was a weekend of pomp and circumstance that included a civic participation and social responsibility forum for the students featuring students, politicians, educators and financial advisors.
"You have to take on the mantle of serving your community," Dr. Evelyn Bethune, granddaughter of Dr. Mary McLeod Bethune, told the students.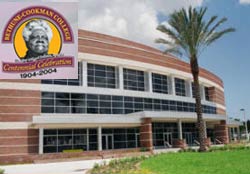 Service was the theme of the installation festivities which began Jan. 20 with a President's reception. Claudette Marie Muhammad, chief of protocol for the Nation of Islam, represented the Honorable Minister Louis Farrakhan at the events.
"This was an excellent event," she told The Final Call. "I am very impressed with Dr. Reed and encouraged by her words of service to the school. Her installation speech was just incredible."
The morning of Dr. Reed's installation started with a special breakfast that featured the Honorable Yvonne Scarlett-Golden, mayor of Daytona Beach.
"I grew up on this campus and attended the Kaiser Laboratory Program. It was an elementary school started by Dr. Bethune, so her students could have access to working with young children. I graduated with honors from Bethune and am now the first Black woman mayor of Daytona Beach. It gives me great pleasure to present keys to the city to Dr. Trudie Kibbe Reed," she said.
NCNW President Emeritus Dr. Dorothy Height who knew and worked with Dr. Bethune attended the activities. She had these kind words to say about Dr. Reed:
"Mary McLeod Bethune often said that she had three children, her son Albert, Bethune Cookman College and the National Council of Negro Women. Dr. Reed, the whole family thanks you for making us proud to be African American women."
She continued, "I speak on behalf of thousands of women who dared to live the legacy of Mary McLeod Bethune. I challenge you to respond to the community of today with new ways. Dr. Bethune was a dreamer with a shovel in her hands.
"Her faith was real and prayer was a daily thing. Serving others was a constant force. Thank you, Dr. Reed. We're with you all the way."
Dr. Reed hailed from Philander Smith College in Little Rock, Ark. where she was the first woman president and broke all fundraising records during her tenure. She served 18 years as a senior level administrator with the United Methodist Church. She has also taught in the Doctoral Program at the United Theological Seminary in Dayton, Oh.
Dr. Bethune's great granddaughter Elizabeth Bethune, a student at the school, summed up what the weekend meant at the unveiling of a new statue of Dr. Bethune that was three years in the making.
"This is inspiring. When you're born into this, you see it grow and elevate. This moment is very exciting. I had left school 10 years ago, but it kept bothering me to come back and finish," she shared.
"I heard my great grandmother's spirit speak to me to continue and finish. I came back last January and will graduate this June. She was a woman who finished what she started."