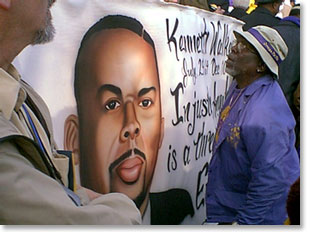 COLUMBUS, Ga. (FinalCall.com) – On a beautiful sunny Saturday, Jan. 15, an estimated 10,000 people marched from the Civic Center to the Government Center to hear rousing speeches and plans of action to rectify the brutal murder of another young Black man, Kenneth Walker, who was shot twice in the head as he was face down on the pavement under the boot of White cops on Interstate Highway 185 on Dec. 10, 2003. A year later, a Muscogee County grand jury failed to bring charges against the deputy sheriff who killed Mr. Walker.
Cars and buses came from throughout Georgia and Alabama to show empathy for the Walker family and disgust for the criminal justice system of Muscogee County. In attendance were Kenneth Walker's wife Cheryl, daughter Kayla, and mother Emily Walker. Event Coordinator Sister Clarice Muhammad hosted a distinguished panel of speakers from numerous organizations who invigorated and enlightened the protestors.
Rev. Wayne Baker, president of the Interdenominational Ministerial Alliance of Columbus, listed five reasons for the march: demand for a new grand jury; show that the Black community shall not be moved; show the unity of the Black community on the issue; celebrate the birthday of the greatest civil rights leader ever, Rev. Dr. Martin Luther King; and start an "impact movement."
Rev. Elgin, president of the Concerned Council of Black Clergy, said that "When we show up, the Lord will show out. All of us who are walking today are in the Walker family. The same God who had us walking around Jericho has us walking today."
The Nation of Islam was represented by Minister Abdul Rahman Muhammad.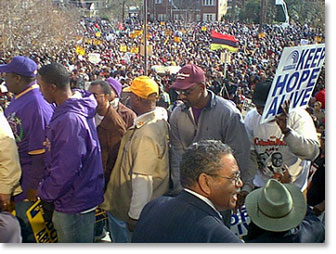 "America is under Divine Judgment for her mistreatment of her once-slaves, the so-called American Negro," he pointed out, also noting that God is lashing America with storms and hurricanes. "This is the hand of God whipping America," he said.
"Come out of her, my people, that ye be not partakers of her sins, and that ye receive not of her plagues," he admonished the crowd, concluding by saying, "You shot our brother Kenneth Walker down in the street. You love to shoot, so why don't you shoot the hurricanes, why don't you shoot the snow, why don't you shoot the earthquakes? Allah is bringing her down, because of her injustice to Black people."
Judge Greg Mathis, famous TV judge, pointed out that Kenneth Walker was another victim of the "criminal industrial complex." He explained that this system has "moved the jobs from where we live in the cities and rural communities and replaced jobs with guns and drugs. Then, they set up prisons to make money off those who they would not educate."
This was the second visit of Judge Mathis to the city concerning the Walker case. After his first visit a few weeks ago, he shared that a right-wing radio talking head accused him of trying to incite violence. He maintained that they used his words out of context to try and get the TV network "to shut me up."
Judge Mathis shouted to thunderous applause, "I am not your slave. I am not your boy. You will not shut me up, you're not gonna' punk me out." He argued that they do not want him to speak to the young Black men, because he can show them "how to move up from the streets to the suits." He ended by saying, "I have taken your best punch and I'm still standing. Come on with it, I'm not scared of you."
Rev. Joseph Lowery said that this was "the best birthday gift at this moment of history that we could give Dr. Martin Luther King," adding, "You can not fight terror in Iraq and practice terror in Columbus, Ga."
He compared the failed search for weapons of mass destruction in Iraq to the weapons of mass destruction in the poor communities of America due to a lack of health insurance and the minimum wage. He also admonished the audience to consider drug addiction and sexual promiscuity as weapons of mass self-destruction.
The National President of the NAACP, Dennis Courtland Hays, introduced a new NAACP initiative that would produce a coalition of national and local organizations to develop a "rapid response team" to step into future acts of racial oppression and excessive use of force by police and law enforcement agencies throughout the country. He called for each community to begin to document incidents of abuse and compile statistics on past cases of police brutality or systematic injustices by agents of the government. He added that these steps and organized measures must be taken to fight the "voracious appetite" of the system to kill Black people.
Rev. Jesse Jackson ended the afternoon by telling the crowd, "Columbus, you can't have a one round fight. You have to have a 15 round fight!"