FCNNEWSSOURCE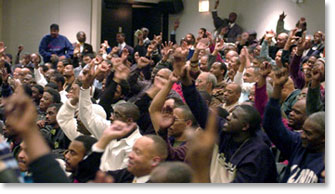 (FinalCall.com) – "Minister Farrakhan, without a doubt, has touched on the spiritual, political, economic and cultural foundation of what ties Black men together historically, but more importantly, what will tie us together in the future and he did it in his own unique, sensitive and blessed way. That's really the foundation of education, what he did. He taught a class today," said Dr. Wayne Watson, who attended the men-only meeting at the Harold Washington Cultural Center in Chicago, kicking off the mobilization for the 10th anniversary of the Million Man March 2005.
"Farrakhan was very awesome tonight," stated 19-year-old Marshall Hill. "I loved when he talked about men treating their women right, because in society, people are dogging their women outright now and he made it positive."
Illinois Representative Danny K. Davis said, "It was amazing. You could feel the connection, the rapt attention, the respect that they were displaying. It was a very meaningful, heartwarming, intellectual but down-to-earth discussion, a message that anybody and everybody could understand."
Presence of Conscious Committee (POCC) Chairman Fred Hampton, Jr. said, "I think its inspiring anytime you have an audience in an auditorium like this full of Black men, most of them being young, I think the minister is probably the only one in this country, probably the only one in the world, who can pull together so many young Black people on one accord."
During the Million Man March, Christopher Jadison, 34, was unable to attend because he was incarcerated. "I stood and watched the Million Man March on television from the opening prayer until the end in the penitentiary," he recalled. So, he was grateful for being in attendance at the kick-off for the 10th anniversary and feels that any positive teaching needs to become a part of Black people's lives.
WVON-1450 AM radio personality Cliff Kelley, host of The Cliff Kelley Show, anticipated the event to be a sure success. "The whole beautiful theater was filled with beautiful Brothers finding out what they should be doing to make sure they are worthy of beautiful Sisters. The Minister gives the message so well; we are all looking forward to the 10th anniversary of the Million Man March, which is going to surpass the original."
Donald Linder, 66, was energized: "I think we'll get 10 million. Washington is going to be busting at the seams!"
"We had a packed house," said Southern Regional Minister Abdul Sharieff Muhammad in Atlanta, where over 500 Brothers attended the viewing. "The men were excited and didn't want to leave the mosque after the web cast was over."
It was a school night, but that didn't stop 16-year-old Alfred X Foy, a student at Douglas County High School, from coming out. He told The Final Call, "I really liked the meeting. I especially liked the way the Minister talked to us about unity. I liked the different faces that were on the stage. The Minister showed us how we could be when we unite."
At Newark's Muhammad's Mosque No. 25, nearly 100 high-spirited men attended the meeting. David Lopez, 17, a senior at Lakewood High School, said he drove one hour to see Minister Farrakhan via web cast.
"It was really moving what he said about unity. It was very powerful because strength comes though unity. It was important what he said that we have to fight the war within us to overcome our weakness because I have a war within me that I am fighting. I'm tempted all the time by parties and girls," he admitted.
At the end of the Minister's address, Brothers were hugging each other at Muhammad's Mosque No. 7 in New York.
"You could feel the love in the mosque–and they were committing to each other to work for the betterment of our people," explained Minister Kevin Muhammad. "The mosque was packed. The call in New York is for the down-trodden, and that was exemplified by those who attended, who said they were looking forward to October 16, 2005."
Minister Robert Muhammad, Prison Chaplain, said, "Those that I talked to after the web cast expressed how anxious they are to begin the work to get our people to Washington, D.C. on October 16th for the 10th anniversary."
He added that the spirit in the New York State prisons for the anniversary is extremely high. "The Brothers are saying that they believe they will be coming home, and many talk as if the 10th anniversary of the Million Man March is the end of the degradation that has plagued our communities."
An excellent evening filled with love was enjoyed by over 200 Brothers who attended the viewing in Washington, D.C.
"After it was over, I had all of the F.O.I. go outside and line up so they could meet and greet every Brother that came out tonight," Mid-Atlantic Regional Minister Abdul Khadir Muhammad said. "I also asked each Brother to get the name of five new Brothers and keep in touch with them until the march. They all agreed to do this."
For Larry Juhans, a D.C. native, the event was fabulous. "Everyone there should have gotten something out of it. The Minister hit home. He made us more energized about the Million Man March. It was a reminder for those of us who were there almost 10 years ago and inspiring to those who plan to be there in the fall."
Led by a mighty Lieutenants Corps, the F.O.I. of Houston flooded the city streets with a massive flyer campaign promoting the men-only meeting. The campaign was successful, with over 300 men attending Muhammad's Mosque No. 45 to hear the electrifying message from Minister Farrakhan.
"I am grateful to the men of Houston for responding to the call of the Honorable Minister Louis Farrakhan," stated Southwestern Regional Minister Robert Muhammad. "They are thirsty for solutions to problems facing our community."
The Southwest Houston Study Group chartered a school bus filled with Black men who were inspired by the unity of the brotherhood.
"This was a very powerful and informative message. It showed that Black men can unify as long as we have a leader. Everyone respects the Minister," asserted Deon Snow, basketball coach and school counselor.
"His words were very inspirational," stated 16-year-old Gerald Linnear II.
Members from Street Organizations, New Black Panther Party, Masjid Al-Islam, National Black United Front attended. Each Brother signed up for a MMM-Local Organizing Committee and is fired up to be one in 10 million!
Despite the extraordinary onslaught of torrential rain and snow in some parts of Southern California, approximately 100 men from Muhammad's Mosque No. 27's headquarters filled the nearby Rita D. Walters Child Development Center to hear Minister Farrakhan's words of guidance. "He definitely lifted my spirits and gave us the inspiration to work harder, and know that we have a short window of opportunity if we go after our people. If we don't, then our destruction is right in line with theirs," said Western Region Secretary James Muhammad, referring to the natural disasters striking America.
Minister Emeritus Wazir Muhammad, said "The spirit of the men was so very, very high, that if you just looked around, we pledged that at least one million of the 10 million would be from L.A., and that all that were there were going to stand together and see this through to its fruition. If you could feel the spirit of God that was there, you would know that there's a million forthcoming from our area."
In Long Beach, Calif., Zachery Muhammad, who viewed the Minister's address at the Long Beach Study Group, said, "It was very on time. The Minister and the ideas that God is inspiring him with are definitely right and exact. The words that he delivered this evening were such a charge. I'm fired up right now and want to go and do this work and prepare for this march. Listening to what he said, it's like you just know that this man is the Jesus of today. He's really representing what all of the scriptures are representing is to come. He's that in our midst today and a blind man should really be able to see that."
-Arai Muhammad, Charlene Muhammad, Cinque Muhammad, Corey Muhammad, Durce Muhammad, Jesse Muhammad, Nisa Islam Muhammad and Saeed Muhammad