Black U.S. Capitol Police threaten second lawsuit (FCN, 08-15-2003)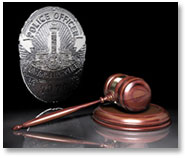 NEW YORK (FinalCall.com) – Nine Black and Latino police officers claimed, in a complaint filed on Dec. 17 with the federal Equal Employment Opportunity Commission (EEOC), that they have been victims of workplace racial discrimination and retaliation. They claim the discrimination took place from October 2003 to November 2004 in their command area, Transit District 4, which covers a vast area of the east side of Manhattan.
The officers, who have worked for the department anywhere from 12 to 19 years, further claimed that they were subjected to disciplinary actions that were excessive, disproportionately threatened with arbitrary transfers, denied requests for overtime, given negative performance evaluations and denied preferred work assignments. Approximately two-thirds of the 125 officers assigned to Transit District 4 are Black and Latino, according to attorney Norman Siegel. "For too long, officers of color have not received equal protection under the law," he told The Final Call during a telephone interview.
The complaint also contends that Black and Latino officers were punished more often than White officers for failing to meet quotas set by a supervisor, who they named in the complaint. They said each officer was mandated to write at least 10 summonses and arrest at least one person per month. Atty. Siegel said the complaint was filed after the police department failed to "adequately" investigate their allegations.
A police department spokesman, through a prepared statement, said that their practice is not to comment on pending cases. The statement said that equal opportunity employment complaints were down five percent in 2004, and down 23 percent for the previous two years.
Atty. Siegel said they were waiting to hear from Mayor Michael Bloomberg and Police Commissioner Raymond Kelly. He said that there was also a request that the city appoint an independent taskforce to investigate the "systemic issue of racial discrimination" in the department.
"Mayor Bloomberg and Commissioner Kelly need to take a long hard look at the problem, and then they need to do something about it," he insisted.
In January, a federal judge ordered New York City to pay $26.8 million to settle a federal class action lawsuit filed by Latino officers in 1999 charging racial discrimination on the job. The agreement also called for city officials to implement initiatives aimed at eradicating discrimination in the police department.
"Since this latest complaint was filed, we have heard from officers in other commands, who say the same things are happening to them," Anthony Miranda, president of the National Latino Policeman's Association, said. "I am hearing on the street that many officers want to move forward and fight against the entrenched leadership in the department that is hard-core White," Mr. Miranda stressed. "For too long, New York City has been in a self-denial mode."