CHARLENEM
Statewide California Coalition for Battered Women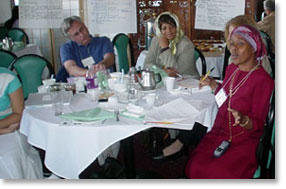 TORRANCE, Calif. (FinalCall.com) – Rohida Khan Fox is a woman one would definitely call "educated." She covets two Masters of Arts degrees in Political Science and International Relations, and two Bachelors degrees in law and arts. She hosts a television show on law and current affairs highlighting human rights issues, and is a certified domestic violence counselor for the State of California's Coalition for Battered Women (SCCBW).
But all of her training and hard work to help women cope and avoid the throes of physical and mental abuse at the hands of their mates escaped her very own being. For that and several other reasons, Ms. Fox joined other Muslim domestic violence activists at Beijing Islam Restaurant Dec. 12 for a training conference to help build the capacity for Muslim women's programs against the aggression.
"I would be, myself, beaten up at home, and I was a human rights activist," she shared. "Why did I say all the time, 'I fell down'? It was the honor of my family that I was protecting."
The one-day Domestic Violence Training conference was launched by research and marketing expert Kausar Ahmad to, among other things, encourage the expansion of domestic violence programs run by Muslim women for Muslim women, exchange resources within and outside of the Muslim community within a genuine sisterhood environment, increase employment opportunities for Muslim women in the field of domestic violence, and provide networking opportunities for them.
The conference is part of a series of critical thinking events under the theme, "The Status of Civil and Human Rights of Muslim Women and Girls in North America," which targets oppression and suppression of American, immigrant, refugee and undocumented Muslim women.
"This came out of a series of dialogues about the disparities and the lack of organizations in the Muslim community to respond to domestic violence," she explained.
The SCCBW and Ms. Ahmad's KNA Consultants, which markets peaceful programs, products and activities, hosted the event.
According to KNA, community estimates of the Southern California population of Muslims is 700,000, yet social services for them are marginal or nonexistent. So few, in fact, that the conference drew guidance and participation from Hadayai Spencer Majeed, executive director of the Baitul Salaam Network and Shelter in Atlanta, founded in 1997 by domestic violence survivors.
"Primarily, our clients are women of faith that find their way to us due to some form of physical, emotional, psychological or a combination of abuse in the family," she stated.
Conference panelists pointed to self-esteem, isolation, economics, lack of resources, sexism and cultural practices as some causes of domestic violence.
Ms. Majeed cited multiple challenges of why Muslim women need Muslim-focused shelters. She highly ranks continuing to practice their faith. "A Muslim woman can go to a shelter unfamiliar with Islamic ways. This shelter may cook food that they cannot eat; for example, pork is part of our dietary restriction. Some people feel that, if they don't have a pork chop or some ham or bacon, that everything is OK, but they don't understand pork by-products," she stated.
She also elaborated on worship. "We pray in a manner that requires cleanliness. And in most shelters, people wear their shoes inside, or there may not be a quiet, safe place."
Ms. Majeed stated specific methods for male support. "I would ask Minister Farrakhan to make it very clear that all men who claim leadership in Islamic communities follow his example and make domestic violence awareness a priority in their communities, and support the individuals on whatever level they're working," she stated.
She was one of about three Muslims from the Black community. The majority of the other attendees hailed from Arab American and Latino communities.
American Cancer Society's South Los Angeles representative, Hortensia X Moore, believes that, along with family value myths, a root cause of family violence against women, and their sometimes fatal decisions to stay with their abusers, begins early. "From little girls, almost from the womb, we are taught to receive violence and live in an unhealthy environment. If we leave that environment, people tend to look at us like it's our fault, we evoked or attracted the violence–but we do not. Some people come into our lives, and they're violent people," she insisted.
Ms. Fox stated that an understanding of the rights of Muslim women, marriage and divorce is crucial toward combating brutality against them.
"What is happening is all culture. What we need to do is have pre-marital counseling before the people get married, programs where we can educate our girls and boys that they're equal, and give the actual teachings of what actually Islam is–not abusive, not cultural, but what Qur'an says," she stated.
Conference participants left armed with manuals stocked with worksheets, research and resources to aid in their efforts. One tool included the "Muslim Wheel of Domestic." With the words "power" and "control" as its center, the wheel illuminates physical and sexual violence through economic or emotional abuse, coercion and threats, the use of male privilege, intimidation, minimizing, denying and blaming, isolation, and even manipulation of children.
Dr. Peter Rivera represented the Robert F. Kennedy Institute of Community and Family Medicine. "Men have to be involved in it, and they are, if not the cause, they are at times the patient. It's very important that we get the community, as a whole, together as far as ethnicity, sex and religion. If we fractionate our community, I think we've already started two steps behind," he said.