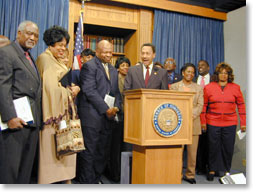 WASHINGTON (FinalCall.com) – The Congressional Black Caucus has chosen a new leader to cope with the increasingly conservative Republican leadership that has taken power in the U.S. House, Senate, the White House, and the courts. He's six-term Rep. Mel Watt (D-N.C.), whose document condemning the war with Iraq became policy for the Congressional Black Caucus (CBC).
"My attitude would be to treat this new election as a possibility of a new beginning and to aggressively say to the president, 'We would like to reinstate our regular meetings with you if you would be willing to do that,'" Rep. Watt told reporters Dec. 6, sounding more like a peacemaker than a contender. The olive branch does not mean forsaking the Black Agenda however, he said.
"We'll have to go back to the Caucus motto," he said in response to a question from The Final Call. "No permanent friends. No permanent enemies. Just permanent interests."
He gave little signal that the CBC would change its historically liberal policies. "Anything that would be good for Black America will be good for America," he said.
Even if the larger Democratic Party attempts to reinvent itself along more conservative lines after November election losses, and Republicans push an arch conservative agenda that includes nominating federal judges and pushing permanent tax cuts favoring the wealthy, Mr. Watt said he doesn't expect big changes for the CBC. "I'm sure political activism will (continue to) be part of the Congressional Black Caucus' agenda," he said.
Next year, the CBC will have 43 members, including 42 House lawmakers and incoming Senate freshman Barack Obama (D-Ill.). New House members include Reps. Gwen Moore (D-Wis.), Emmanuel Cleaver (D-Mo.), Al Green (D-Texas), and returning member Cynthia McKinney (D-Ga.). Rep. Watt was unanimously elected chairman for a two-year term beginning in January. He succeeds Rep. Elijah Cummings (D-Md.).
"When you have Bush in the White House claiming that he has a mandate for more conservative policies, you've got to have a force going against that," said Rep. Cummings at the Dec. 6 press conference. "The most logical people to do that would be the Congressional Black Caucus."
Formed in 1969, the CBC works to present a united front among Black lawmakers and typically favors stronger civil rights enforcement and social programs that address some of the needs of the neediest Americans.
Entering his seventh term next year, Mr. Watt is unapologetic. He rarely sided with the GOP during the last four years. He voted against the Iraq war and was one of 66 House members to oppose the Patriot Act, which stiffened law enforcement in the name of fighting terrorism at the expense of civil liberties.
In his six previous terms, Mr. Watt has often been on the uneven side of lopsided votes, such as the death penalty. Still, even conservative House Republicans give him–a Phi Beta Kappa undergraduate student at the University of North Carolina and a Yale Law School graduate who sits on the House Judiciary Committee–high marks for his scholarship and principles, and are quick to add that their voting records are "light years away" from his.
After a dozen years in Congress, Mr. Watt said he is ready to lead his colleagues.
"I spent a lot of time watching and learning and now is a good time for me to do this," Mr. Watt said. "I've been around long enough to have a vision of how the job can be done and how the Caucus should be led."