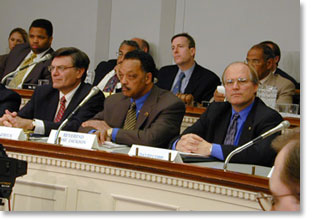 WASHINGTON (FinalCall.com) – Judiciary Committee Ranking Member John Conyers (D-Mich.), Committee member and newly- elected Congressional Black Caucus Chair Melvin Watt (D-N.C.), Reps. Maxine Waters (D-Calif.), Ted Strickland (D-Ohio), Sheila Jackson Lee (D-Texas), Stephanie Tubbs-Jones (D-Ohio), and Jesse Jackson Jr. (D-Ill.), all assembled Dec. 8 during the Congressional "lame duck" session in order to hear from Rep. Jackson's father, Rainbow-PUSH Coalition founder, Rev. Jesse Jackson Sr., and other experts who presented shocking testimony about voting regularities that took place in Ohio during the 2004 election.
"This forum is part of the ongoing effort to ensure that every vote is counted and to further preserve the integrity of the individual right to vote," stated Rep. Tubbs-Jones. "I am pleased that the Judiciary Committee is taking this important step in seeking to examine the issues of voting irregularities in Ohio and begin the discussion on ways in which we can improve our electoral system."
The legislators discussed new evidence of election irregularities and fraud in Ohio, the state where the electoral college presidential winner was decided. Activists complained that Ohio Electoral College delegates continued to meet while ballot recounts and litigation are pending, and they refuse to discuss legislative and other responses to overall election problems.
The session was more than merely an opportunity for citizens to "vent" their frustrations. "We cannot vent and then have Congress not act. If these reports are not investigated, we have all wasted our time," declared Rev. Jackson, himself a two-time candidate for the Democratic presidential nomination. "This cannot simply be an academic venting session. Take this struggle to the streets and legitimize it there, as they did in Selma."
Many witnesses pointed out that the entire election process may have been flawed in Ohio. Those flaws were outlined in a letter that Rep. Conyers and 11 other Democratic representatives sent earlier this month to Ohio Secretary of State Ken Blackwell.
The letter, as well as testimony at the hearing in Washington, makes a convincing case for continuing the examination of the problems caused by Mr. Blackwell–who was also Chair of the Ohio Bush-Cheney 2004 election team–made of the voting in Ohio on Nov. 2.
Green Party presidential candidate David Cobb and others have called for a full recount of every single ballot cast in Ohio, and have posted hundreds of thousands of dollars in bond money to guarantee that the votes are counted accurately.
But it is important to recognize that the sort of election problems that were discussed at the hearing are not isolated to Ohio–just as the problems that came to light during the Florida recount fight of 2000 were not isolated to the "Sunshine State."
The United States lacks a coherent and consistent set of standards for registering to vote, for voting, and for counting ballots or recounting them. Thus, witnesses insisted that every election cycle brings new instances of disenfranchisement and doubts about the validity of the process.
On the eve of the hearing, Progressive Democrats of America (PDA) released a well-reasoned list of electoral reforms, which they argue can and should become central to the activism of everyone dissatisfied with the process–and the result–of the Nov. 2 election.
PDA argues that America needs a Constitutional amendment confirming the right to vote; a required paper record for all electronic and electronically tabulated voting systems; same-day registration for all Americans; unified federal standards for national elections; and meaningful equal protection of voting rights by such means as equal voting systems, equal numbers of machines, and equal time to vote.
In addition, PDA activists also want an end to partisan oversight of the electoral process; Extended voting periods to allow all voters a meaningful opportunity to vote; Instant run-off voting and proportional representation; and publicly financed elections for federal offices.
Rep. Conyers sent a letter to Mr. Blackwell asking him to cooperate in the ongoing Democratic investigation of "substantial irregularities" in Ohio, which certified the 119,000-vote margin for the President. That margin is 17,000 votes less than Mr. Blackwell's original estimate of 136,000.