By Richard Muhammad
StraightWords e-zine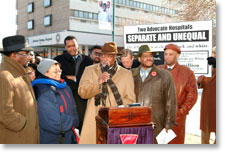 CHICAGO – The Windy City has a long history of housing and lending discrimination alongside unspoken geographic boundaries carved out along racial lines, but community activists and a research group have accused a major non-profit medical institution of discrimination based on its sparse investment into urban facilities that primarily treat Black and Latino patients.
According to "Separate and Unequal: Racial Redlining in Investment at Advocate Hospitals," Chicago's largest healthcare corporation invested almost 800 percent more, $232 million compared to $26 million, in significant capital improvements at its four hospitals serving predominately White patients than on its four hospitals serving Blacks and Latinos.
"First, our people confronted redlining in real estate. Then, we had to take on discriminatory lending in banking. Now, we are face-to-face with an apartheid-like system of healthcare delivery," said Rev. Clarence Ray Kelley, pastor of Pathway Missionary Baptist Church on the west side, and a leader of the Metropolitan Alliance of Congregations. Rev. Kelley stood with Rev. Dr. Marshall Hatch of New Mount Pilgrim Baptist Church, Rev. Dr. C.J. Wright of Christ Lutheran Church, other religious and community leaders, a congressman and Advocate employees Dec. 1 outside Advocate Bethany Hospital to release the report.
The report, compiled by the Hospital Accountability Project, found Bethany fared worst under "Advocate's discriminatory investing practices." "Between 1995 and 2003, Advocate invested nothing in Bethany, which serves a patient population that is 97 percent Black, while investing $72 million in Good Shepherd, a similarly-sized hospital in Barrington that serves a patient population that is 96 percent White," it said.
In addition, the report said Advocate Health Care spent $14,044 per licensed bed at predominately White hospitals, compared to spending $3,184 at its hospitals serving minorities. The healthcare giant also proposed spending "an astounding 1,241 percent more this year, $276 million compared to $20.6 million, in predominantly White and affluent communities than on hospitals serving minorities," the report said. The Hospital Accountability Project is run by the Service Employees International Union.
Mike Maggio, an Advocate spokesperson, issued a statement that declared the report was wrong and motivated by union organizers seeking to win representation of Advocate workers.
"The notion that Advocate Health Care invests in its suburban hospitals while ignoring its city hospitals is false, groundless and an unjust characterization of Advocate's faith-based healthcare ministry," the statement said. Advocate maintains its "total investment per patient," including losses, is greater in city hospitals than in suburban hospitals. The brief statement mentions nothing about investment in the different facilities.
Advocate suburban locations are generally the money-makers, while its city locations serve poorer patients who often do not have insurance. Advocate also receives millions of dollars in perks–from free water to local, state and federal tax exemptions–because part of its mission is to serve the poor. The healthcare provider, however, has been accused of trying to reach more affluent, and whiter, suburban patients to make more money–and ignore poorer and darker populations.
Advocate runs eight acute care and two children's hospitals with more than 3,000 licensed beds. It also has the largest privately held full-service home healthcare company in Illinois, 45 healthcare centers and employs over 25,000 people. Advocate is the second largest employer in the Chicago metropolitan area.
Rep. Danny Davis (D-Ill.) attended the press conference outside Bethany Hospital, which is in his legislative district. He has been a supporter of Bethany and is looking into the report's findings.
The research by the union and community leaders raise serious questions, said Ira Cohen, a spokesperson for Rep. Davis. Though Rep. Davis has not heard from Advocate, he is "extremely concerned" about whether patients and the hospitals are treated equitably, Mr. Cohen added, noting that Rep. Davis has previously spoken against uninsured patients paying more for services than those with insurance–a complaint lodged against Advocate over a year ago.
Given that Advocate is affiliated with the Evangelical Lutheran Church and the United Church of Christ, many inside and outside the denominations have expressed concern about Advocate pricing, charity care and collection policies. The churches have no role in day-to-day operations or finances, but both are looking into their relationships to Advocate and whether it meshes with their faith-based value of serving the poor.
Rev. C.J. Wright, of Christ English Lutheran Church, expressed disgust and anger that Advocate administrators "would issue a death sentence on this community by starving Bethany and the people in need of healthcare resources."
"Unfortunately, 50 years after Brown v. Board and the March on Washington, we still have to fight racism and racial disparities with Advocate Health Care. Apartheid in health care is unacceptable to us as a people of faith, and an offense to God," added Father Michael Pfleger of St. Sabina Catholic Church.
Advocate could face more than community complaints and denunciations from religious leaders. The South Austin Coalition Community Council (SACCC) and the Association of Community Organizations for Reform Now (ACORN) filed a complaint Dec. 3, accusing Advocate of discriminatory capital investment practices at its urban and suburban hospitals. It accuses Advocate of creating a system of "medical apartheid."
The complaint, filed with the Office of Civil Rights of the Department of Health and Human Services, alleges violation of Title VI of the Civil Rights Act of 1964, which prohibits racial discrimination by corporations that receive federal funds. Advocate receives Medicaid and Medicare funds, as well as federal research, education and training funds, said community leaders.