FCNNEWSSOURCE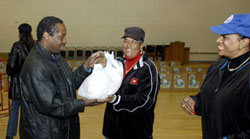 CHICAGO (FinalCall.com) – As the first winter storm of the season brought high winds, occasional heavy rains and a nasty mix of sleet and snow, local area residents joined many across the country, as they prepared for the Thanksgiving holiday.
Nestled in the small gymnasium of Muhammad University of Islam on the South side, rows of empty boxes lined the floor Nov. 25, as a skeleton crew of workers and volunteers from The Louis Farrakhan Prostate Cancer Foundation arrived as early as 5 a.m. to pack the boxes for their first "Be Thankful Food Box Give-Away."
"Unlike the traditional food box give-away, which is often a mixture of canned goods and other items, this box was something special. All of the food contained a healthy mixture of fresh fruits and vegetables that are high in antioxidants," explained Maria Farrakhan Muhammad, director of The Louis Farrakhan Prostate Cancer Foundation and daughter of Minister Farrakhan. "My father is a survivor of prostate cancer. His rapid recovery and ability to beat this illness can be attributed to early detection and a healthy daily diet that consists of fresh fruits and vegetables that support a healthy prostate."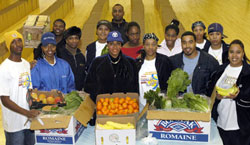 Sis. Maria shared that the thought for the give-away was inspired to target men who are unemployed and without health care, and whose ability to purchase the proper foods is almost impossible.
"We know that all of the above, coupled with the stress that is often felt by those less fortunate during the holiday season, can become very challenging for those in need," she said.
As recipients began to arrive to pick up their boxes, it was evident that this Thanksgiving holiday would be a joyful occasion. Many stated that the moment they entered the gymnasium, they could feel the warmth and love that was present among the Foundation workers.
Carmin A. Muhammad, project and event coordinator and assistant to Sis. Maria, described the residents' responses. "The expression on their face said it all. One of the recipients stated what a surprise it was to see some of the items in the food box, which their family could not afford due to their current limited income. That is what makes this effort such an incredible one. This is what fulfilling your mission and vision is all about," Sis. Carmin said.
On hand to personally present the food gift boxes to the families was First Lady of the Nation of Islam Mother Khadijah Farrakhan, wife of the Honorable Minister Louis Farrakhan, who had traveled over 70 miles in the height of the first winter storm of the year simply to be on hand for such a joyous occasion.