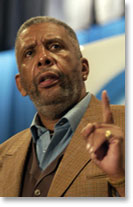 DETROIT (FinalCall.com) – Braving the brisk Saturday morning chill Nov. 13, nearly 2,000 Black men made a quiet statement of unity and commitment to change. They were participants in the opening session of men-only workshops in a two-day symposium, "Black Men Taking Responsibility: A Plan of Action," which was organized by the African American Men's Organization (AAMO) held in Cobo Convention Center.
"We're trying to reach out to brothers because God has given us a way, so we want to use our resources to reach out," explained event coordinator Arthur Blackwell, during his remarks to the concluding family celebration held on Sunday, Nov. 14. The event featured the Honorable Minister Louis Farrakhan as the keynote speaker, in his first major address since announcing his call for Black men to return to Washington, D.C. to commemorate the 10th anniversary of the Million Man March next year.
Throughout the weekend, Minister Farrakhan emphasized the significant role of the people of Detroit in the struggle to uplift Black people, calling the city the No. 1 city in the country which people throughout the world are watching to follow its example. Among the historic value of the city, it is the place where the Shrine of the Black Madonna was established and the city where the Nation of Islam was founded.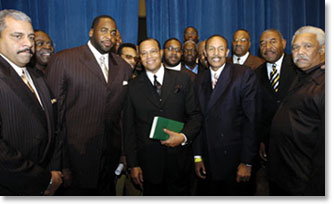 "We have come to a place in our city's history where it's time for real men to stand up, not real rhetoric, but real men," said Mayor Kwame Kilpatrick, enlivening the Sunday crowd with his youthful, powerful spirit.
"If we want to get from point A to point B as a people, if we want to have economic development in the city of Detroit, if we want to raise up and have our children understand who they are and whose they are, and we want them to grow up and know that they have the deed to the universe as well, then shut up and let us go to a meeting to figure out how to do that," he added.
In order for the Black community to survive, he urged the audience to make a commitment to each other, to engage as brothers and sisters to work together to build our communities, imploring them to have the guts, courage, sacrifice, and spirit of long-suffering for their people to bring about a change.
"One of the things that my son taught me," shared Bernard Kilpatrick, president of AAMO, referring to the mayor, "if you really want to change something, you take a bunch of ordinary folk and allow them to do extraordinary things."
He asked all of the members of his group to stand, and said that they were the catalysts to change the way we think, live and breathe. "Help is on the way," he shouted, noting that the inter-organizational unity produced by the weekend strengthened AAMO's mission to form an umbrella organization that will work to elevate Black people to a place of leadership in the world.
Although the event was free, the arena was not filled for Sunday's program, which moved Minister Dawud Muhammad, of Detroit's Muhammad's Mosque #1, to pledge to continue to work with elected officials and organizations.
"Every empty seat means that there is more work yet to do in the city of Detroit, because to fill this place would still not be one percent of the total population," he said. Challenging those who are skeptical of another meeting and say talk is cheap, Min. Dawud pointed out that we spend millions of dollars on books and newspapers.
"When we gather on the right word, it is a priceless moment in time to give reflection and then decide to make right action," he said. "We must take an honest assessment of ourselves."
He believes such an honest assessment occurred during that weekend, which he called transformative. "It started Saturday, when (Minister Farrakhan) spoke to the men. It was so profound because he was moving obstacles," he recalled.
"You could see from his expression, of speaking to them of overcoming what they think is the impossible and coming to know their own strength and their own value."
This sentiment was echoed by Minister Richard Muhammad, of Cleveland's Muhammad's Mosque No. 18, who participated in the weekend.
"I saw young men sitting up, not only listening, but taking notes. I saw them discussing what we received on Saturday after the Minister was finished," he shared. "As we walked with the Minister from workshop to workshop, I was able to see the great outpouring of love from all segments of society for him. I saw tears well up in the eyes of hard soldiers, men who would not normally be looked upon favorable in this democratic society or social system."
Saturday workshops were tailored to the major concerns of Black men: health, male and female relationships, police- community relations, education, defining manhood, entrepreneurship and political empowerment. Judge Greg Mathis gave the closing address for the first day of the symposium, which drew an inter-generational, inter-religious and inter-organizational spectrum of Black men, sitting together as equals, without any boundaries of class. Among the many groups represented were Pioneers for Peace, a group of Black men in wheelchairs as a result of violence. They attended to stress the point in all of the conversations held that day that they were paralyzed because of senseless violence, which needs to end.
Teenager Greg Hardaway felt the police workshop was excellent because it discussed matters that he needed to hear as a young Black male.
Detroiter Dr. Claude Young, cousin of the late mayor Coleman A. Young, participated on the health panel, and noted that the response was so overwhelming that the workshop went over the scheduled time.
"The men still had numerous questions and concerns about diet, lifestyle, what they eat, diabetes and prostate cancer," he said. "Hopefully, this will be the beginning of a continuous dialogue that is much needed, because the concern is certainly there."
More than concern, the men had a hunger, said Akua Budu-Watkins, one of the Sisters on the steering committee for the event.
"Once the fliers got out, people were calling. When I arrived Saturday morning at 6:15 a.m., there were five Brothers already there. We had nearly 2,000 Brothers–now that's Detroit on a Saturday morning–and they stayed. Clearly, it was a hunger," she said. "Many of the brothers had gone to the Million Man March, and they seemed not to have had that since that time–that's nine years ago. So, what I got from the Brothers was that passion."
Mouchette Muhammad agreed: "What we got was a continuation of the Million Man March. Energy never dies, it just changes its form. That spirit, that energy that was created in 1995 is now being refueled today."
Hakimah Muhammad and Nubian Muhammad contributed to this article.