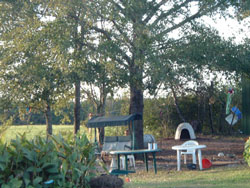 GRANTVILLE, Ga. (FinalCall.com) – What happened to Bernard Burden? The answer depends on whether you're Black or White. In this small southern town in Coweta County, about an hour from Atlanta, a Black body hanging from a tree is seen with two different lenses.
The local coroner immediately ruled the death a suicide, but asked for a further investigation when Mr. Bernard's mother, Tamathy Pless, cried foul. The Georgia Bureau of Investigation (GBI), an independent statewide agency, stepped in to conduct its own investigation.
"The agent assigned to the case has followed up all the leads. He still has a few administrative things to do and we're waiting for some additional crime lab reports to come back," GBI Supervisor J. T. Rickerson explained to The Final Call.
This investigation has done little to change the minds of this Georgian Black community, and many around the country, that see a Black body hanging from a tree through the lens of lynching.
"It just doesn't add up," is how Ms. Pless summed up what happened to her 21-year-old son on Oct. 13.
His body was found hanging from a tree behind the house of his friend, Chris Ward, after a night of cards and lengthy phone conversations with his White girlfriend Hope Watson.
"A lot of what has been said has me on fire spiritually, emotionally and physically. How does any of this make sense?" the anguished mother told The Final Call in an exclusive interview.
"The rope that he supposedly used to hang himself was over the bed in the son's (Chris Ward) room and the son didn't wake up when Bernard came and got the rope. Something here is not right."
Around 8:30 a.m., Mr. Burden's body was found behind the home of Donna Young and her son, Chris Ward. The two young men were known to be best friends and Mr. Burden was temporarily living with Ms. Young, while looking for a permanent residence.
"Bernard had lived with me on and off for four years," Ms. Young told The Final Call. "When I went to bed that night, Bernard, Chris and Hope were playing cards. Hope left but came back at 5:15 a.m. looking for Bernard, but she couldn't find him. She had last talked to him at 4:55 a.m."
She recalled, "That morning my son was letting the dogs out at 8:30. He called me hysterically saying, 'Bernard hung himself, Bernard hung himself!' I left work and raced home to see what happened."
What she saw was Mr. Burden, the young man who had called her "mama" hanging from a tree.
"He was depressed. He had just broke up with his girlfriend," David Odom said to The Final Call.
Mr. Odom is a friend of Mr. Ward and had known Mr. Burden for about 18 months. Standing outside of Ms. Young's home, he pointed to the tree where Mr. Burden's body was found.
"It (blew) my mind when I heard what happened. I had just seen him a month-and-a-half ago. He was a quiet guy who kept to himself. You never knew what he was thinking," he said.
Stop someone Black on Rte. 29 in Grantville and ask them what happened to Bernard and the first thing they do is shake their head.
Do they believe this young man hung himself? Do they believe he was so depressed over the break-up with his girlfriend that he would take his own life?
Unanimously, the answer The Final Call received was, "no."
An older man at a gas station from a neighboring town told The Final Call, "I don't believe that boy just killed himself."
An older woman sitting on her porch, who gave directions to the house where it happened, felt the same way.
"I don't believe it happened like that." Neither wanted to be identified for this story. "This is still the South," another person said.
Alton Maddox, New York attorney and activist, wrote an op-ed piece in the Amsterdam News on Oct. 28.
"The Black community is still tolerant of treasonous acts. [speaking of lynchings] It is for this reason that (Bernard) Burden's mother, a vocal and loving mother, will not receive any help in Georgia," he wrote.
"Apparently, the wrongful imprisonment of Marcus S. Dixon, a high school student, for having sex with a white girl is not enough of a warning to Black males. Similarly, the prosecution of Kobe Bryant fails to ring a bell. The Scottsboro Boys case and Emmett Till's lynching are simply historical antiques," he continued.
He added, "The Atlanta media has already buried this terrorist act in their cold files and the Grantville Police Department waited more than twenty-four hours before reporting the hanging to the Georgia Bureau of Investigation. This delay, for the trail to grow cold, smacks of a cover-up."
Yet, according to Mr. Burden's White friends, Bernard was a depressed, young man who ended his life. Ms. Young recounted several other occasions when friends found Mr. Burden very upset.
However, Ms. Pless doesn't put much stock in the "he was depressed" theory.
"They want me to believe that he was on the phone for hours and then got so depressed that he hung himself. If he was depressed, he would want everyone to know. He would have come to me to talk about it," she stressed.
Keith Beauchamps is producing a documentary about the death of 14-year-old Emmit Till who was brutally murdered in 1955 after allegedly whistling at a White woman
He told The Final Call, "There have been 89 lynchings in the last five years in Georgia and across the nation; in the prison system and in the streets. All have been ruled suicides."
He went on to say, "We still have the problem of sex and race, (Kobe Bryant case) and people are afraid to stand up against those who do the lynching. Nothing has changed in the South. We wonder why these things are still happening; it is because the issue is not on the front burner. What is really aggravating is that nobody is speaking out. Where are the civil rights leaders?"
Malik Zulu Shabazz, head of the New Black Panther Party, told The Final Call, "I don't believe all of these cases were suicides. In reference to Bernard Burden, we cannot blame the victim, but we must re-examine how liberal we are going to be by allowing our youth to continue interracial dating."
"We are still under attack," he added. "Black organizations of every stripe need to be investigating these lynchings."
Ademah Muhammad assisted in the investigation for this story. Saeed Shabazz contributed to this article.