By Ernest J. Muhammad

(FinalCall.com) – Have you ever lost an important file on your PC? It's a very painful experience emotionally, especially if you just spent the last three or four hours to create the file.
Something like this only has to happen once before you start thinking about an alternative to storing files on the local hard drive of your computer. Maybe it's high time to think about buying an external hard drive to store all of those important files.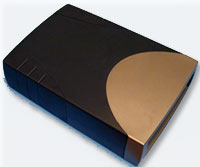 External hard drives come in a variety of sizes, shapes and prices. Some drives can hold an astounding 300 gigabytes of information, which is more than the average person will need, but it's always good to know that the extra space is there in case you need it.
External drives are also good for backing up your entire hard drive or, if you have a lot of CDs laying around, it's probably a good idea to transfer them to the large external drive for safekeeping.
Some manufacturers, like Maxtor, which makes many of the hard drives in the computers on the market today, offer a one-touch push button backup model for all of those important files and other precious movies, graphics and photos that you may want to archive. Maxtor products can be found at www.maxtor.com.
If you were wondering about the amount of space needed, just think about this: A 40 gigabyte Maxtor external drive holds up to 10,000 MP3 files, 40 hours of MPEG video, 3 hours of DV video and 40,000 digital photos.
Most external drives use the USB and/or Fire wire interface to transfer data from the computer to the device. While shopping, you may run across certain numbers, like 7200 RPM. This only implies how fast the drive can read/write information at 7,200 revolutions per minute. The higher the number, the faster the drive will be. If you are using USB, the standard is now USB 2.0.
For network backup solutions, Iomega ® makes a 250GB high speed network hard drive for under $400, which is also wireless compatible. Network installation is very easy. All you basically have to do is plug it in and start sharing files. They also include in the package the touch-free Iomega Automatic Backup software. All important files can be saved automatically. You can customize your own backup settings, just tell the software which files you want to save and it does the rest.
Some of the other items in this package include one Ethernet cable, a power supply and the following software: MUSICMATCHâ"¢ Jukebox, Adobe ® Photoshop Albumâ"¢ 2.0 Starter Ed. and a 4-seat user license for the Iomega ® Automatic Backup software. This all comes with a one year warranty.
For people who are always on the move and size is an important factor, check out the LaCie Pocket Drive. It is small enough to fit inside your pocket and holds an amazing 40GB of information. It is surrounded by silicone for good shock protection, in case you make a mistake and drop it. This drive is also self-powered; it gets power from your computer or laptop when you plug it in. You may use either FireWire or USB connectors. The speed is 4200 RPM.
Another nice feature is that you can unplug it from one computer and plug it into another without rebooting the machine. For those who have a computer that boots up very slow, this is what you need.
(Ernest J. Muhammad is the assistant IT administrator for The Final Call. He may be reached at [email protected].)