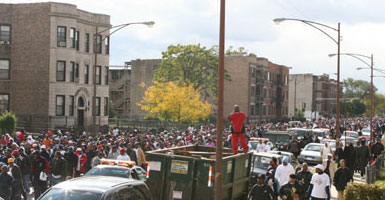 CHICAGO (FinalCall.com) – Thousands braved 42 degree temperatures, on a cloudy and windy Saturday morning Oct. 16 to join the Honorable Minister Louis Farrakhan, a prostate cancer survivor, in a walk through Chicago city streets to promote awareness of the impact the disease is having on Black men.
"We want to thank everyone who came to participate in the walk," the Honorable Minister Louis Farrakhan told the participants before the walk-a-thon began. Referring to the weather conditions, he observed, "We all know who controls the weather, it is as it should be," which brought cheers from the large crowd.
Minister Farrakhan, who launched his prostate cancer foundation during Mother's Day weekend May 10-11, 2003, explained to the walk participants the importance of the event.
"I just wish to say to all of us that cancer is really hurting the American people, particularly our people," Min. Farrakhan noted. "We have to get our people into a condition of health, because otherwise a great many of great minds will be lost to us. How we live our lives is important."
Victor Muhammad, 42, traveled from Washington, D.C. to participate in the walk. He told The Final Call, "This disease is a scourge on the Black community. Min. Farrakhan has once again taken the forefront in addressing the problems that plague us as a people. I am proud to make the walk, so that the mission of Minister Farrakhan may continue."
"Prostate cancer kills more Black men than any other ethnic group in the world. Black men have a 59 percent higher rate of the prostate cancer than White men," according to Prostate Net. And for those who may believe that the disease is parochial to men who dwell in the inner cities, a 2002 story by Reuters would seem to dispel that myth.
"There were 814 deaths in Virginia from prostate cancer, 263 were Black men, resulting in a death rate of 37 per 100,000 compared to 20 per 100,000 for White men," the story noted.
Many of the people who participated in the walk took time to talk with The Final Call to share their experiences with prostate cancer.
Lark Mallory traveled from Columbus, Ohio with her two children, ages five and two years old. She said the only person she knew with the disease was Minister Farrakhan. "I was motivated by Min. Donnell Muhammad of Muhammad's Mosque No. 43 in Columbus," where she is processing to become a registered member of the Nation of Islam. "I also wanted my children to be part of this historic event," she added.
Charles Rayburn, 48, from Chicago, said he always listens to what Minister Farrakhan has to say, and tries to follow his instructions, and that is why he braved the cold to participate in the walk.
Wadi Muhammad, 48, from New York City, said he had found out seven years ago that he had prostate cancer.
"Luckily I caught it in time," Brother Wadi commented. He added that Minister Farrakhan continued to bring to the Black man guidance in all "aspects of our lives."
Patricia 3X, from Muhammad's Mosque No. 27 in Los Angeles, said she was walking "in the memory of the Million Man March." Linda Muhammad, from Muhammad's Mosque No. 7 in Harlem, NY, said she was walking to support Minister Farrakhan's call for prostate cancer awareness, and to "make every woman aware of breast cancer, lung cancer and all cancers."
One issue that repeatedly came to light was the fact that elderly Black men die from the disease, because they do not get tested. A report released on September 27, 2004 by the Dana-Farber Cancer Institute in Boston said that "elderly Black men are only 50 percent as likely to get tested for prostate cancer as elderly White men."
According to Claudette Muhammad, chief of protocol for the Nation of Islam, that was one of the motivating factors for her participation. "I am walking in honor of my 87-year-old father who died of prostate cancer. He refused to get tested. I am calling every Black man I know to come out and get tested today," she stressed.
Min. Michael Muhammad from Muhammad's Mosque No. 25 in Newark, N.J., said he lost his father to lung cancer in 1999. His father was 60 years old when he died.
"He refused to get tested, and when they finally diagnosed his cancer, it was too late," he recalled.
All-in-all, everyone agreed that they enjoyed the walk-a-thon. There at 51st and Calumet Streets, the walkers began to chant "Long Live Muhammad" and "We Love Black People"–to the delight of the many people who lined the sidewalks and peered out their windows.
(Shirley Muhammad and Jerry Muhammad contributed to this article.)