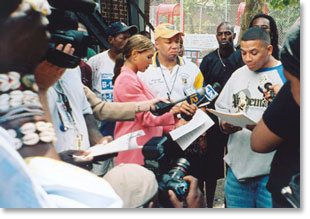 NEWARK (FinalCall.com) – The May 21 ceasefire between the city's Bloods and Crips was still holding on August 4 when Byron Kelley stood before a plethora of microphones to deny a recent newspaper report alleging that police were targeted by the Bloods.
Mr. Kelley is a spokesman for the gang intervention organization Saving Our Selves (SOS), one of the groups responsible for brokering the historic peace protocol, which has held up in spite of what gang members call some heavy-handed harassment by the Newark Police Department (NPD).
The press conference, held in the courtyard of Baxter Terrace Houses, was called by SOS, People's Organization for Progress, Muhammad's Mosque No. 25, the Anti-Lynching Campaign, Newark Deputy Mayor Ras Baraka, Councilman Charles Bell, The New Black Panther Party and selected gang members.
"We called this press conference to challenge what was printed in the Newark Star Ledger under the headline 'Gang Unrest Sparks Alert For City Cops,'" Mr. Kelley said, referring to the recent front-page story in that paper saying the state Department of Corrections, Special Investigation Division Intelligence Section, had information that law enforcement in urban areas would be targeted by the Bloods.
The threats, the newspaper said, were focused in Camden, East Orange, Irvington, Jersey City, Newark, Passaic, Paterson and Trenton. The Star-Ledger said that law enforcement officials were responding to an internal document, circulated to police agencies, that said the New Jersey Bloods, in conjunction with West Coast Bloods, were planning an "uprising" in state jails and the streets.
"Where are the facts? Where is the evidence that the Bloods even made such a declaration? Where did this mysterious 'internal document' originate and what was its source? What was the motive in letting it leak to the Star-Ledger?" Mr. Kelley asked.
Mr. Kelley further charged that the article has created unnecessary tension and hysteria in the community. Adding to that hysteria, during a 17-day period in July, four police officers had been shot, and, in front of news cameras, police officials had placed the blame on gang-related activities, although they did admit that the fourth officer had been shot by friendly fire.
"We, as community activists, fear that these reports by the Department of Corrections will result in an aggressive posture by law enforcement on young Black males," Mr. Kelley continued.
A police spokesman countered that, in spite of any reports, Newark's police are disciplined.
"While officer safety remains a paramount concern at the NPD, our officers have continued to demonstrate tremendous dedication and professionalism in the performance of their duties," Detective Todd McClendon, spokesman for the Newark Police Department, said.
"We did not create any hysteria," insisted Matt Schuman, spokesman for the state Department of Corrections, during a telephone interview on August 6. "We did not want this memo out and we are not responsible for the memo getting out." He said the only reason he was responding to Final Call questions was because the department wants to clear the air. "The last thing we want is hysteria. This has nothing to do with undercutting any truce," he added. He noted that the memo was also leaked to the Courier-Post in Camden, N.J., which published a story "with inaccuracies," although he would not elaborate on what he meant by inaccuracies.
Sergeant DeLacy Davis of Black Cops Against Police Brutality, who attended the press conference, was asked what could be going on inside of police officers' heads when they see a young person wearing red.
"The stereotypes kick in, and then real fear kicks in," Sgt. Davis responded. "Officers are taught street survival. And so, now, when you see red, the front-page article is in your mind; everything you ever heard, thought, dreamt could happen in the street is in front of you."
He stressed that the officers' frame of mind is critical. "When we have justifiable homicides in Black communities, what is said is what was the officer's frame of mind–not what was the reality," he pointed out.
Deputy Mayor Baraka said emphatically that what was taking place in New Jersey was the age-old FBI model of the Counterintelligence Program (COINTELPRO), which has been used to repress political dissent in the United States.
"This same thing happened in Los Angeles. When the brothers did their peace treaty, the same kind of thing came out: 'Gangs organized themselves to kill the police.' That is utter nonsense," Mr. Baraka maintained. "Now, they have created an atmosphere here, where police officers are fearful for their lives."