FCNNEWSSOURCE
A talk with Mrs. Julia Moon
Previous colmuns by Mother Tynetta Muhammad

Julia H. Moon is the daughter-in-law of Reverend and Mrs. Sun Myung Moon. She attended elementary school in America and, at the age of 10, she came to Korea for the first time to train with the Little Angels in Korea.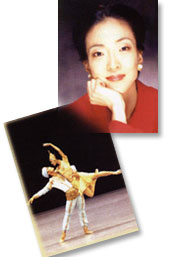 She made this comment about her chosen career in a recent interview conducted in Korea in November 2002: "The interesting thing was that my first ballet school was in an American neighborhood in a small church. It was one of those old wooden churches, where you pull out the seats. So, my first school was actually a church.
"In 1984, the Universal Ballet Company was started in Korea. The premiere of the company was July 13, which happened to be on a Friday, Friday the 13th. The premiere performance was Cinderella. In 1996, I began helping in the management of the company and became co-director. In 1992, Oleg Benegrado had been managing the company. Every new production from 1992 began to grow by leaps and bounds. In 1994, which marked our 10th anniversary, we performed Swan Lake, and then Sleeping Beauty in 1999 and the Nutcracker Suite. It was in 1999 when we changed to the Russian version."
In honor of the 80th birthday celebration of Reverend Sun Myung Moon, a special ballet performance was presented in Washington, D.C. on January 22, 2000. The program presented the Universal Ballet Company and the Kirov Academy of Ballet. There were outstanding performances of the Nutcracker Suite, Don Quixote, Swan Lake, and a variation of the ballet Flames of Paris.
The joining of the Universal Ballet Company with the Kirov Academy of Ballet from the Russian School has taken shape over the years. Outstanding disciplines have been displayed by the Ballet Company of Korea, which has made it an international outstanding ballet company. Among the other performances in their repertoire is a well-known classic of Korea entitled Shim Chung–The Blind Man's Daughter. They have also performed Sleeping Beauty and Giselle and a new ballet entitled La Bayadere, based on Indian folklore. The father of Julia Moon is Dr. Bo Hi Pak, chairman and president of the Korean Cultural Foundation.
The Universal Ballet has become known for its beautifully staged and lavish productions. In 1998, the company went on its first tour of the United States, receiving great acclaim from the public and the press. The company's repertoire has more than 70 works which include full length productions of Swan Lake, Sleeping Beauty, Giselle, Sylphide, Coppelia, Cinderella, Don Quixote, Lady of the Camillias, A Midsummer's Night Dream, The Nutcracker and Shim Chung. The company is led by General Director Julia Moon and Oleg Vinogradov, who has been the artistic director of the famed Kirov Ballet for 25 years.
This article is reprinted from the current edition of Mother Tynnetta's magazine, Cultural Links (Winter Edition 2003/2004), entitled "Majestic Journey to Korea, Mongolia & Japan."