JIM.LOBE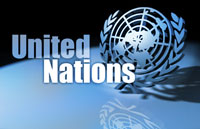 WASHINGTON (IPS/GIN) – In what critics are calling its latest slap at women and multilateralism, the administration of President George Bush recently announced that the $34 million Congress had earmarked for the UN Population Fund (UNFPA) will be used for other purposes.
The decision, which marks the third year in a row the administration has withheld congressionally appropriated funding to UNFPA, was not unexpected, particularly given the administration's efforts to fire up its Christian-right-wing base in advance of November's presidential election.

The world's neediest women and children are again paying the price for the president's re-election campaign to play to his far-right base.

–New York Representative Carolyn Maloney
But, at the same time, it belies recent attempts by Pres. Bush himself to reassure U.S. allies abroad that his administration may be somewhat less inclined to go it alone on the international stage in light of the setbacks its unilateralism has suffered in Iraq.
"I was really surprised at the egregious nature of the (UNFPA) announcement today," said former Senator Tim Wirth, director of the United Nations Foundation (UNF). "This marks another blow to U.S. credibility in the international community. The administration has once again embarrassed the United States," he told journalists.
The announcement came in the form of a tersely worded statement released by State Department spokesman Richard Boucher, which said the department had determined that UNFPA's programs in China violated a 20-year-old law, the Kemp-Kasten Amendment, which forbids U.S. aid to any agency that "supports or participates in the management of coercive abortion or involuntary sterilization."
While State Department officials have never found any evidence that UNFPA provides any direct support for coercive practices, the administration has argued since 2002 that any agency support to China may indirectly support such practices by freeing up resources that can be used by the dwindling number of Chinese counties that enforce them.
Out of its $300-million annual budget, UNFPA spends only $3.5 million in China, most of it for a pilot project that is explicitly designed to promote voluntary family-planning practices, a project that a British delegation recently characterized as a "force for good" in persuading county authorities to give up coercive practices.
But the State Department concluded that "no key changes in UNFPA's programs in China have taken place," and that the ban on all U.S. aid to China would remain in force.
The head of UNFPA's Was-hington office, Sarah Craven, said the decision was "deeply regretable," particularly because it was based on assumptions about UNFPA's work that were "absolutely false and baseless."
With the announcement, the Bush administration will have cancelled a total of $93 million appropriated by Congress for UNFPA since 2002, the first time that an administration had interpreted Kemp-Kasten so broadly.
"The world's neediest women and children are again paying the price for the president's re-election campaign to play to his far-right base," New York Representative Carolyn Maloney, a veteran champion of UNFPA, told the teleconference. "The administration talks about wanting to work in a multilateral way, but this go-it-alone attitude has really weakened the United States in the international community," she said, noting the administration in June threatened to cut its contributions to the World Health Organization (WHO) and the UN Children's Fund (UNICEF) if they continued carrying out joint programs with UNFPA. "It's just outrageous."
Lois Abraham, co-founder of 34 million Friends of UNFPA, a grassroots group that has raised almost $2 million in private contributions from more than 100,000 U.S. citizens since 2003, compared the administration's process in reaching its decision on UNFPA to that which brought it to war in Iraq.
"I see a very strong parallel here between accepting information that is wrong because it supports what you want to do and ignoring information that is credible and right," she told journalists.
The State Department did not say how it would spend the money it is denying to UNFPA.