CHARLENEM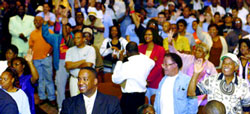 LOS ANGELES (FinalCall.com) – The Black motorist who was beaten by several Los Angeles Police Department Officers (LAPD) June 23, following a high-speed chase in Compton, filed a claim July 15 against the city of Los Angeles for $25 million in damages.
Stanley Miller has suffered brain damage, spinal injuries, trunk-torso injuries, internal injuries, emotional distress, and bruises and contusions, the claim charges. If rejected, he could file a lawsuit.
Mr. Miller's claim cites LAPD Chief William J. Bratton, Assistant Chief George Gascon and the other six officers at the scene of the beating: Michael O'Connor, David Hale, Peter Bueno, Todd Behrens, Andrew Moody and Sgt. Angela McGee.
A news helicopter's footage revealed the subdued, suspected car thief being pummeled with a long, metal flashlight 11 times by LAPD Officer John Hatfield. He was also kneed and kicked, although he was not resisting.
The incident prompted an investigation by the LAPD, the FBI, the L.A. District Attorney's Office, and Office of the Inspector General. All of the officers are on paid administrative leave, pending investigation results.
The beating, coupled with the surfacing of yet another video depicting the police beating of Curtis Gibson, who is also Black, at a residential party June 19, has further strained the historical relationship of racial violence and oppression between the LAPD and Blacks. A July 2 LAPD press release detailed Mr. Gibson's assault by members of its 77th Street Division's "Operation Sanctuary" gang suppression unit.
Community residents, activists, and religious and political leaders have responded by forming their own oversight commission–the Community Coalition on Police Abuse–and holding a bevy of rallies, press conferences and "flashlight vigils." The latest was a Leimert Park town hall meeting and rally July 10 at the Vision Theater.
"We're continuing to meet on what we think needs to be a serious policy change, how the police do business, how they deal with the arrests of African Americans. We know it's based on color, because we've seen recently where a White motorist had a gun to his head but, when apprehended, they never beat or put their hands on him," stated coalition member and Western Regional Minister Tony Muhammad.
The coalition has set a 10 point agenda, which includes opening the current investigation to the public, developing alternative ways of dealing with police abuse, reviewing Chief Bratton's views and current policies and the community's relationship to them, and the prohibition of the LAPD's use of flashlights as a tool of submission.
The group also includes Los Angeles Sentinel publisher and Brotherhood Crusade Executive Director Danny Bakewell; Lillian Mobley of the South Central Senior Citizens Center/Mothers In Action; Jim Brown of Amer-I-Can; and Dr. Maulana Karenga of the US Organization/African American Cultural Center, among others.
At the meeting, attended by over 500 people, including Police Commission President David S. Cunningham III and Inspector General Andre Birotte Jr., the coalition also addressed their concerns over Chief Bratton's recent statements labeling Blacks as tribal thugs, terrorists and the face of crime in L.A.
"It is important that we realize just the power of what words are when we send images in the city of L.A. or within the police department," 8th District Councilman Bernard C. Parks pointed out. "The first step of dehumanizing people is to call them names, and in calling them names, it gives people license to treat them unfairly."
A 38-year LAPD veteran, Mr. Parks, who recently announced his bid for the mayor's seat, said the community must funnel its efforts into prevention.
"If we can show up in this number about this issue, we should also be able to show up in this number when our kids don't get a book at school, when our kids don't graduate, because there's a certain hopelessness in our community and it's too late to march at the homicide scene," he stated.

Min. Tony concurred. "We're hoping that Chief Bratton and the mayor's office would work with us on training, not just for police, but the community needs sensitivity training, too, where we need to stop the Black-on-Black killing. The community needs reforming, as well as police," Min. Tony stated.
In an interview following a July 14-15 LAPD high-level enforcement conference on gang violence, which included law enforcement agencies, researchers, academics and expert panelists from Harvard University and the Department of Justice, Chief Bratton shunned the racist charge, and stated that he works well with people of all communities, especially Blacks, whom he deems most victimized by gang violence and crime.
Mr. Bakewell, while commending Inspector Birotte for his efforts, noted that the coalition was established as another process whereby Blacks can attain justice.
"We don't agree with the process that is in place. We don't believe that it comes out fairly on behalf of Black people. We think Bro. Birotte is doing a good job on what he is challenged to do, but we think the process is flawed," he said.
He maintained that the Commission is driven by justice and unity. Rightfully so, as these have proven successful before.
In 1998, the community forced the shutdown of the United Paramount Network's (UPN) sitcom, "The Secret Diary of Desmond Pfieffer," which depicted a Black Englishman who was kidnapped from his castle in England and taken to America, where he became a servant to President Abraham Lincoln.
Now, they are poised to battle Chief Bratton's name-calling, because they believe the statements and mindset which harbor them lead to the devaluation and disrespect of Black life. The coalition also contends that the persistent, widespread pattern is not simply the practice of a few rogue cops.
"It evokes the sense of an ongoing, racialized pattern of abuse directed towards the African American community, whether through continued police profiling, shootings and killings, or the numerous mistaken and gratuitous home invasions, purportedly looking for profiled suspects," stated Seba Chimbuko Tembo, who represented Mr. Karenga at the rally. Although Chief Bratton issued an extensive public apology to Blacks on KJLH Radio's popular Saturday morning show, "L.A. Speaks Out With Jacquie Stephens," it had little effect.
Soon after his appointment as the city's 54th police chief in October 2002, he drew heat from community leaders when he compared L.A. street gangs to the Mafia, an organized crime family. Community activists condemned both the errant actions and root causes of gang life, and rebuked the police chief's equating them to the well-financed and politically connected Mafia families.
During the town hall meeting, panelists, like Retired Los Angeles Superior Court Judge Gilbert C. Alston, presented information to the audience, including playback slides of the Miller beating. Generally, stated Judge Alston, if LAPD policies are followed, there would be little community uprising, however, some change is necessary.
He believes that officers should be driven by a code of honor, not a code of silence. He said police brutality is not a conspiracy, but rather "a response to engrained habit patterns, which are learned and can be unlearned or controlled, as long as you recognize you have the habit or disability."
Other panelists were Brenda Marsh-Mitchell (Mothers In Action), Lillian Mobley (Mothers In Action & Grandma's Hands), Rev. Leonard Jackson (First A.M.E. Church), Rev. Roy Petit (The Black Agenda), Khalid Shah (Stop the Violence Increase the Peace Foundation), Rev. Ron Wright (New Vision Church of Jesus Christ) and Bobby Anderson (New Frontier Democratic Club).
After the nearly three-hour meeting, participants gathered at Leimert Park's popular fountain for a peaceful rally against verbal and physical police abuse. The demonstrators also celebrated their unity against the injustices with dance and song.