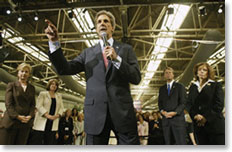 WASHINGTON (FinalCall.com) – The desire among Black Democratic Party leaders to defeat incumbent Republican President George W. Bush may be so strong as to give Senator John Kerry (D-Mass.) a "free pass" on tough Black issues.
At the same time, there is evidence that grassroots organizing around important issues can produce its own beneficial political effect outside of the "normal" channels of power.
–News Analysis–
The Kerry campaign and the Democratic Party has its own list of Black issues, which does not necessarily include items from the Black agenda, such as: repeal of "Three Strikes And You're Out" laws; repeal of mandatory minimum prison sentence laws; universal healthcare coverage; and reparations for slavery.
But even as the discussion of some of those issues may have been postponed by Black Democrats themselves, the reparations issue is one which the presumptive Democratic nominee has begun to take more seriously.
At Howard University earlier this year, Sen. Kerry said that he understands the deep-rooted "scars" Black people still feel from slavery, but would still consider reparations payments to be a "divisive" racial remedy. After being repeatedly asked about the subject at meetings all around the country, Sen. Kerry's latest decision to consider supporting the bill in Congress calling for a study of reparations is a result of grassroots organizing, according to Dr. Conrad Worrill, chair of the National Black United Front.
"The mass movement of Black people's legitimate demand for reparations is having an impact on the presidential campaign, specifically John Kerry. Our mass organizing to secure one million signatures from grassroots people around the country is a movement that is definitely having an impact," Dr. Worrill told The Final Call.
Mr. Kerry enjoys strong support from the author of the Reparations Bill (H.R. 40) now stalled in a Congressional committee. "On the other hand, we have a lot more people of color to get registered and out to vote, who've given up on the system, who don't realize we're setting ourselves up for a prison camp in America; if you don't realize that this stuff has to be stopped," Rep. John Conyers (D-Mich.) said in an interview this spring.
"This isn't about how much you like Kerry, or whether he's too tall, or this, or that, or the other. You've got to get Bush out of office." Mr. Conyers continued.
Before Sen. Kerry's selection of Senator John Edwards (D-N.C.) as his running mate, many Black political analysts and activists were as likely to say "there's just something missing about the guy," as they were to publicly agree with Mr. Conyers. In June, music executive Russell Simmons accused Mr. Kerry and the Democratic Party of "taking the Black vote for granted."
Mr. Kerry does not appear to be naturally comfortable in front of Black audiences. In an address before the Rainbow-PUSH Coalition in Chicago in late June, he delivered a "long-winded" speech with detailed ideas about preparing Americans for the high-skills economy of the future, according to Dr. Ronald Walters, professor of Political Science at the University of Maryland, who attended.
"He just doesn't hit the right buttons," Dr. Walters told The Final Call. "He's like (former President Bill) Clinton, except he's not the charismatic personality that Clinton was. He just has not hit the right themes, so he doesn't stir a lot of emotion with people."
Sen. Kerry cannot tackle tough issues like repealing welfare reform laws because of pressure from the right wing of the Democratic Party, says Dr. Walters.
But the Kerry campaign will still gain strong support from Black voters, insists Rep. Elijah Cummings (D-Md.), chairman of the Congressional Black Caucus and a senior campaign adviser.
All Spring, their strategy has been to influence hiring decisions in the campaign and guarantee increased spending among Black-owned businesses. The Kerry campaign had already enlisted Alexis Herman, Secretary of Labor in the Clinton administration; and had appointed CBC member Stephanie Tubbs Jones (D-Ohio) as co-chair of the Democratic National Committee.
In July, the campaign hired Blacks in additional senior campaign positions, said Mr. Cummings, and it plans to spend money promoting the Kerry campaign message via advertisements in Black-owned print and broadcast-media. Discussions with two prominent Black Chicago advertising agencies to produce campaign commercials have resulted in an unprecedented advertising campaign.
The campaign announced a plan to purchase $2 million worth of advertising in Black media outlets, the largest Black media "buy" in the history of any political campaign. "I think slowly, but surely, it's coming together. We're hearing him more on Black radio. He is definitely reaching out," Rep. Cummings told The Final Call.
CBC members also consider Sen. Kerry's choice of Sen. Edwards as a victory, considering how little influence they might have in that 21 of the CBC's 38 members endorsed the candidacy of former Vermont Gov. Howard Dean, while others supported former Gen. Wesley Clark and Rep. Richard Gephardt (D-Mo.) against Mr. Kerry.
"I've just got to tell you. I think you're going to see it's clear that (Sen. John) Edwards was the choice of, I think, 90 percent of the Congressional Black Caucus. And (Sen. Kerry) sought our advice, by the way. So, I have a lot of faith, a lot of confidence," Mr. Cummings continued.
But, for those others who contend that the agenda of the Black community has not been adopted sufficiently into the agenda of the Democratic Party's candidate, there is a reason, insists Dr. Walters. "Sometimes that doesn't happen because the people who do the bargaining simply don't drive a hard enough bargain."
The result of downplaying the importance of issues important to Black voters could be poor turnout of Blacks at the polls on election day. That could be decisive, because the only factor Democrats can use to adjust for votes taken from their candidate by the "Ralph Nader Effect" is to turn out more loyal Black voters, said Dr. Walters.
If Democrats "do simply what they did last time, it's possible that (Sen. Kerry) could win the popular vote," and still not win the election. "My sense is that it's going to be a very close election, so you're going to have to do more" in turning out Black votes.
His response has "to do with African American leadership having the courage to surface those issues and put them on the table, whether they rock the boat or not," Dr. Walters argued. "Because we could not allow anybody to go into office on the Democratic side on the strength of our votes, who didn't respect our issues.
"Now, the question is, who will take that weight? Will it be the Black Caucus? Will they do it? Will the Civil Rights leadership do it, or just who will do it? Because that's the whole intimidation out there, that the biggest thing is to get rid of Bush, and anybody who rocks that boat could be seen as a spoiler, Nader included," he continued.
The desire to "beat Bush" has not caused Black leaders to set their agenda aside, said Rep. Cummings. "I'm glad you asked that question. It's not put on the back-burner at all. As a matter of fact, these are issues that I have personally talked to Kerry about. But I've got to tell you that this is politics. The key is you help your person get in the door, and then you hold their feet to the fire as best you can."
"I think that Kerry's feet won't have to be held too much to the fire, and I know that Edwards is definitely an ally," he continued.
Rep. Conyers agrees with the idea of getting Sen. Kerry into office first. "When we win, that's when our battle begins. That's what happened with (Pres. Bill) Clinton. That's what happened with (Pres. Jimmy) Carter. We have to teach these White Democrats–as if they couldn't have learned during the 20 or 30 years of their political career before they ran for president–what this thing is all about. And that's what I intend to do," Mr. Conyers said.
Mr. Cummings feels the CBC has arrived at an important plateau in the campaign. "We've got a welcome mat into the Kerry campaign. What we're emphasizing now, is we're urging every Caucus member to have a voter registration drive and get more voters registered," he said.
"(Another) of the things that we plan to do, hopefully in the next week, is meet with key people in the Justice Department with regard to the things that they're doing down there (in Florida), purging voters. This is a re-run of what they did before," he said, about the possibility of voting irregularities like improperly removing names of eligible voters under the guise of purging the names of felons, and even physical intimidation of Blacks trying to go to the polls on Election Day by law enforcement personnel.
CBC members are so concerned about the possibility that Republicans may resort to illegal tactics to stifle Black voter turnout that they have written UN Secretary-General Kofi Annan, calling for UN election monitors for the 2004 U.S. presidential election.
"The intent of our letter is simple," said Rep. Barbara Lee (D-Calif.) in a statement. "If we attempt to ensure free and fair elections for other countries, why wouldn't we do the same for our own elections? Why wouldn't we want to encourage transparency in our own elections process?"
(Nisa Islam Muhammad contributed to this report.)