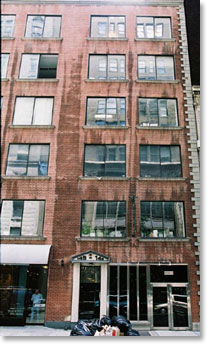 (FinalCall.com) – In the very small world of Black professionals in New York City, where can one go to do business with other Black professionals, find a potential mate for marriage that is the "complete package" or just find new friends?
The answer is the soon-to-open Harlem Club.
We're bringing the ideal female candidates for marriage to the club. We won't have any pigeons in the club and we won't have any poor, broke Negroes either. –Thomas Lopez-Pierre
"The Harlem Club is a social club for professionals that are interested in networking, advancing their career, dating and marrying qualified mates and identifying friends on the same educational level," said Thomas Lopez-Pierre to The Final Call. "The ghetto-fabulous scene isn't for us and the warm and fuzzy environment presented by White clubs wasn't suitable either. We needed our own thing."
The Harlem Club is his brainchild that got started when friends approached him about starting a private men's club that offered a two to one ratio of women to men. Members of the club are divided into two categories, general and associate. The club's organizers sought to have 20 advisory board members pay $5,000, and 250 general members pay $2,500. They must be 21 or older, college graduates preferred with professional accomplishments, and have a good standing in their community, verified with a reference letter. General members initially were only to be men, but after an outcry from the community, that was changed to allow women as general members, too.
Associate members are women only–and not just any woman will do. Associate members pay no membership fee, must be single, between 21 and 35 years old, college educated (Bachelor's or higher) with professional accomplishments, and have a good standing in the community, verified with a reference letter. They must also pass a face-to-face interview.
Their website (www.harlemclub.com) explains that, "Associate Members are selected based on the complete package, which includes, but not limited to, physical attributes, content of character, level of education, professional success, social standing in the community and philanthropic activities."
The club is not about offering equality to the men and women who join.
"There is no equality between men and women," said Mr. Lopez-Pierre. "Men are the providers and a man is only a man if he is a provider. Women are not expected to be providers. Men need to be providers and, at the end of the day, a man is expected to be the provider."
When news spread about the opening of The Harlem Club, the fact that 250 mostly male general members would have access to 500 female associate members that have passed a face-to-face interview, whose photos are posted on the website and are considered "the complete package", was fuel for a brewing controversial fire.
Sherri Day wrote in The New York Times, "Only the Gorgeous and Smart Need Apply." The club has been called "elitist" and a "brothel for the business class."
Malik Russell wrote for Blackamerica Web that Mr. Lopez-Pierre was "creating an exclusive dating club to bring together professional men who can join as long as they pay a $2,500 fee."
Mr. Lopez-Pierre, who publishes Regine magazine for his wife, argued that criticisms that highlight the sexual aspect are not just only intended to sell papers, but are misplaced.
"We are a social club with a purpose. Our goals are to start a real estate investment fund for professionals interested in targeting properties in Upper Manhattan," said Mr. Lopez-Pierre.
The club also plans to start a political action committee to raise $50,000 to support club members seeking political office and to raise another $50,000 for a public housing scholarship fund to help college students living in public housing in New York finance their college education.
"Some of our members are single men who want to be around "drop dead" gorgeous, college-educated women without the baggage of someone else's children. No guy wants to take care of another man's burden," said Mr. Lopez-Pierre. "They're searching for women young enough to take the marriage out for a spin, see if it works and have her young enough to have the children he wants. We're bringing the ideal female candidates for marriage to the club. We won't have any pigeons in the club and we won't have any poor, broke Negroes either."
Comments like those have drawn a line in the sand around Mr. Lopez-Pierre.
"The historical Harlem Cotton Club was another social entity that everyday Black folks couldn't get in. Then, it was color; today, it's education and professional attainment," said Kevin Muhammad, minister of Muhammad's Mosque No. 7 in Harlem. "For men to say they only want a certain caliber of women is really questionable."
Phil Daniels, a New York musician and audio technician said, "It sounds real sexist to me, like an escort service. There are easier and cheaper ways to find a woman to marry."
Shatema Threadcraft is a prime candidate for an associate membership. Living in New York, she's "drop dead" gorgeous, within the age range, single without any children and is a PhD candidate at Yale University. Would she join The Harlem Club?
"Absolutely not. On the East Coast, men are not at any disadvantage in finding a woman. They don't need a club like this. What is keeping them from meeting women in a city like New York? Something is shady about what they're doing," she told The Final Call. "It's probably got 50-year-old men with children my age and wives they don't want to talk about."
In fact, Mr. Lopez-Pierre says the oldest man to become a member thus far is 45 years old and the youngest is 30.
"As a married man, I have the utmost respect and support for marriage," he maintained. "A few of us are portrayed in the media as cheaters, but the majority of us are good Black husbands. If a married man is looking to cheat, the last place he wants to come to is The Harlem Club. Black professional New York is so small."
Despite the contested purpose of the club, men and women are joining The Harlem Club every day, he says. The majority of the members thus far are from the Eastern Corridor. Thirty-five percent live outside of the Tri-State area. Since many applications came from people in D.C. and Baltimore, club owners are planning to begin development on a club in D.C. in six to nine months. The third city will either be Atlanta or Chicago.
"These people don't want to go to a ghetto fabulous club and have to worry about someone pulling out a gun or women being approached in the wrong manner," Mr. Lopez-Pierre explained. "They want to go somewhere with people with their same educational attainment to socialize, do business and maybe find a golf buddy. We're not a dating service and can't guarantee anyone will get a date or marry."
But what they do guarantee is appealing to many.
"I would join the club," said Natasha Hackshaw, a New York graduate from Hampton University. As a private school teacher, if she wasn't in a relationship, she knows finding the right man would be hard.
"I don't go looking for men, but it's always good to meet different kinds of men. You can't network enough. If it leads to other things, then it was meant to be."
Francis Darden, a New York engineer living in Atlanta, thinks The Harlem Club is a great idea. "It sounds almost too good to be true, especially if the women have good attitudes, that's even better. I'd be very interested in joining the club. It's a nice get-away for men," he said.
The Harlem Club plans to open its doors in October at 143-145 Madison Ave. The club is being developed with advance membership fees held with an attorney in an escrow account. It will not be on the street level, but rather on the fifth floor, without any marquee or sign.
"Either you know or you don't," said Mr. Lopez-Pierre.