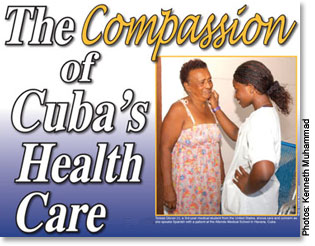 More doctors equal better health
HAVANA (FinalCall.com) – While major media reports the war of words between America and Cuba over President George Bush's new economic sanctions, very little, if anything, is being said about President Fidel Castro's offer of 500 yearly medical school scholarships to solve the health crisis in the Black community.
"We are prepared to grant a number of scholarships to poor youth who cannot afford to pay the $200,000 it costs to get a medical degree in the United States," said President Castro in 2001 when he announced the offer while speaking in New York.
A major problem in the health of the Black community is the lack of Black doctors servicing poor and needy Black patients. With rising costs in medical schools and limited openings for Black students, the problem appears only to worsen.
The Latin American School of Medical Sciences (LASMS) here stands ready to educate a minimum of 500 doctors each year–for free. The only requirement is that, after they graduate, they must come back to the United States and practice medicine among the poor.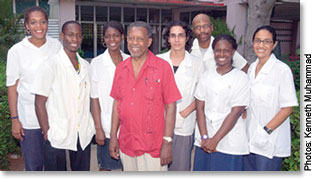 The program is organized by the Inter-religious Foundation for Community Organizing (IFCO)/Pastors for Peace which is under the direction of founder Reverend Lucius Walker. On May 24-29, Rev. Walker headed a U.S. delegation to tour the medical school facilities. The first stop was the Salvadore Allende Medical School, which trains third through sixth year medical students.
"Yours is a noble profession. You must be missionaries and ministers committed to the full development of the people you serve. Go into the world and build a better world, a healthier world. You may become leaders in your community. Take dignity and respect for the poor and commitment to build a new world with you as you go out to become doctors," Rev. Walker said to the students.
After he spoke, Teresa Glover, a third year student from New York City, came looking for him with open arms.
"He's the reason I'm here," she told The Final Call. Ms. Glover graduated from the State University of New York in 1998 with a degree in biology, after which she got a job and worked for three years. In 2001, she heard about the medical school program and called IFCO.
"I love the school. I really want to be a doctor and couldn't have done it any other way. I started working with patients right away. Now that I'm in my third year, there are more hands on interactions with the patients."
Her biggest adjustment is being away from her family and the inability to call home regularly because of the economic sanctions.
"I got married after my first year and my husband, James, is my biggest supporter. We're determined to make it work," she shared.
Cedric Edwards is from New Orleans and has a combined molecular biology and biochemistry degree from Middleburg College. He is in his fifth year and will be the first U.S. graduate next year.
"I'm very excited about graduating, but I'm also concerned about the problems between the U.S. and Cuba. I really want to practice medicine in the United States and help poor people get better health care," he told The Final Call.
Melissa Barber always wanted to be a doctor. Her degree from Ursinus Collge is in chemistry and Spanish.
"I went to a boarding high school, so I've always lived away from home. This is an exciting program. They're teaching me to be a great doctor. I've learned to integrate my patient care with what I learned in my first two years," she told The Final Call.
An export of great import
What Cuba is doing for the students from the U.S. is nothing new. This country is world renowned for educating doctors and exporting them where they are needed the most. Currently, there are 9,000 students from 24 different countries.
Cuba has offered the most student slots to the United States. Other countries have 3,000 students competing for the 50 slots that are offered. Cuba considers this work her humble effort to help all countries within their possibilities.
Since an overwhelming number of students were coming from Africa, Cuba is planning to open a medical school in Africa to serve all of the students who want to be doctors. This work of sending health professionals around the world has led Nation of Islam Minister of Health and Human Services Abdul Alim Muhammad to see Cuba as "the most compassionate country on earth."
"What does Cuba get for sending doctors around the world? They get nothing. They really care about people. They really believe that people deserve and have a right to health care. They believe people deserve life, liberty and the pursuit of happiness," he told The Final Call.
He recalled his first visit to Cuba in 1995. "They had 50,000 doctors for their 10 million people. Now, they have 70-80,000 doctors for 12 million people. They don't need any more doctors. They have a doctor in every community, school and factory. They have the best doctor-patient ratio in the world, with one doctor for every 200 people," he pointed out.
The ratio, in fact, is really better than that. Cuba boasts one doctor for every 165 people, according to the Cuban officials. The ratio in the United States is far worse.
"According to the National Medical Association, there are only 23,000 Black doctors in practice to serve 40 million Black people. How many patients is that per doctor? It's one doctor for every 2,000 patients. That's Third World health standards. We can't elevate the health conditions of our people with that ratio," Dr. Muhammad charged.
"For Whites, the ratio is one doctor for every 300 people. Whites have six times greater access to a health professional than Blacks," he continued. "There are whole areas around the country where there are no Black doctors."
Most doctors agree that people tend to get medical care from people who look like them and are more likely to relate to their own experiences.
Dr. Muhammad said, "We don't have the manpower to do what needs to be done to improve our health. We need six or seven times as many doctors as we have now. How will we get them? This speaks to the greatness of what Cuba is doing."
Getting into medical school
In the United States, there are only two predominantly Black medical schools, Howard and Meharry Universities. Many of the 80 students attending medical school in Cuba applied to medical school in their homeland, but weren't accepted.
Sarpoma Sefa-Boakye is from southern California and is starting a student chapter of the National Medical Association. "They asked us why we didn't apply to Howard or Meharry. I told them that we did, but we didn't get accepted."
In Cuba, there are seats ready and waiting for qualified students to apply. It doesn't cost an arm or a leg either.
"I love it here," said Nicole Murray from New Jersey. "The teachers are very concerned about you. In the U.S., you're just a number and you're expected to fail. If you miss a class, they come after you. [In Cuba,] the teachers look for you and ask you where you were and what's going on," she told The Final Call.
"The teachers are very strict," added Jessica Barreto, who is from New Mexico. "The teachers really want you to be successful."
For Desta Muhammad, a first year medical student from Los Angeles, the goal of becoming a doctor is what keeps her motivated. Like all of the other students, she misses home, going to Muhammad's Mosque No. 27 and eating her regular food. In exchange for that sacrifice, she has learned Spanish, made numerous friends and is getting a free medical education.
"I want to be a doctor and this was the only way I was going to be able to do it. I love the program and encourage others to get involved," she said.
The program consists of a six-month pre-med study which is designed to bring all students to a comparable proficiency level to begin their studies. Many from Latin American countries begin this process straight out of high school at the age of 16.
U.S. students tend to complete more schooling, which bears witness to the Honorable Minister Louis Farrakhan's comments on the "dumbing down" of American education. Some can come straight from high school, but most attend at least two years of college first.
At the LASMS, pre-med includes courses in chemistry, biology, math and physics, an introduction to health sciences, history of the Americas, and a 12-week intensive Spanish language program for those who need it. Some students are able to opt out of pre-med with a placement test in the sciences and Spanish.
The program is based on intensive advising and tutoring designed to help every student succeed. Students must pass competency exams at appropriate points in their course of study.
A six-year medical school program follows, beginning every September, divided into 12 semesters. Students study at the LASMS campus for the first two years, and then go to another of Cuba's 21 medical schools to complete their studies.
The Cuban medical school combines theory and practice and is oriented towards primary care, community medicine and hands-on internships.(For more information on the Latin American School of Medical Sciences, call the Inter-religious Foundation for Community Organizing(IFCO)/Pastors for Peace at (212) 926-5757 or visit www.ifconews.org.)
Related articles: