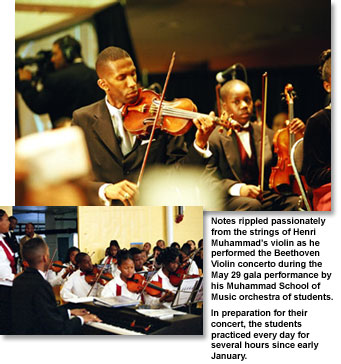 BUFFALO (FinalCall.com) – Nestled in a humble studio space on the second floor of the Langston Hughes Institute, Muhammad School of Music (MSOM) is poised to blossom to its next level, due to the overwhelming success of its fifth annual "Celebration of Youth" black-tie gala May 29.
Earlier that morning, the students at the school eagerly anticipated a question-and-answer session with the Honorable Minister Louis Farrakhan, an accomplished violinist himself.
Walking into the master class applauding the students, he was received with an equally adoring standing ovation by nearly 40 students and their relatives. The students then practiced several musical selections while he sat with a beaming smile.
Then, it was the students turn to be captivated. Sitting gingerly at the edge of their seats, some students were moved to tears as the Muslim leader gave them guidance on their musical education, his study of the violin as a child along with life lessons that will inspire them into their future.
"Having Minister Farrakhan with us is a blessing," shared Henri Muhammad, MSOM founder and executive director. "To think that he sees the value in this, I am very touched. He came to help, asking for no honorarium, to visit our humble little school."
A resounding success
Brother Henri's aunt, supermodel Beverly Johnson, welcomed the excited audience as the mistress of ceremonies for the sold-out gala held at the Buffalo Convention Center. Although the grand ballroom seated 500 people, nearly 600 tickets were sold, with standing-room tickets bought by people who were not concerned about sitting for dinner, but desired to witness the momentous occasion.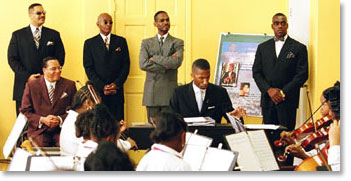 However, the success of the fundraiser exceeded financial gains to reach the emotional and musical achievements of the disciplined students. Elegantly poised and dressed in tuxedos and gowns, the students entered the room in a strolling strings processional, playing "Lift Every Voice and Sing." Dinner followed, then an award presentation to honor the outstanding commitment of exemplary students. The orchestra then performed a selection of several upbeat, spiritual and unique compositions, closing in a stirring rendition of "Can You Feel The Love Tonight" (from the Lion King movie) for their finale.
Featured during the brilliant performance of the orchestra, Brother Henri demonstrated a heart-wrenching command of the violin as he took up the challenge of performing the complex last part of the Mendelsohn Violin Concerto, which Minister Farrakhan performed publicly in a concert for his 60th Birthday Celebration in 1993–the inspiration for Bro. Henri, then a 16-year-old struggling to decide whether he should continue to pursue mastering his violin.
By the time Minister Farrakhan graced the podium to address the audience, he was deeply touched by the students and moved to encourage the school to continue its work. He pledged $10,000 to the school, which he sent the following day upon his return to Chicago. The school also received a $5,000 donation from the city's Afro-American Police Association.
The proceeds from the fundraiser will further plans to develop a recording studio and computer lab, where the students can use computerized music composition software and record college audition CDs. An expansion of the curriculum and classes is also in the works, so that the students can receive a well-rounded musical education without any additional charges to their parents, such as music history, theory and composition, as well as instruction of voice, woodwind, brass and percussion instruments. Annual summer trips will continue, perhaps with an added summer day camp. But the ultimate goal is to construct a building to serve as the permanent home of the school by the 10th year anniversary.
Sounding the keynote
"Music is a universal language. You don't have to speak, just play the music and wherever you go in the world, people respond. It's a language that unites people. It's a language that transcends tribe, race, ethnicity and color. This is why music is universally accepted," Minister Farrakhan explained in his keynote address of the gala.
"As I studied music and loved music and gave up music to study the Word of God, there I saw more division, hatred and misunderstanding between people who say they love God and believe in God, but you could not get them together to create harmonious life."
Although Muslims, Christians and Jews all claim Abraham as their father, he pointed out, there is no harmony among and within the various denominations and sects of each faith tradition.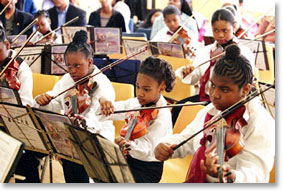 "Who will appear to satisfy that longing and turn disharmony, disunity into harmony, unity and peace?" he asked the audience. "Somebody has to conduct the affairs of human beings so that we can think better, act better, have a better spirit, so that an atmosphere of peace can be created in America and in the world," he continued. "But where is the conductor? Who will sound the keynote? The score that we have been playing is a score that produces dissonance."
The international peacemaker denounced the selfishness, self-gratification, greed and low desires that have led to disease, disharmony, violence, hatred, bloodshed, revolution and war in the world.
"When will we have the peacemakers on the scene? When will we have other than a president who sees the madness and becomes the chief madman? He's not making music; he's creating disharmony all over the earth because he's a madman," he contended, while also condemning the silliness of people who support madness that results in the killing of human beings over oil and the greed for power.
"When will someone strike the keynote and make human beings recognize the Power of God and the greatness of the human family?" he passionately posed to the audience. "I know that Jews, Muslims and Christians can be united if the right score is written and the right conductor reads that score properly."
He continued, "I believe that the Word of God can be made like music. I believe that, if you preach the Word right, you will have a Christian patting his foot saying 'Amen'; you will have a Jew saying 'Hallelujah'; you will have a Muslim saying 'Allah-u-Akbar'; you will have a Buddhist and Hindu chanting mantras."
He concluded his address expressing a sincere prayer and commitment: "I want to see harmony where there is disharmony. I want to see unity and peace. I want to work towards that end until death overtakes me."
Music, color and medicine–for the healing of nations
Sharing his hope for the school, Minister Farrakhan said that it will grow into a great school of music with many young gifted people that will come to help teach the value of classical music. He quoted the Honorable Elijah Muhammad as saying that great things have humble beginnings and lots of trouble in the beginning. He also complimented Brother Henri's wife of five years, Isabel, as being "absolutely his right hand." As the administrator of the school, Sister Isabel has played a critical role in the formation and development of the school from its inception. While Brother Henri focused on the instruction, she devoted herself to the professional streamlining of the school's operations.
The preparation and prayer that this couple devoted to each other in their courtship is clearly evident in their contagious exuberance of their union and partnership in developing their music school. The pair first connected on their similar interests and love of the arts; she was a fashion design student and he was majoring in music. Sister Isabel shared that a natural desire arose in her to help Brother Henri when she would see him working diligently to sell CDs of his compositions.
During their courtship as young Muslims in the Nation of Islam, the two produced a fashion show displaying her designs showcased to his music, as he played the corresponding musical notes to the colors of her garments. Sister Isabel explained that their work is rooted in the merging of Minister Farrakhan's call for a cultural revolution and the work of Mother Tynnetta Muhammad's cultural presentation series, "Sounding the A-Tone."
The synergy that would form from their union eventually gave birth to the Muhammad School of Music June 6, 1999, two weeks after they were married in May 1999. Brother Henri, noticeably humble and described as shy and quiet by his wife, emphatically places the substance of credit with Allah (God) and his wife for the progress the school has made within the past five years.
While the demand was high for Brother Henri to give violin lessons to the children of registered Muslims in the Nation of Islam, shortly after their honeymoon, without any blueprint, the couple went to work on laying the foundation for a school that would eventually embrace all ethnicities, creeds and races. Allah (God) has blessed them to do so much with so little, Sister Isabel told The Final Call.
Starting with fliers listing facts about music and announcing the school as a mosque project, they later held individual lessons in their living room in the evenings after dinner. This magnified into an increase of calls for classes during summer break, thus forming a group class of students that met every other Saturday, with close to 30 to 40 students in their home. While they could not afford to lease a space, they eventually were forced to find rehearsal space as they outgrew the confines of their home. Now, approximately 60 students– 20 of whom are children of registered Muslims in the Nation of Islam–attend the school.
"When Minister Farrakhan accepted our invitation to come to our event, it was so special, because that's what we based this whole idea on," explained Sister Isabel. "With Minister Farrakhan having to leave music to focus on teaching, when Allah asks us to give something up, then you always get it back in return. With Minister Farrakhan's obedience, we see that things come in tenfold. Just based on his sacrifice, we now have all these children that play this instrument."
Instrumental instruction
In December 2003, they moved into the Institute, using three rooms for their lessons and office space, as well as a communal room where they hold their master class.
"It's our school in our community. Other schools don't really have the best interests of our children," Brother Henri maintained. "In the least, the students will grow up with a discipline that they can transfer to any endeavor."
Along with instruction at his school, Brother Henri also teaches at two public schools and two charter schools. Infusing his technical instruction with the history of Black people's influence and creation of certain instruments, Brother Henri works to teach students the value of classical music and the beauty of the violin, which he started playing at the age of 5.
"We are all musical," he says. "Music is a part of us and all around us. We hope to cultivate that appreciation in our children."
A matriarch of musical mentoring
One of the special guests at the gala embodied the spark that lit the inspirational fuse for the evolution of the Muhammad School of Music. Renowned concert pianist Armenta Adams Hummings, who was a mentor to Minister Farrakhan in the early years of his musical training, also received high recognition from Brother Henri for her influence on him. In 1993, Ms. Hummings founded the largest Black music festival, Gateways Music Festival, in Winston-Salem, N.C., in which Minister Farrakhan was invited to perform.
Now, over 10 years later, the musical matriarch was moved by the depth and breadth of what her work started, remarking softly as the students strolled into the ballroom, "look at all of my children."
Minister Farrakhan shared the sentiment as he passed pictures of the students posted on a chalkboard earlier that morning at the school: "These are my babies."
His affection was not lost to Henri and Isabel Muhammad.
"We are really grateful and I pray that all that he did for us will be fuel for us to become better helpers of him," Brother Henri shared.
"His mission is to get all of our people, and all of this that we're doing is to help him fulfill that assignment. I pray that I, my wife and, through us, the school can become a better facilitator for bringing our people to Islam."