ASKIAM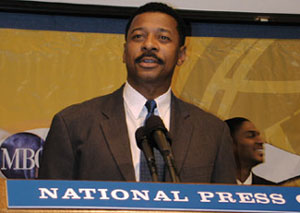 WASHINGTON (FinalCall.com) – For five years, the Major Broadcasting Cable (MBC) Network has survived with one goal in mind: to make a "positive difference in the urban community" with family-oriented television programming.
The fledgling network has now brought "Hollywood to cable" with a new programming model in which Robert Townsend, one of the most versatile actors, producers and directors on the big screen will develop a new fall schedule of dramas, reality shows and entertainment programs to be seen on MBC.
Investors Marlon Jackson, four-time Heavyweight Boxing Champion Evander Holyfield, baseball player Cecil Fielder and broadcaster Alvin James have kept the venture alive without major corporate investors or partners because of the determination and the business plan developed by attorney Willie Gary, MBC's founder.
Up until now, the Atlanta-based network's schedule has focused on Black college sports and original religious programming. While there are many dedicated people who have worked with the network since the beginning, MBC exists, literally, because Willie Gary "wills" it to exist.
"I can tell you this and I say it without reservation: Failure is not an option," Mr. Gary told reporters in response to a question from The Final Call at the National Press Club May 20. "And too many times have we, as a people, depended on somebody else to get us where we need to be. Sometimes-–and I tell kids this every day–you cannot use any excuses.
"Don't tell me we're too small. Don't tell me we're not big enough. Don't tell me, 'Just because we're Black.' Don't use the color of your skin. You have to make it happen anyway. And you can do it," he continued, as MBC staff members and investors applauded.
"This is an urban television network," Mr. Gary explained. "And we're never, ever going to give up the mission that we are about. Because if we lose that, then there was no reason for us to have invested our time and our money" in the first place.
The programming will also be largely original. "We're creating a true family network where the kids can watch, the young adults can watch, and the adults can watch," Mr. Townsend said at the press conference. He plans to set out this summer on a seven-city, major talent-hunt. "We want to give stuff that you can only get on our network. I am interested in original programming and my talent hunt will discover some new stars on this network."
"Over the last 30 years, I have done everything," Mr. Townsend recalled, "from Five Heartbeats, a musical to Holiday Heart, a drama, to a period drama like 10,000 Black Men Named George, to kid programming like Meteor Man, Up, Up, and Away, and Parent 'Hood, which I wrote, directed and produced. With this network, we are going to change the face of television."
With so many re-runs appearing on cable channels, original programming is almost, by definition, unique. There are "degrees" of uniqueness.
"Isn't it ironic that what becomes unique is having clean programming? But it is," Congressional Black Caucus Chair Elijah Cummings (D-Md.) told The Final Call.
Ownership of "clean" images Blacks in America see of themselves–which the entire world is able to see–is an important achievement with political and cultural value. "Communications and media change hearts and minds, but it also defines a people," Rep. Sheila Jackson-Lee (D-Texas) told The Final Call.
"Ownership dictates message. What we've seen here today with MBC is a combination of taking charge of message and of ownership. And by that I believe we are beginning a movement in the 21st Century to begin anew, to try and change the hearts and minds of America, so that America can finally reach her promise."
Ownership and business success are goals at MBC, there is also a commitment to maintaining their original principles, according to Mr. Gary.
"You see, God has blessed Evander, Cecil, myself, Marlon, a lot of us, to make a lot of money. I can make money. There's no doubt about that. But I'm never going to let money make Willie Gary. We're here to make a difference."
The biggest complaint about MBC is that it's difficult for viewers to access it. Congressional Black Caucus members from all over the country helped run interference on behalf of the network, to ensure they were fairly treated and granted access to cable systems. MBC officials maintain that their programming is available in 48 states, more than 3,700 cities, totaling 12 million homes, as well as via "broadband" in some locations, and as a $10 monthly premium in other areas.
"There's one last thing," Rep. Cummings added. "These gentlemen are acting on faith. They are acting strongly on faith, or they wouldn't have gotten to where they've gotten to. We don't know what forces God has, all up in this. I know they're smart enough, they pulled in Brother Townsend, and the folks that they need to do the job and do it well."