FCNNEWSSOURCE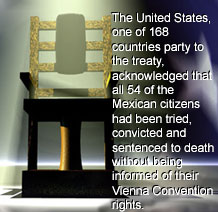 International Court of Justice orders judicial review of U.S. convictions
(FinalCall.com) – The International Court of Justice affirmed the importance of protecting the rights of foreign citizens prosecuted in the United States, Human Rights Watch said.
At the end of March, the court ruled against the United States in a case brought by Mexico concerning the U.S. failure to inform 54 Mexicans arrested on capital charges of their right to talk to their consular officials.
The right to consular notification and assistance is required by the Vienna Convention on Consular Relations. This right enables governments' officials to provide assistance, including legal counsel, to help ensure fair proceedings for their citizens who may be at a disadvantage in criminal proceedings in foreign countries.
The United States, one of 168 countries party to the treaty, acknowledged that all 54 of the Mexican citizens had been tried, convicted and sentenced to death without being informed of their Vienna Convention rights. Mexico argued that consular help could have protected the defendants' due process rights.
"Giving defendants access to consular officials means that they can get good defense lawyers–the surest way to avoid the death penalty," explained Jamie Fellner, director of the U.S. Program at Human Rights Watch.
As Mexico argued before the ICJ, consular notification is particularly important in capital cases, where the lives of defendants are at risk. Mexico has a "Capital Legal Assistance Program" in the United States, which has intervened to protect the rights of Mexican nationals in approximately 110 capital cases. At least 20 foreign nationals have been executed in the United States in the last decade, nearly all without consular notification. Currently, more than 120 foreign nationals from 29 countries are on death row in the United States.