International artist visits D.C., plans tour of Africa to focus on HIV-AIDS epidemic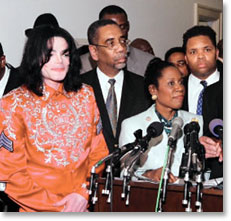 WASHINGTON (FinalCall.com) – The African continent has a true friend in Michael Jackson. During his three decades of visits there since his childhood, Mr. Jackson has financially supported programs to build and equip hospitals, orphanages, homes and schools as well as programs related to child immunization, HIV/AIDS, and the anti-apartheid struggle.
'I cannot imagine a greater asset to this fight against AIDS in Africa and helping us make good on President Bush's promises, than to have Michael Jackson with us.'
–Rep. Sheila Jackson-Lee (D-Texas)
On April 1, the African diplomatic community officially showed its appreciation, presenting the "King" of popular music and the entertainment world's most generous philanthropist with a one-foot-tall, brass elephant statuette from the African Ambassadors' Spouses Association (AASA) in recognition of his worldwide humanitarian efforts, particularly in Africa.
"I would like to take this opportunity to thank Mr. Jackson in the name of the people of my country, Ethiopia," Mrs. Haregewoine Abebe, wife of the Ethiopian Ambassador to the U.S. and hostess of the gala reception at her country's embassy, told more than 200 guests.
"You may recall that Mr. Jackson and his colleagues, Mr. Quincy Jones and Mr. Lionel Ritchie, started the 'We Are the World' project in 1985. This monumental effort raised millions of dollars to assist the victims of famine and mobilize the world to respond to the tragedy faced by Ethiopia at that time," Mrs. Abebe said as audience members cheered.
In 1984, Mr. Jackson composed the song "We Are the World," which was recorded by dozens of the world's most popular singers. The recording and the video earned millions of dollars for Ethiopian famine relief.
Mr. Jackson was in Washington for public meetings with several members of the Congressional Black Caucus (CBC) to promote awareness of the HIV/AIDS pandemic on the Continent, and for private visits with wounded U.S. military personnel being treated at Walter Reed Army Hospital, and with students at the Duke Ellington School for the Performing Arts.
"I cannot imagine a greater asset to this fight against AIDS in Africa and helping us make good on President Bush's promises, than to have Michael Jackson with us," Rep. Sheila Jackson-Lee (D-Texas) told reporters on Capitol Hill March 31, according to published reports.
Over two days, Mr. Jackson met privately with a half-dozen CBC members–including Reps. Lee, William Clay Jr. (D-Mo.), Chaka Fatah (D-Pa.), Jesse Jackson Jr. (D-Ill.), John Lewis, and Bobby Rush (D-Ill.)–as well as with a delegation of African ambassadors. The primary focus of the meetings was to raise awareness about the scourge of AIDS on the African continent.
The full, 39-member CBC declined to officially meet with Mr. Jackson because of a full legislative schedule, Mrs. Jackson-Lee told reporters. Privately, however CBC members were "afraid," one CBC source who asked not to be identified confided. "They didn't want to be associated with someone they think might be a child molester. That was not the position of this office," the source said.
Mr. Jackson has been charged in California with seven counts of child molestation and two counts of giving alcohol to a minor.
"I am very well aware that Mr. Jackson is engaged in the legal system," Mrs. Jackson-Lee said in a prepared statement. "I am also aware that he is innocent until proven guilty. I believe in the rightness of fairness, and that Mr. Jackson should be allowed to maintain his life. Mr. Jackson is a world phenomenon, and we should look outside of condemnation, to faith, charity and hope, which is what Mr. Jackson brings."
Rep. Rush agreed. "We are a nation of laws, and people are innocent until proven guilty," Rep. Rush said in a statement to The Final Call. "After my meeting with Michael Jackson, I came away feeling that Michael would be a magnificent spokesperson for the plight of people suffering HIV/AIDS. He is indeed someone who can lead the global fight for those suffering with this disease. His voice would be a powerful and forceful voice around the world to provide medical treatment and eventually a cure."
Mr. Jackson pledged that he was "capable and willing to dedicate the remainder of his entire life to the HIV/AIDS epidemic," Mr. Rush said. "With this campaign, Michael will continue to have an impact on our lives. Michael is the man for such a time as these."
About 50 onlookers waiting to get a glimpse of the superstar, shouted, screamed and chanted "Michael! Michael!" as Capitol Police and security guards helped Mr. Jackson push through the crowd in the hall of one of the House office buildings on his way into and out of the meetings held over two days.
CBC member Jesse Jackson Jr. contrasted President George W. Bush's promise in his 2003 State of the Union address to provide $15 billion over the next five years for AIDS treatment in poor countries, with more than 14 months of "shortages of money and battles over patents (which) have kept anti-retro viral drugs from reaching more than 90 percent of the poor who need them," according to "talking points" prepared for the meetings with Mr. Jackson, and obtained by The Final Call.
U.S. spending to fight AIDS thus far "has not kept pace with (Mr.) Bush's $15 billion, 5-year plan," according to the talking points. "Last year, (Mr.) Bush requested only $940 million and Congress provided less than $2 billion to the effort," which should translate into $3 billion per year for five years. This year, Mr. Bush requested $2.6 billion in bi-lateral assistance.
Still, Rep. Jackson (no relation) complained in his talking points, Mr. Bush donated less than half of the money authorized by Congress ($200 million of $550 million that was approved) to the Global AIDS Fund. Total donations to the fund are about $1.6 billion a year, barely 20 percent of what the United Nations Secretary General Kofi Annan said was needed when he created the fund in 2001.
"This is very, very important to me," Mr. Jackson, the singer, said in an impromptu response to a reporter's question about his commitment to fighting the spread of the disease. "I have traveled to Africa and have made financial contributions there," he said in a written statement. "However there are still 9,000 people a day dying of AIDS. There are so few schools that some children are not being educated. Many are starving and dying of diseases that we just take an aspirin for.
"Many of life's pleasures that we take advantage of–running water, electricity, paved roads, working toilets, beds and food–are dreams for the majority of our African family. We all share the same commitment and we all care about what happens in our Sister continent, Africa."
Mr. Jackson's involvement is "welcome" according to one influential African ambassador. "AIDS is a very big problem for the world. Not just for Africa, but the entire world. We know because we've been at the forefront of fighting against it," Ambassador Edith Ssempala, from the Republic of Uganda, told The Final Call in an interview.
"This cannot be fought by just one person. It cannot be fought by just one country. It is a fight that we all have to be engaged in, so we definitely welcome Michael's involvement." Uganda has been one of the most successful African countries in stopping the spread of AIDS, and its three-pronged so-called "A-B-C" approach of abstinence, being faithful to one sexual partner and the use of condoms, has been held up by U.S. officials as a model for the continent where more than 30 million people are living with the AIDS virus.
The entire world must rally now to help Africa, Ambassador Ssempala said. "Africa helped the rest of the world to become who they have become. Europe was helped. Japan was helped. The 'Asian Tigers' were helped. That was really an investment in the security of the world."
In response to invitations from several African governments issued in their meeting with him on Capitol Hill, Mr. Jackson pledged a concert tour, and to visit some of their countries, in order to help raise money for AIDS prevention, treatment and education programs.
Mr. Jackson, now 43, has traveled to Africa since he was 12 years old, he told guests at the AASA reception. And he has taken his own children to the continent often for vacations. In fact, he confided Africa is his children's favorite vacation destination.
Coincidentally, the name of another Black music superstar was being lent to raise awareness in support of African education at the same time as the Jackson visit, according to the African American Newswire (AAN).
Her Royal Highness Nan Ama Ayensuah Saara III, Queen Mother of the Denkyira people in the Central Region of Ghana, West Africa, visited New York March 31 to discuss plans surrounding a major land development project near the slave-trading port of Cape Coast, Ghana. It will be called the "Nina Simone Cultural Village," according to a statement released by AAN. The 50-acre project is scheduled to be dedicated on April 21, the one year anniversary of the death of the sultry Ms. Simone, one of the most popular songwriters, pianists and vocal performers from the late 1950s until her death in 2003.
The African Ambassadors' Spouses Association (AASA) was founded in 1978 with the mission to provide assistance to programs benefiting underprivileged children in the 51 participating countries. AASA is planning a gala fundraising dinner in Washington on June 4 to raise funds for crippled children. "I will be supporting them in their effort 100 percent," Mr. Jackson said in a statement prepared for delivery at the reception, "and (I) encourage you all to do so.
"We must use whatever resources we have to work together to combat all of these problems. Several members of Congress have pledged their support in our efforts by continuing to raise the awareness of the American people, and to continue their fight for proper funding for programs affecting Africa. This is a good thing and we must support them," Mr. Jackson's statement said.
"It's good. It's very good and we are very happy. Michael wants to help AASA, and he wants to help Africa, for HIV, and for disabled children, so we are happy," Mrs. Haoua Diatta, wife of the Ambassador from Niger and chair of the June 4 gala told The Final Call.