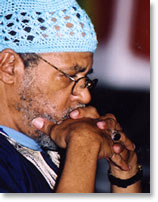 Houston (FinalCall.com) – Moving beyond talk of reparations and taking the movement to the streets and in Congressional hallways–this is the challenge of Dr. Conrad Worrill's dream of the ndaba, or "Great Sit Down" which convened for its third session Mar. 20 in Houston, Texas.
'We need to repair ourselves in order to repair the reparations movement.'
–Dr. Conrad Worrill
Organized by the local chapter of the National Black United Front (NBUF) with Kofi Taharka at its helm, and with assistance from the city's Muhammad's Mosque No. 45 and Southwestern Regional Minister Robert Muhammad, the ndaba conducted a series of working groups centered on issues related to reparations, that included legal strategies, youth organizing, legislative initiatives, research and scholarship, education, the criminal justice system and Black Spiritual Faith.
During a plenary session prior to the working group sessions, held in a cozy room inside the Shrine of the Black Madonna Cultural Center, Dr. Worrill, chairman of the National Black United Front, outlined his three-point action plan aimed at placing the issue of reparations at the center of the presidential campaign discourse.
First, a letter will be given to each presidential candidate placing the demand for reparations in their lap, and requesting their official response. Second, a letter will be sent to all elected political officials asking for their position on HR 40, the reparations study bill sponsored by Congressman John Conyers. Third, a petition will be distributed on the grassroots level to acquire mass support to press the government for reparations.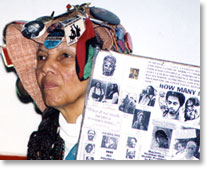 "We have to show people that the reparations movement can organize in the streets, take our demands to them, solicit their support and put in the Congressional discourse," Dr. Worrill explained to a room full of leaders of groups championing for justice for Black people.
In response to Dr. Worrill's dream, the Honorable Minister Louis Farrakhan asked if anyone in the audience shared his dream, saying it is actually a vision, and then raised his hand in support. In a great show of unity across organizational lines, a sea of raised hands spread across the room.
Dr. Worrill continued, "We need to repair ourselves in order to repair the reparations movement."
Continuing to break down artificial barriers in the diverse collective of organizations, Minister Farrakhan called the variety of methodologies, approaches, ideologies and appearances "true beauty" during his remarks to the morning planning session. He set a spiritual tone for the day's events, challenging audience members to move beyond their personal hurt and wounds that may have been inflicted by their brother or sister in the movement, in order to move it forward at a greater momentum.
"Do you love the principle of reparations more than you love your ego? Do we want the liberation of our people more than we want our name and face in the newspaper?" he asked. "It's about the success of a process. We can only think, how can we serve this process?"
He encouraged them to use the day's workshops to repair, saying that each person present was valuable to the process. He concluded his remarks exhorting participants to patience.
"Be patient with one another. Listen to one another like you're listening to God. We must come out of this ndaba committed," he said, adding that, with a unified effort, 10 million signatures could be gathered on the petition. "We must become teachers and spread the reason why reparations are right and exact and the most unifying principle we can get behind."
The fourth session of the ndaba is scheduled to take place in October, hosted by scholar Dr. Ray Winbush, author of "Should America Pay?" at Morgan State University in Baltimore, Maryland.
Along with NBUF, the Local Action Committee for Reparations, and the Nation of Islam, participating groups of Ndaba III included the Jericho Movement-Amnesty Program; the Society for the Preservation and Dissemination of Information at Texas Southern University; Hebrew Israelites; Pan African Collective; New Afrikan People's Organization; Republic of New Afrika; Trinity United Church of Christ; New Black Panther Party; POWER; S.H.A.P.E. Community Center; N'COBRA; Sankofa Student Organization; St. Saviour Church; Brothers Healing Brothers; Phoenix Outreach Center; Black Heritage Society; Sehah Youth Programs; African Chamber of Commerce; and the Ta-Seti African Historical Society.
Next week: Look for the reparations petition, letter to elected officials, and a report from the town hall meeting at Texas Southern University that culminated Ndaba III.