FCNNEWSSOURCE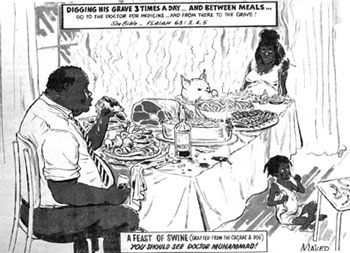 We would not be immodest in the least if we said: "I told you so," in response to a report this month by the U.S. Centers for Disease Control and Prevention (CDC) which warned that obesity will soon surpass tobacco, if trends continue, as the No. 1 preventable killer in this country.
"Rheumatism, headaches, backaches, stomach aches, pain in all joints, with high blood pressure" are the consequences of what, when, and how much we eat, the Honorable Elijah Muhammad actually warned his followers in 1934!
"We are only digging our own graves with our appetites and teeth," he reiterated 33 years later in his seminal book, "How To Eat To Live."
The government is now on the bandwagon, offering constructive advice to fight increasing obesity, even among children. A poor diet and physical inactivity caused 400,000 deaths in 2000, a 33 percent jump over 1990, according to the CDC report.
Considering the unflinching consistency of Mr. Muhammad's advice to us, we would not be immodest in the least if we now also said: "I told you so" when we simply bear witness to the wisdom of his message.
Americans will be told in a new ad campaign that they can lose weight, one step at a time, if they eat less and exercise more, according to published reports quoting the Journal of the American Medical Association.
"Since the American citizens eat more meat, sugar and starchy foods than they should, there is almost an epidemic of too much sugar accumulating in our blood."
The words of Mr. Muhammad, published 37 years ago, are up to the minute today!
The government study is the most recent in a line of research documenting widespread weight gain from seniors to children, among Americans. Researchers analyzed data from 2000 for the leading cause of death and preventable factors known to contribute to them. Like tobacco (about which Mr. Muhammad warned his followers decades before the Surgeon General's report linking smoking to cancer), obesity and inactivity increase the risks for the top three killers: heart disease, cancer and such cerebrovascular ailments as strokes.
Obesity and a sedentary lifestyle also strongly increase the risk of diabetes, the sixth-leading cause of death, according to the report.
The American so-called "fast-food lifestyle," which of course must be "super-sized," coupled with increased use of computers and a decline in school physical education programs were cited by Health and Human Services Secretary Tommy Thompson as contributing factors to the nation's fat problem.
The obesity epidemic is even worse for Black people, according to nutritionists. And while there is a cultural, even poetic, charm attached to the image of the full-figured Black woman, "African American adult females have the highest obesity rate," CDC Public Health Nutritionist Annie Carr told BET.com.
Americans should get more exercise every day, experts advise. Walking is an excellent source of physical activity and 10 minutes of additional walking can be easily inserted into our daily routines, bywalking up the stairs instead of taking the elevator, or getting off the bus a block farther from our destinations, for example.
And, of course, the most fundamental advice from Mr. Muhammad himself.
"Eat one meal a day or one meal every other day, and it will prolong your life," Mr. Muhammad advises in "How To Eat To Live."
"Do not think that you will starve. On the contrary, you will be treating yourself to life, and a life filled with sick-less days. You can hardly get sick eating this way."