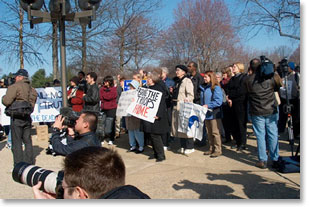 WASHINGTON (FinalCall.com) – What started for many military families as support for President George Bush and the Iraqi war, one year later has become anger and disillusionment at the loss of life, untold numbers of wounded and injured, suicides and sexual assaults of female soldiers–all based on the ruse of weapons of mass destruction by President Bush.
"I am sick to my stomach and very scared for my son in Iraq who's only 20 years old," Alicia Barr from New Jersey told The Final Call. "He turned 20 in Baghdad and I'm worried about him all the time. I don't want another parent, Iraqi or American, to go through this."
"Considering the lies we're uncovering now, this has to end. The government has to understand that these are our children who are dying and getting wounded."
Ms. Barr joined other families of military men and women stationed in Iraq for A Trail of Mourning and Truth. Members of the group Military Families Speak Out and others turned their suffering into a protest that started March 14, at Dover Air Force Base where the dead are returned. The protest then traveled to Walter Reed Medical Center, where the wounded and injured are returned. Finally, the protest concluded at the White House on March 15, where the names of the dead were read.
"These young people dying and maimed are victims of our military policy," Cynthia Banas, of New York, told The Final Call. At 74 years of age, she was part of an international peace team that went to Iraq prior to the war.
"The international community said 'no' to this war. They said 'yes' to inspections, but 'no' to war. Look at the quagmire we have now. The Americans thought the Iraqi people would welcome them with flowers, but they got death and destruction instead. It used to be that everyone went to war, but now it's a class system where only the poor go to war."
John Grant, a Viet Nam veteran, visited Iraq in December and January to assess the soldiers' conditions and spoke at Walter Reed.
"Our soldiers in Iraq are targets. They represent the U.S. military policy of occupation. It's a terrible situation in Iraq and our military is making it worse. This war is based on a pack of lies," he said. "If there was no oil there and Israel wasn't in the neighborhood, we'd ignore Iraq like we do Africa."
Bob McIlvanine, whose son was killed September 11, 2001 in the World Trade Center, represented 9/11 Families for a Peaceful Tomorrow. He said that he couldn't understand why the American people weren't angry at the government.
"Why aren't we upset at all the lies that've been told? We have to do like they did in Spain and vote our conscience. We have to bring about change. We can't let this continue," he said.
But deaths don't tell the whole story. Although the Department of Defense reports the number of military deaths, it has not released an updated report on the number of wounded soldiers sent home.
"Last November, the number of wounded and ill was at 10,000. Since then, we can't get any new numbers," said Susan Brewer, president of America's Heroes of Freedom, which services the needs of soldiers with clothes and toiletries when they return from Iraq.
"No one has been given access to the soldiers and that upsets me," she told The Final Call.
It also upsets the military families who have great difficulty getting information on their loved ones. Many have signed an online petition at petitiononline.com, demanding that the military begin to publicly announce the number of wounded military and civilian personnel in the Iraq conflict.
They wrote to Congress: "The number of wounded has been essentially treated as secret information, and the Bush Administration refuses to reveal to the American public, and military families at large, the true sacrifice being made by our troops and loved ones. Through unofficial sources it is known that the number of wounded is high. It is imperative that these figures be made available to facilitate debate within our citizenry as to the human cost of this war."
Last December, the Pentagon reported the number of wounded soldiers and medical evacuations from the war at close to 11,000. However, analysts estimate those numbers could range as high as 22,000. The Lansduhl military hospital in Germany, where many wounded are taken before they come home, reported at the end of 2003 that the number of hostile wounded and non-hostile wounded was 9,433. However, the Army reported only 2,750 for that same time period.
A cloud of secrecy also hangs over the incidences of suicide of the troops in Iraq. In January, William Winkenwerder Jr., assistant secretary of defense for health affairs, discussed the 22 suicides reported among troops in Iraq last year in a briefing.
He explained that that figure represents a rate of more than 13.5 per 100,000 troops, about 20 percent higher than the recent Army average of 10.5 to 11. That number does not include cases under investigation, so the actual number may be higher.
"We don't really know what's going on over there with our people. The media and the military are only giving us a glimpse of what's happening. What would make young people kill themselves? What is happening to our troops and why aren't they getting better treatment and support?" asked David Washington, of Veterans for Peace. "It's so bad over there that our people would rather kill themselves than wait to come home. It's a shame that the President has dragged us into this mess."
For female soldiers, that "mess" includes rape. At least 37 female service members have sought help for rape after they returned from duty in Iraq, Kuwait and other overseas stations.
The Denver Post broke this story with a report that the women experienced poor medical treatment, lack of counseling and incomplete criminal investigations by military officials. Some of the women reported receiving punishment after they reported the assaults.
The official Pentagon written response to the alleged rapes was, "Commanders at every level have a duty to take appropriate steps to prevent it, protect victims and hold those who commit them accountable."