CHARLENEM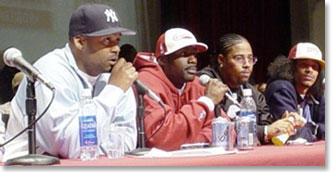 LOS ANGELES (FinalCall.com) – Scores of hip hop artists, young fans, ministers, scholars, politicians and wrestlers filed into the University of Southern California's Bovard Auditorium February 12 for the Hip Hop Summit Action Network's (HSAN) voter registration initiative, "Hip-Hop Team Vote," which has registered 60,000 new youth voters to date.
Heavy bass beats and hooks, emitted from 100.3-FM/KKBT turntables, shadowed voter em-powerment messages. The panelists answered questions on hip hop's role in politics, the music and film industries, and economic conditions in the "hood."
"The hip hop community is so powerful and, while some of us have been very successful entrepreneurs, it's just as important to acknowledge that we are a part of a larger community," stated Roc-A-Fella Enterprises CEO and HSAN co-chair Damon Dash. "We can make a difference by doing our part to empower kids to change the world. Voting is an important step toward that."
A day earlier at a press conference announcing the summit, he urged youth to attend, stating that with one vote and one voice, everyone could make a difference in the name of hip hop. Adults, he continued, could further aid youth by sharing their connections, contacts and information.
Summit moderator and HSAN's President and CEO Minister Benjamin stated that part of hip hop is simply telling the truth, and that the drama it reflects points to drama within the Black community. "Some of ya'll want the lyrics to change in hip hop–change the social condition in the community that the lyrics represent," he said.
HSAN intends to help bring about that change with its voter initiative summits, he stated, and asked attendants to vote, use their true power wisely to control their own destiny in their community, state and nation.
Hip hop "godfather" and HSAN Chairman Russell Simmons launched the "One Mind, One Vote" campaign early last year in support of his group's Hip Hop Team Vote's mission to register 20 million voters in five years. So far, the collaborative effort has netted over 60,000 new voters–20,000 of them in Houston, Texas during Super Bowl weekend alone.
The strategy by Mr. Simmons to utilize the hip hop culture to educate and mobilize young people to vote is absolute genius, said Congresswoman Diane Watson who, along with California State Assemblyman Mark Ridley-Thomas, supported the cause.
"You are indeed the future– people who have been in the struggle for decades will hand the baton to you–we want you to know the issues and be empowered to take hold of your future," Congresswoman Watson stated.
Nation of Islam's Western Regional Minister Tony Muhammad concurred with the need to demolish unjust laws, stating that it is crucial to connect hip hop artists to street level peacemakers to ensure that there are better images lifting Black women, men and their struggle.
True hip-hoppers understand the necessity for politics, stated Rev. Dr. Eric Dyson. "Move from thinking about it on wax to getting involved with it in the streets. It is critical to join the hip hop generation to the civil rights generation."
Other artists who showed their support for the summit included Snoop Dogg, Kanye West, Loon, Tamia, the Young Gunz, Lazie Bone, Noctournal, the Outlawz, Crooked I, LT Hutton and Fredro Starr. Other participants included comedian Arnez J, Washington Redskin Byron Chamberlain and Professor Keith Harrison.
(HSAN's next summit is slated for March 10 in Syracuse, N.Y. More information can be found on its website, HSAN.org.)