Aristide: I did not leave Haiti of my own free will (Nation Barbados, 03/06/2004)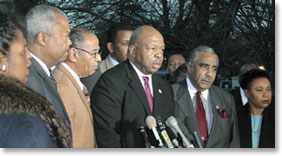 UNITED NATIONS (FinalCall.com) – Eight angry members of the Congressional Black Caucus (CBC) traveled to the United Nations on the afternoon of March 1 to meet with Secretary-General Kofi Annan to seek help in dealing with the crisis in Haiti.
"This is a terrorist take-over," claimed Brooklyn Democratic Congressman Major Owens, in his characterization of the departure of deposed Haitian President Jean Bertrand-Aristide.
"What makes this a coup?" asked Congressman Charles Rangel (D-NY). "He was dictated a resignation, which he had to sign."
Mr. Rangel added that Pres. Aristide said he had not negotiated any country where he would be willing to go.
"We've got to understand what really transpired in Haiti, because we know this doctrine of pre-emption and regime change could lead us down a path of Haiti today, where tomorrow?" Congresswoman Barbara Lee (D-Calif.) asked The Final Call.
"We have to demand the truth," Congressman Gregory Meeks (D-NY) said, noting that hearings have been planned in Washington, D.C. to find out if Mr. Aristide was forced out of office, as he has claimed.
Congressman Meeks said the deposed leader, in a phone conversation with Congressman Rangel, claimed he was forced onto a plane, and was somewhere in the Central African Republic, unsure of his future. Mr. Aristide claimed that he, his wife and her brother were held in an airplane for 20 hours, and upon landing was constantly surrounded by "military" people. "He said he was kidnapped," Congressman Meeks added.
White House spokesman Scott McClellan called the claim "complete nonsense," according to the Associated Press. "It was Mr. Aristide's decision to resign," Mr. McClellan told AP.
Defense Secretary Donald Rumsfeld, speaking on CNN, also said the Haitian leader left the Caribbean nation under his own accord. "The idea that someone was abducted is just totally inconsistent with everything I heard or saw," Mr. Rumsfeld said.
"I've got no reason to disbelieve President Aristide," argues Representative Elijah Cummings (D-Md.) and chairman of the CBC. "It's just frustrating, because I have another Black man, Secretary of State Colin Powell saying it did not happen the way Mr. Aristide said it did."
"I am not in a position to contradict Secretary Powell, but I am telling you this," Congressman Rangel told reporters, adding, "on Saturday night (February 28) when President Aristide was being told that he had to get out of the country, or his life would be in danger as well as other Haitians, I was in constant communication with Secretary Powell. This information that Mr. Aristide asked to leave was never shared with us," Cong. Rangel said.
Congressman Rangel said that he had asked Mr. Aristide in a phone conversation if he had been handcuffed as he was leaving the palace. "He said no, but it felt like he was handcuffed," Mr. Rangel said.
"As far as what has happened to President Aristide, we, members of Congress, will not stand around and watch a democratic nation being taken apart by our own country. That concerns us greatly," Congressman Cummings told reporters. He said that the real purpose for their trip to the UN was to make sure that they established a "working" relationship with regard to Haiti and the secretary-general.
Other members of the CBC attending the UN meeting were Congressman Donald Payne (D-NJ), Congressman Kendrick Meek (D-Fla.) and Michigan Democratic Congressman John Conyers.
Mr. Annan did not attend the press conference, but at an earlier press briefing his spokesman Fred Eckhard said the secretary-general "feels that governments should change only by constitutional means."
Mr. Annan had addressed the press earlier in the morning as he entered the UN. "This time I hope the international community is not going to put a band-aid on, and that we are not only going to stabilize the current situation, but assist the Haitians over the long haul and really help them pick up the pieces and build a stable country," he stressed.
The UN Security Council in an emergency session on February 29 passed a resolution approving the immediate dispatching of a multinational force in Haiti and the creation of a UN peacekeeping force to replace it three months down the road.
"All this is being played before our eyes," writes Jeffrey Sachs, director of the Earth Institute at Columbia University, in a story that appeared in the Financial Times newspaper. "The ease with which the U.S. thereby brought down another Latin America democracy is stunning. What has been the CIA's role among the anti-Aristide rebels? How much U.S. money went from U.S. institutions and government agencies to help foment this uprising? Why did the White House abandon the Caribbean compromise proposal it endorsed just days before? These questions have not been asked. Then again, we live in an age when entire wars can be launched on phony pretenses with few questions asked," Mr. Sachs wrote.