FCNNEWSSOURCE / Cultural Links
Previous colmuns by Mother Tynetta Muhammad

[The following interview is reprinted from the Third Edition of Mother Tynnetta Muhammad's magazine, Cultural Links.]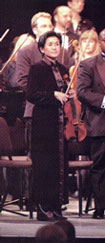 Ayke Agus was the special assistant to the Honorable Minister Louis Farrakhan in preparation for his performance of the Beethoven Violin Concerto. She is also the author of a compelling book based on the life of master violinist, Jascha Heifetz.
"Mrs. Agus had given me valuable instructions from the great master himself. I thank her for the gems that she shared in her coaching of me, and of the things that she has shared with me of the life of this great master, Jascha Heifetz, who would have been 101 years old February 2, 2002." —Honorable Minister Louis Farrakhan
Mother Tynnetta: Tell us a little of your background, where were you born and how did you come to learn of the great violinist, Jascha Heifetz?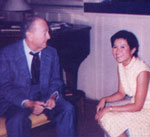 Ayke Agus: Well, it's very simple. I grew up in Indonesia and since there were not too many qualified and wonderful violin teachers, my mother admired Jascha Heifetz's artistry and his incredible way of dazzling the listeners through recording. She told me to listen to him often through his recordings. When I was a little older, I was given a scholarship to study in the United States. After that, I began to look for him.
Mother Tynnetta: During the last 15 years of Jascha Heifetz's life, what do you think was the most outstanding lesson that you learned from your association with him?
Ayke Agus: This is very interesting that you should ask me that because it has nothing to do with music. It has something to do with one's humility, always remembering where you come from and never being arrogant about yourself. Humility is what will open you up to a lot of different possibilities and capabilities. I am sure you are going to ask me a lot of questions that will lead to my experiences with the Minister. He believes in the same thing and that is why he is the greatest Leader that one will ever want to have.
Mother Tynnetta: How did you come to meet Minister Farrakhan?
Ayke Agus: I had no knowledge that he could play an instrument. When he told me that he wanted to attend my Master's Class, which was being held at Bein and Fushi in Chicago, this is how I met him. He said that he was thinking about playing something for the Master Class, but he didn't. Instead, I was invited to a dinner that was held at his home after the Master Class; he then played for the whole family. That was the first time that I heard him play the whole Beethoven Violin Concerto by heart and I accompanied him on the piano.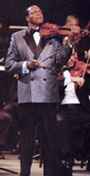 Mother Tynnetta: Do you believe that the gift of music and spirituality are blended into the special character that the Honorable Minister Louis Farrakhan brings to his leadership? Might this gift of music from his childhood experience be a part of his success?
Ayke Agus: He has an incredible talent in keeping his listeners captivated. It is a gift from God that goes along with this ability to play the violin the way he does with great dexterity, and synchronization in the use of his left and right arm and hands. I believe it also has something to do with the fact that he was an athlete.
As you may know, he was a runner, and you need to have such an incredible sense of discipline, self-control and dexterity throughout your whole body. It takes years and years of training. He told me so much, I wish I remembered it all. The Minister would take my suggestions, comments and criticisms without ever arguing. The Minister wants to learn, he hungers to learn and to improve. I've never met anyone more humble in my opinion than Jascha and the Minister.