UNITED NATIONS (FinalCall.com) – "When you are working to combat a disastrous and growing emergency, you should use every tool at your disposal," United Nations Secretary-General Kofi Annan told media presidents, CEOs and senior executives of over 20 media organizations from around the world.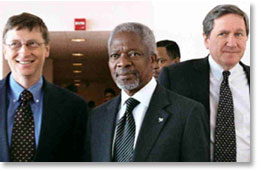 "HIV/AIDS is the worst epidemic humanity has ever faced. Its impact has become a devastating obstacle to development. Broadcast media have tremendous reach and influence, particularly with young people," Mr. Annan said.
Mr. Annan announced the Global Media AIDS Initiative at a luncheon on January 15, which is a partnership between UNAIDS and the Henry Kaiser Family Foundation, and the money people Bill and Melinda Gates Foundation. The secretary-general hosted a roundtable discussion, and joining him were media luminaries such as Robert Johnson, founder and CEO of Black Entertainment Television (BET); Bill Gates, co-founder of The Bill & Melinda Gates Foundation and chairman of Microsoft Corporation; Mel Karmazin, president of Viacom; Zhao Hua Yong, president of China Central Television; Bill Roedy, president of MTV Networks International; Jack Valenti, president and CEO of Motion Picture Association of America; Mark Byford, deputy general of the British Broadcasting Company (BBC) and Peter Matlare, chief executive of the South African Broadcasting Corporation.
Media represents an often overlooked and underutilized resource in the fight against the global AIDS epidemic, Mr. Annan said. "We must seek to engage these powerful organizations as full partners in the fight to halt HIV/AIDS through awareness, prevention and education," he added.
In a press release, UNAIDS said "current" levels of knowledge and awareness of HIV/AIDS vary widely around the world. The UN agency said that in some areas which are the most affected by the epidemic, a very large percentage of people have never heard of the disease.
According to UNAIDS, recent studies have shown that, in 21 African nations, more than 60 percent of girls were found to have at least one major misconception about the virus or were unaware of its existence. In a survey conducted in Bolivia, 74 percent of young women either did not know AIDS existed, or harbored serious misconceptions about it. Surveys in 40 nations worldwide indicate that more than 50 percent of young people, aged 15 to 24, do not know how HIV is transmitted.
During his welcoming address, Mr. Annan acknowledged the efforts of many media outlets that had already found innovative and creative ways to reach audiences and provide knowledge about HIV. He said that other media organizations announced new commitments to develop partnerships with other interested organizations, the United Nations, non-governmental organizations and community organizations. "These partnerships will help multiply the reach of the AIDS education message and ensure that information is disseminated as widely as possible," he stressed.
Viacom announced an expanded commitment to the sum of $200 million, which added to their present commitment of $180 million, making them the corporation with the largest budget for AIDS programming. VIACOM executives also announced the broadcasting of a 20 second spot dedicated to an AIDS message during the February 1 Super Bowl football game. Industry insiders estimated that a 20 second spot during the Super Bowl costs at least $1 million.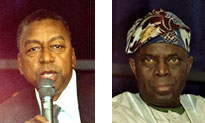 Mr. Johnson said BET would commit an additional $10.5 million for airtime messages, HIV testing in the community and sponsoring talks about the disease in schools.
China Central Television said they would make a "very significant" commitment to expand their AIDS programming. The Voice of Nigeria and the STAR Network of India promised to expand their commitments.
Gazprom-Media, Russia's largest private media holding, announced plans to help lead a coordinated, cross-platform, multi-year public awareness campaign in Russia aimed at preventing the spread of HIV/AIDS.
Russia has emerged as a new epicenter of the global HIV/AIDS pandemic, registering the world's fastest growing rate of new infections, according to UNAIDS. By December 2003, the total number of registered HIV infections in Russia climbed to over 260,000–an increase over the 10,993 reported less than five years earlier, at the end of 1998. Russians under the age of 30 now account for more than 80 percent of all registered cases of HIV infection.
And in Ukraine, where the World Health Organization (WHO) estimates about a half-million people are currently HIV-infected, the Elena Franchuk Anti-AIDS Foundation and a group of Ukrainian media companies announced their launch of "Let's Stop AIDS" campaign. The foundation said they would expand the scope of the media campaign with additional television and print advertising as well as organize events to raise awareness. WHO said HIV-infection is growing rapidly in the Eastern Europe/Central Asia region.
Mr. Gates applauded these announced efforts. "I believe that more people would insist that their governments tackle HIV/AIDS, malaria and tuberculosis because they will now be able to see, up close the devastation these diseases cause," he said.
Mr. Johnson told The Final Call that BET understood its role in the Black community, as a primary voice, which fueled their newest commitment to AIDS programming. He also said that he conveyed to the roundtable participants that there was no single magic message, and admitted that he specifically talked about producing messages with which Black youth could identify. "We have offered to produce culturally sensitive spots for distribution to all media-outlets," he said.
Peter Matlere said South African Broadcasting wants to expand its coverage of the AIDS epidemic in the Black communities in America. "We realize we have a responsibility to explain to our audience what is happening to Blacks globally," Mr. Matlere said.
However, Richard Holbrooke, a former U.S. ambassador to the UN during the Clinton administration, said many AIDS awareness campaigns were too timid and failed to tackle the taboos, adding that mandatory testing for HIV messages should be considered. Governments have shied away from mandatory testing because of privacy issues, he said.