LOUISVILLE (FinalCall.com) – Michael Newby, 19, was shot dead–in the back three times– by a Metro-Louisville undercover detective on January 3. According to the police, it was a drug bust, Mr. Newby had a gun, and there was a struggle.
On January 8, approximately 450 people attended a rally and march in downtown Louisville, after which, windows were broken at police headquarters. Four people were arrested, all of them White, according to the Louisville Courier-Journal.
Rev. Louis Coleman of the Justice Resource Center told The Final Call that the young people wanted to talk to Police Chief Robert White, a Black man, because they are angry.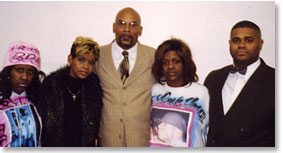 "I have been in the struggle for 30 years; and I appreciate the stand those young people took," Rev. Coleman said. He explained that 13 months ago, James Taylor was shot by police while handcuffed. The police said he had a box cutter and lunged at them. The police were exonerated in that case. "There were demonstrations over the James Taylor case, but nothing like what is happening now," Rev. Coleman said.
Mayor Jerry Abramson and the police chief said at a news conference that there would be "zero tolerance" for violence. Police Chief White, according to Rev. Coleman, did visit with area youth to discuss their concerns.
A 19-year-old University of Louisville student told The Final Call, which was not allowed in the meeting, that "this sends a message to the city that young people cannot be ignored and we are paying attention to what's happening."
However, there are some local activists who are looking for some long-term solutions to the problems of the city's Black population.
"We failed Michael Newby, he did not fail us"–that is what I said at the forum the Louisville Study Group of the Nation of Islam sponsored at the local Urban League headquarters on January 9," explained Minister Jerald Muhammad.
University of Louisville Professor, Dr. Ricky Jones, attended the forum and asked people to consider a more proactive approach than protests to bring about change, since strategies that have been used thus far have not worked. "There has been an increase in drug violence in some of our neighborhoods and the police have stepped up their street crime activity," Min. Jerald told The Final Call.
But Yvonne Woods, president of the Norfolk Community Resource Center, called city police solutions "short-sighted." Ms. Woods continued: "Residents need opportunities and alternatives. We appreciate the police, but we need to stabilize ourselves. Crime won't go away until people have access to education and services. Talk to the drug dealers–they want jobs."
Michael Newby's mother and father, Angela Bouggess and Jerry Bouggess, attended the forum, along with many residents who said that after the march and rally they felt they had nothing else to do.
Prof. Jones said that religious organization, civic groups, business and political leaders can now write the plan that would empower Black people.
In his remarks to the audience, Min. Jerald referred to Min. Farrakhan's guidance in his book, "A Torchlight for America," where he states: "Black organizations and leadership must focus on self help. We should create a forum in which we can convene regularly to discuss the troubles of our people and develop solutions that we can execute on our own.
"Each Black organization and every Black leader has a role in the upliftment of our people. We must recognize and respect each other's role and learn to work with those with whom we may be at variance ideologically. We should consider establishing a united front for the purpose of converging our efforts to meet common objectives over one, three, five and ten years."
"Black leadership must champion the strategy of turning within to do for self," he concluded in his quote from the book.