WASHINGTON (FinalCall.com) – At Union Station, the homeless and hungry blend with the hurried travelers with such familiarity that, at first glance, you can't tell one from the other. Take a longer look and you'll notice the men and women who regularly wait for money or a meal, rather than the Metroliner to New York.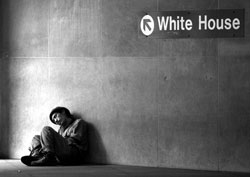 "Some days, the people are nice and give me their food; others days, I just wait and get their leftovers from the trash," said Henry Johnson.
He is among the growing numbers of men, women and children in major cities who face each day homeless and hungry in America, according to a new U.S. Conference of Mayors-Sodexho Hunger and Homelessness Survey, released December 18.
As the overall economy remained weak, requests for emergency food assistance increased by an average of 17 percent over the past year, and requests for emergency shelter assistance increased by an average of 13 percent in the 25 cities surveyed.
"Every year I'm out here, I see new faces," explained Mr. Johnson. "It used to be more men, but now I'm seeing more women and some of them even have children."
The survey was taken in 25 major cities including Boston, Chicago, Cleveland, Denver, Detroit, Los Angeles, Philadelphia, San Francisco and D.C.
"This survey underscores the impact the economy has had on everyday Americans," said Conference of Mayors President and Hempstead (NY) Mayor James A. Garner. "The face of homelessness has changed and now reflects who we least suspect. During this holiday season, I urge all Americans to recognize their obligation to help their neighbors in need."
Sodexho USA Chief Operating Officer Richard Macedonia said, "At a time of year when most of us are looking forward to the joys of the holiday season, it is disheartening and disturbing to learn that so many of our fellow Americans are in desperate need of shelter, food, clothing and the other basic necessities of life–and that, in nearly every major U.S. city, the problem of hunger and homelessness is steadily growing."
Unemployment and various employment-related problems were the leading causes of hunger, according to the survey. Other causes contributing to hunger include low-paying jobs and high housing costs.
Janet Washington thought she could afford suburban life. She wanted better schools for her children, but food prices were higher even though it looked better than at the city supermarkets.
"We couldn't afford to eat like I wanted. I found myself buying packaged noodle meals and hot dogs for my kids," she said. "It got so bad, I had to get in a cheese line at the church to get emergency assistance."
As needs increased, 56 percent of the cities surveyed reported that people were turned away due to lack of resources. Over 14 percent of the requests for emergency food assistance are estimated to have gone unmet during the last year.
"These are not simply statistics," said Nashville Mayor Bill Purcell, who co-chairs the Conference's Task Force on Hunger and Homelessness. "These are real people who are hungry and homeless in our cities."
The leading cause of homelessness, according to the survey was the lack of affordable housing. Other causes attributed to homelessness include mental illness, lack of needed services, low-paying jobs, substance abuse and the lack of needed services.
For children, homelessness paints an equally bleak picture. Randall Monroe was 12 years old when his family got evicted. "I had to wait at the same bus stop for school where my furniture was put when we got put out. My friends teased me and I began to hate my mother," he said.
What Randall didn't know was that his mother's rent had gone up $200 over the past year, while her income stayed the same.
"I was paying rent, but it was always late. One day, they told me not to pay anymore. They wanted people who could pay on time living in their apartments. It caught me off guard. They told me I had to leave," his mother explained.
"We packed some stuff up and left the rest for later, but it was too late. I really didn't have anywhere to go, so I took my children to a shelter," she said.
Finding shelter is not a guarantee, however, for many. In fact, 84 percent of the cities reported that emergency shelters have turned away homeless families due to lack of resources.
People remained homeless for an average of five months in the surveyed cities. Single men comprised 41 percent of the homeless population; families with children were 40 percent; single women were 14 percent; and unaccompanied youth were five percent.
It is estimated that substance abusers account for 30 percent of the homeless population in the survey cities and persons considered mentally ill account for 23 percent. Seventeen percent of the homeless in survey cities are employed and 10 percent are veterans.
The problem of homelessness and hunger are not going away anytime soon. Even with an improving economy, city officials believe that economic conditions will continue to have a negative impact on the problem of hunger and homelessness.
"I heard they were giving billions to rebuild Iraq. What about the poor, the homeless and the hungry over here? Does the president care about us? Don't we need somebody to rebuild us too?" asked Mr. Johnson.