Cincinnati police: A license to kill (FCN, 12/15/03)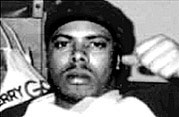 NEWARK (FinalCall.com) – Protesters gathered on December 19, in front of the Peter Rodino Federal Building here to demand that the five Orange, New Jersey police officers convicted in December 2000 in the death of Earl Faison, 27, be sent to jail.
December 19 marks the third anniversary of the guilty verdicts in the Faison case. "It has been three years and the five officers found guilty in federal court of violating Mr. Faison's civil rights have not been to jail or even sentenced for their crimes," Larry Hamm, head of the Newark-based group Peoples Organization for Progress, told The Final Call. "We are out here today to call attention to the injustices facing Black people."
Mr. Faison, an innocent Black man who was wrongly apprehended as a suspect in the murder of Orange police officer Joyce Anne Carnegie, died after being in police custody for 45 minutes on April 11, 1999.
The five police officers, four Whites and one Black, were convicted of violating Mr. Faison's civil rights, after evidence was presented at a federal trial that officers kicked and punched him, and sprayed him in the nose and mouth with pepper spray as he lay handcuffed in a police station stairwell.
In May of 2001, the judge in the case, John C. Lifland, overturned the guilty verdicts. However, a three-judge panel in the U.S. Third Circuit Court of Appeals in Philadelphia, Pennsylvania reinstated the guilty verdicts in March of 2002.
The attorneys for the officers have asked for a new trial, based on alleged improper processing of blood samples by an FBI lab. "Judge Lifland, who is still presiding over the case, is considering their request and is expected to make public his decision sometime in late December," Mr. Hamm said.
Amnesty International (AI), a London-based human rights group, in a press release dated July 2001, said they were not in a position to comment on the merits of the decisions taken by prosecutors in the case. "We do believe that it is of paramount importance to endure that law enforcement officials responsible for such egregious abuse are dealt with according to the full force of the law," the group said.
AI also commented on the controversial use of pepper spray by police officers. "There is evidence to suggest that OC spray may be inherently dangerous when used against subjects with underlying health conditions such as asthma," AI stated in their press release. The human rights group noted that since the early 1990s, more than 90 people in the U.S. were reported to have died in police custody after being exposed to OC spray.