FCNNEWSSOURCE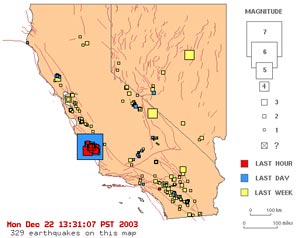 (FinalCall.com) – A strong earthquake measuring 6.5 on the Richter scale struck central California today and was felt from Los Angeles to San Francisco.
According to prelinary reports from the U.S. Geological Survey, the earthquake struck at 11:56 a.m and was centered north of the town of Cambria which is 185 miles northwest of Los Angeles.
Details of injuries and damage were not yet available but initial reports highlighted power outages in region and at least one collapsed building in Cambria from the quake which lasted approxmiately 30 to 45 seconds. At least 5 aftershocks measuring up to 4.3 in magnitude followed the initial earthquake.