FCNNEWSSOURCE
Should Eminem Apologize? Should We All Apologize? (DaveyD.com)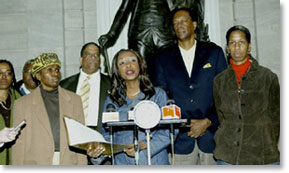 NEW YORK (FinalCall.com) – Community activists say they are angered by the lyrics in hip hop music that continue to denigrate Black women. Community leaders, activists and political representatives joined Brooklyn Councilwoman Yvette Clarke (D), Nov. 26 on the steps of City Hall to condemn specifically the lyrics of an Eminem rap song that they said is "misogynist" and "racist", as well as to condemn such lyrics by other popular hip hop artists.
Reading from a prepared statement, Councilwoman Clarke said, "There is nothing more important than what we have to say about the context of the images, sounds and words that are broadcast to our youth. And we are here to say that the entire hip hop industry must begin to make itself more respectful and accountable to a community it owes so much to, and it should be compelled to repay."
Representatives of the Harriet Tubman/Fannie Lou Hamer Collective joined Ms. Clarke at City Hall, along with Viola Plummer of the December 12th Movement; Erica Ford of the CODE Foundation; the Masses for Human Rights; Africans Helping Africans; council members and Bob Law of the New York Million Man March Coalition.
The second-term councilwoman said the group had gathered to say that the type of lyrics espoused by rap artist Marshall Mathers, aka Eminem, in a recording made a decade ago, and coming to light now, were "outrageous" and "disrespectful" to Black women.
"While I am heartened to hear he has apologized, his destructive lyrics have provided our community with an imperative to examine a culture that has an enormous influence on the youth in our community."
"But just because someone has apologized for their destructive actions," Ms. Clarke added, "doesn't mean that we don't have an obligation to stand up and say Eminem was wrong."
The Eminem lyrics have stirred a whirlwind of controversy in the hip hop community, according to BET.com. On November 25, the website reported that Source magazine publisher Dave Mays said he was stepping down from the board of the Hip Hop Summit Action Network, which is chaired by rap mogul Russell Simmons, because of the organization's defense of Eminem.
BET.com quoted Mr. May's saying that Mr. Simmons was "irresponsible" for rushing to defend Eminem's "racist" lyrics. He also said he wanted the network to disclose their relationship with Eminem and his management. Spokespersons for Eminem charge that Source magazine has it in for the rapper. Calls to Mr. Simmons and the network's office were not returned at Final Call press time.
At the press conference, Ms. Clarke called attention to her support for the hip hop industry. She said in the past year she had celebrated the "positive" contributions of artists such as Doug E Fresh, Kurtis Blow, Run DMC and Grandmaster Flash. She urged for pressure to be placed on the recording industry.
"The record industry knowingly promotes the hatred on our airwaves," she said. "I am calling upon the music industry that is hip hop to seek out ways to give back to community institutions that feed the minds of our youth."
West Coast rap icon, Davy D seems to agree with Ms. Clarke. Writing an article, which appeared on the Internet news service The Blacklist.net, Davy D said, "Let's not get sidetracked by a diversion around Eminem, who has basically said what Black artists say every day in their music. Let's focus on those folks behind the scenes who call the shots."