/GIN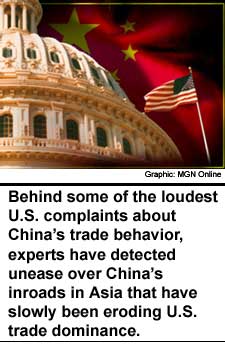 BEIJING (IPS/GIN)–Two years after its entry into the World Trade Organization (WTO), China is picking its way through a minefield of explosive trade issues, drawing criticism for dragging its feet on market reforms, for its aggressive export strategy and for a politically sensitive trade row with the United States.
Its frictions with trade partners have mounted, despite the fact that China has kept a low profile since joining the trade club in 2001. During the last world trade talks in September in Cancun, Mexico, Beijing took care to avoid antagonizing any side during angry debates that aborted the meeting.
The bone of contention in trade relations has been China's currency, which, since 1995, has been pegged at 8.28 yuan to the U.S. dollar. By some estimates, the Chinese yuan is undervalued by 15 to 25 percent, but others have put this figure at as much as 40 percent.
Detractors charge that currency peg has given Chinese exports a substantial price advantage in the global marketplace, aiding the country's transformation into a formidable export juggernaut.
China's exports totaled nearly $308 billion in the first nine months, up more than 32 percent from a year earlier. The U.S. trade deficit with China also hit a record $12.7 billion in September.
With the United States headed toward presidential elections next year, allegations of protectionist Chinese practices have become a political issue there. Politicians charge that China is fast becoming the world's manufacturing base, snatching market share away from U.S. companies and driving up unemployment in the United States.
In recent weeks, a succession of U.S. officials visiting China have delivered warnings that, unless urgent action is taken to ease tensions, Beijing and Washington are headed for a trade collision.
Washington would not tolerate a "stacked deck," said Donald Evans, the U.S. commerce secretary, addressing China's growing trade imbalance with the United States. Without two-way market access, "it is very tough" to sustain a relationship, Mr. Evans said during his Beijing visit in late October.
Beijing has faced a barrage of complaints about its laggard pace of complying with commitments made in its accession agreement to the WTO two years ago. Manufacturers around the world have complained about Beijing's selective approach in liberalizing the economy when it comes to goods from cars to agricultural products.
Defending their record, Chinese officials point to the number of new laws and regulations that have been introduced in order to live up to Beijing's WTO commitments. "China has strictly fulfilled its commitments," said Foreign Ministry spokeswoman Zhang Qiyue, speaking at a recent press briefing.
Yet, even when the legal framework has been put in place, China has been slow to strengthen enforcement of such rules, say global trading companies. A case in point is the protection of intellectual property rights, where since last year a number of important legal changes have been introduced.
Recently, the European Union addressed the WTO secretariat and asked that the Chinese government take tougher measures to protect intellectual property rights, warning that rampant counterfeiting and piracy in China continued to hurt relations.
According to Evans, China has been unwilling to seriously crack down on illegal piracy, which last year cost U.S. copyright holders $1.9 billion.
In areas like agriculture, China has used bureaucratic methods to restrict the amount of soybeans and other products that can be imported. Requirements for administrative permits and ambiguous food safety standards have all served to delay and discourage foreign competitors from penetrating the market too quickly.
Behind some of the loudest U.S. complaints about China's trade behavior, experts have detected unease over China's inroads in Asia that have slowly been eroding U.S. trade dominance.
"China's emergence and China's growing regional political heft has U.S. policymakers alarmed," former U.S. trade representative Charlene Barshefsky said during the Boao Forum for Asia summit in China this month. "There is clearly a shift in power in Asia."
The United States remains Asia's largest trading partner, but trade between China and the rest of Asia is booming as never before. Beijing is also offering sweeteners: new investment and pledges to import more.
China's appetite for raw materials has galvanized producers from Australia to Malaysia and South Korea. Chinese demand for base metals, precious metals and commodities have all risen sharply, driving the country's imports even higher than its exports.
"Talking up the U.S. trade deficit with China, the United States has been over-focused on China's rising exports," said economist Cheng Siwei. "But what about China's growing imports? China can't maintain trade equilibrium with all its trading partners."
"It is easy to blame only China for the trade imbalance with the United States, but there are plenty of Japanese, South Korean and Taiwanese companies that have transferred their operations to China and that contributes to the rising imports," added professor Zhang Hanlin, an expert with the WTO Research Institute.
Despite its defiance of U.S. pressure to devalue its currency, Beijing has been quick to show it is willing to expend political capital and avert a trade collision.
In an attempt to defuse tensions, Beijing has just launched a U.S. buying spree, signing agreements to import airplanes, cars and associated engines worth $1.7 billion.
Zhang Guobao, vice minister of China's development and reform commission, said the deals with U.S. companies Boeing and General Motors are only the start of a long purchasing list that would also include agricultural products.
Some other steps that Beijing has taken include changes in China's tax rules that are expected to clip at least some of the country's trade growth.
The changes that take effect on Jan. 1 next year would cut the rebates on tax payments that Chinese businesses can claim for goods sold abroad. Experts expect the cuts to wipe out thin profit margins and slow down exports by small manufacturers that are short of cash.
China is also using its large foreign currency reserves – a total of $356 billion – to buy more U.S. treasury bonds, which provide U.S. investors with capital for re-investment.