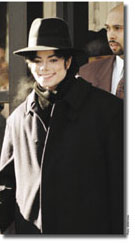 (FinalCall.com) – While media reports and the Santa Barbara prosecutor's office under the direction of Thomas Sneddon may have painted a picture of Michael Jackson as guilty beyond a reasonable doubt following his arrest November 21, the facts are that he is innocent until proven guilty.
The slander of Mr. Jackson by the media coupled with the unprofessional manner of Mr. Sneddon–who flippantly told the pop star before international news media November 19 to "get over here and get checked in"–have made Mr. Jackson a cause celebre that generated worldwide protests in support.
From Budapest to Rome to New York, fans lit candles and held placards that said, "We love you Michael." They wanted to remind the world of the pop star they know and love.
Mr. Sneddon is the same district attorney that worked on allegations of child molestation hurled at the pop star 10 years ago, which were later settled out of court. Perceived by some observers as conducting a personal vendetta, Mr. Sneddon explained that he is only seeking justice, not revenge or the limelight.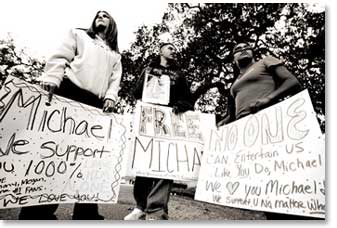 Mr. Jackson turned himself over to police in Los Angeles, Calif., after a warrant was issued for his arrest. He was later released on a $3 million bond. Mr. Jackson, who maintains his innocence, then flew to Green Valley Ranch in Nevada.
"As you know, the charges recently directed at me are terribly serious," he said in a brief statement. "They are, however, predicated on a big lie. This will be shown in court, and we will be able to put this horrible time behind us."
"Lies run sprints, but the truth runs marathons. The truth will win this marathon in court," he added.
As the news hit, numerous people claiming to know Michael Jackson appeared in front of microphones giving their interpretation of the pop star and his conduct.
Older brother Jermaine Jackson appeared on CNN and angrily responded.
"We're tired of people–I'm sick and (expletive) tired of people speaking on my brother's behalf and my family's behalf who do not know us. So, you put these people on national TV, on international TV, and they say these things, and the public is saying, 'Oh, wow, is he really like this?'
"My brother is not eccentric. We had an incredible, wonderful childhood. And what they're doing is bringing him down with the very thing that he loved–his children and family."
He continued, "My brother is about peace. They don't know us. But this will reveal itself."
To give his large fan base the truth of what is going on, Mr. Jackson will speak directly with fans via his website, www.mjnews.us.
The pop star is reportedly staying in Nevada with his family.
"He is surrounded by his family who have been extremely supportive," explained Stuart Backerman, the superstar's spokesman. "He is very strong, he is very confident that the charges will be proven untrue."
Worldwide response
As soon as the news hit that Mr. Jackson had been arrested, devoted fans planned their strategy to show support. Fan clubs worldwide went into action. In Paris, fans marched to the Arch of Triumph, where they held candles and sang, "We Are the World," a 1980 hit by Mr. Jackson that raised money for famine victims in Ethiopia.
They carried signs and banners of support while shouting "Innocent! Innocent! Innocent!" and "Michael, Michael."
In Toronto, fans gathered in several cities. They wore vintage clothing and buttons proclaiming their support of Mr. Jackson.
"I've been a fan for 20 years," said Erick Heikurinen, 30, at a rally in Toronto. "Michael is a good person, a kind-hearted person who is just too honest, sometimes."
In Montreal, Julie Munajim, 25, told reporters, "I believe he's innocent. I've been a fan since I was five."
Holding a sign that read, "Michael, You Are Not Alone," she said, "I'll stay here as long as it takes to get the message out."
In New York, fans held a candlelight vigil in Times Square and in Hollywood, fans rallied at his engraved star on the Hollywood Walk of Fame.
Family and friends outraged
The Jackson family has vowed to fight what they perceive to be a media assassination of Michael Jackson. His mother, Catherine, told the German magazine Bunte that, in America, there were two roads to justice, "one for Whites and one for Blacks."
Brother Jermaine said, "He is innocent. This is nothing but a modern-day lynching."
On November 21, he told Barbara Walters on the "20/20" television program that his brother was innocent of the sexual molestation allegations in 1993 and he is innocent today. The previous allegations were settled out of court because the family did not want to fight due to business and family obligations.
"This is extortion–the second time around," he told Ms. Walters. He went on to say that this time around the family would do everything necessary to clear Michael's name.
"We're ready for war," he said. "We're going to get together with our generals, our troops, and our people and we're going to mobilize and fight."
Long-time friend and supporter, actress Elizabeth Taylor told reporters that she believes Michael Jackson is "absolutely innocent" and will be "vindicated."
In a statement, Ms. Taylor criticized the media for behaving "abominably" toward Mr. Jackson. "Their whole reaction is that he is guilty," she said. "I thought the law was 'innocent until proven guilty.'"
The man we know and love
For five decades, the world has marveled at the music and work of Michael Jackson. It started in the '60s with his brothers in the group, the Jackson Five, making music in his hometown of Gary, Indiana. As a solo act, he brought hits like "Thriller," "Billie Jean," "Smooth Criminal," "Remember the Time" and "Off the Wall."
His stellar career has produced an astounding 100 million-plus lifetime record sales. The week of his arrest, he released his new single, "What More Can I Give" along with a "Number Ones" album, which is currently number one in the United Kingdom.
The new single is just another one of his ongoing philanthropic efforts. "What More Can I Give" is available online as a charity to raise money for children's literacy, education and enrichment programs through music and the arts.
It features 3LW, Mariah Carey, Nick Carter, Aaron Carter, Celine Dion, Gloria Estefan, Billy Gilman, Hanson, Michael Jackson, BeyoncŽ, Ziggy Marley, Ricky Martin, Reba McEntire, Brian McKnight, Mya, Nsync, Tom Petty, Carlos Santana, Jon Secada, Shakira, Thalia, Usher and Luther Vandross.
"Millions of people grew up with Michael Jackson as a musical influence in our lives. He was young, we were young and we grew up with his siblings, too," Mississippi attorney Elizabeth Webb told the The Final Call.
"He's one of the most talented artists that God has gifted. What he gave us can't be taken. His music is a part of us. The District Attorney Tom Sneddon may not listen to him, but millions do and we support Michael Jackson."
Could it be something else
The arrest of Michael Jackson continues to dominate the news. Many observers have questioned why that day and why such force and power. Antonia Zerbisias wrote in The Toronto Star that the coverage was part of "the boardrooms of big media attempt to dumb down the nation."
"How else to explain last Thursday's orgy of Michael Jackson coverage on CNN–hours of chopper cam shots of airport runways and police station parking lots–on the day that Bush was being trashed in effigy in London, 27 people were killed and 400 injured by truck bombs in Turkey, a U.S.-Canada taskforce report on the causes of August's massive blackout was released and who knows how many U.S. troops were becoming casualties in Iraq?"
While on a Radio One show hosted by Mark Thompson, author and activist Dick Gregory questioned the timing of Mr. Jackson's arrest. He explained that it was odd that every time Michael Jackson is about to come out with an album or moneymaking venture, he is hit with a scandal. Michael Jackson also explained a similar concern after his arrest.
Mr. Gregory reminded listeners not to forget that Michael Jackson embarrassed SONY and music mogul Tommy Mottola when Mr. Jackson claimed that they were racist and took advantage of and mistreated Black artists.
He also stated that Rev. Al Sharpton, who came to the defense of Michael Jackson, was soon overwhelmed by media coverage of a videotape that showed individuals attempting to frame him in a drug deal.
The activist went on to say that when they showed Mr. Jackson in handcuffs, it was symbolic and when they handcuffed him, they handcuffed the entire Black community. In other words, if they can do this to a Michael Jackson–with his money and stature–then they can do it to anyone in the Black community.
Mr. Gregory believes that Michael Jackson will "come out clean" in this dilemma and he asked people to say a daily prayer for the "truth to come out." He believes, ultimately, people will be shocked at what that truth is.
The amount of support for Michael Jackson from the Black community was no surprise to radio personality and activist Bob Law.
"Black people respond supportive when a highly visible Black person comes under attack, because we are suspicious of these attacks. We don't have faith in the judicial system, the courts or the press," he told The Final Call. "We support people under attack based on our history with the judicial system."