FCNNEWSSOURCE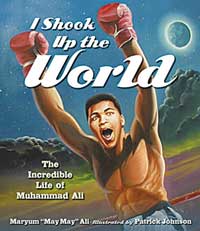 (FinalCall.com) – "I Shook Up the World"–that's what legendary boxing giant Muhammad Ali shouted after he beat Sonny Liston to gain the title of World Heavyweight Champion in 1964. It's also the name of a new children's picture book written by his eldest daughter of his nine children.
Disappointed and unsatisfied with the children's books about her father, Maryum "May May" Ali took matters into her own hands and penned a funny, lyrical and touching tribute to her father in 32 pages that all ages will enjoy reading.

"I wanted to use my father's life story as a way to inspire young people, as well as record his history," the professional social worker explained. "I've learned so many lessons from his life. This book carries the messages of believing in yourself, overcoming hardships, being committed to your goals, the benefits of being dedicated to hard work and practice, standing up for your beliefs, and the power of being positive. I feel that Muhammad Ali can be a hero for future generations."
May May divided the pictorial biography into 10 rounds–styled after a boxing match–with each round telling the tall-tales and humorous moments of certain periods of the figher's life. Beautiful illustrations by Patrick Johnson brighten the book, which concludes with a detailed timeline and factoids of Ali's life and career.
The story begins with the fight coming to life in a 12-year-old Cassius Clay after his bike was stolen. This led him to an officer who started the training of the boxer that would become the first to ever win the world heavyweight champion title three times. The book also chronicles Ali's fights and determination outside the ring, such as his challenge against a court ruling that stripped him of his boxing license and title after he legally became a "conscientious objector" to the Vietnam War, or when he accepted Islam, became a member of the Nation of Islam and his name changed to Muhammad Ali.
Although the author admits that it was a challenge narrowing down the events in his life that would be depicted in the book, she said that her father was happy with the results–once she had convinced him that she wrote it herself.
"He said it was great, gave me a big hug, and thanked me for honoring him," she shared.
(Maryum Ali will be in Illinois for two special book signings. On Sat., Nov 14, from 7-8 p.m., she will be at Borders Bookstore in Matteson, Illinois, 4824 W. 211th St. Then, on Sun., Nov. 15 at 1 p.m., she will visit Chicago's Afrocentric Bookstore at 4655 S. King Drive. For more information and dates on upcoming book signings, call Beyond Words Publishing at (501) 531-8700.)