/GIN
Downing of US aircraft in Iraq brings home the harsh reality (Gulf News)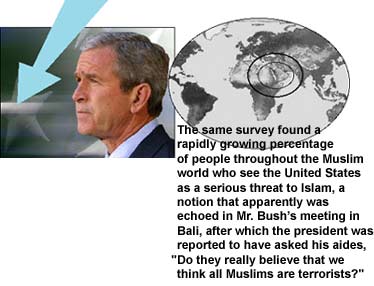 WASHINGTON (IPS/GIN)–If President George W. Bush was surprised on his recent trip to Indonesia by the negative view the country's Muslim leaders had of his administration, he is unlikely to be reassured by two new surveys from Latin America and Europe.
Nearly 90 percent of more than 500 elite figures in six Latin American countries polled by the University of Miami School of Business and Zogby International gave Pres. Bush a negative rating. Fifty percent of respondents gave his performance the lowest possible rating: "poor."
His highest negatives were found in the region's traditional powerhouses: Brazil (98 percent), Argentina (93 percent) and Mexico (92 percent), according to the survey.
A second poll carried out by Eurobarometer for the European Commission of all 15 European Union (EU) countries found that more than two-thirds of citizens saw the U.S.-led war in Iraq as "not justified."
Only six percent of the 7,515 people polled said they believe Washington should be in charge of security in Iraq, while 43 percent agreed the job should be given to the United Nations.
In Baghdad itself, scene of a rash of recent terrorist bombings, pollsters found skepticism about U.S. intentions running high, according to a new Gallup poll.
Only four percent of respondents there said they accepted Washington's main stated reason for going to war–to eliminate weapons of mass destruction (WMD). More than four in 10 said they believed the principal objective was to seize Iraq's oil reserves.
The three polls come amid continuing erosion in Pres. Bush's poll standings at home, where his approval ratings for the past several weeks have fallen below where they stood before the terrorist attacks on Sept. 11, 2001.
Worse for Pres. Bush, a new poll released Oct. 28 by USA Today, CNN, and Gallup found that 57 percent of political independents who are likely to decide next year's election now disapprove of his performance in Iraq, and that only 35 percent of independent voters say they intend to vote for him.
But if Pres. Bush's popularity has plummeted at home, his standing abroad is much worse. Last June, a month after he announced the end to major hostilities in Iraq, the Pew Global Attitudes Project found that strong majorities in Washington's chief NATO allies supported a more independent relationship with the United States in both diplomatic and security matters.
The same poll, which measured attitudes toward the United States in eight predominantly Islamic countries–from Nigeria in the west to Indonesia in the east–found that "the bottom has fallen out of support for America in most of the Muslim world."
In Indonesia, where Pres. Bush met Islamic leaders on his recent Asia tour, only 15 percent of respondents expressed favorable opinions of the United States, a steep decline from 61 percent who did so just last summer.
The same survey found U.S. favorability ratings in Turkey also at 15 percent, in Pakistan at 13 percent and at only one percent in the Palestinian territories occupied by Israel and in Jordan, a staunch U.S. ally.
The same survey found a rapidly growing percentage of people throughout the Muslim world who see the United States as a serious threat to Islam, a notion that apparently was echoed in Mr. Bush's meeting in Bali, after which the president was reported to have asked his aides, "Do they really believe that we think all Muslims are terrorists?"
The latest international polls are not quite as alarming, but still demonstrate the degree to which the administration's policies appear to have isolated the United States from many of its traditional allies, both in Latin America and Europe.
The results were especially surprising in the Miami/Zogby poll of Latin American elites.
Not only did Mr. Bush identify the region as his top foreign-policy priority during his presidential campaign three years ago, but the elite figures–most of them in politics and business–interviewed for the survey have traditionally identified more closely with Washington than do the general populations of those nations.
But virtually all the respondents indicated they felt that Bush had badly neglected Latin America during his tenure. Only one in eight rated his job performance concerning the region as positive.
Pres. Bush received his most positive ratings from elites in war-torn Colombia and recession-hit Venezuela, where 23 percent of respondents rated his performance either "good" or, much less often, "excellent."
The survey also found unexpected skepticism about whether the region could benefit from unfettered free trade with the United States, with more than one-half of respondents saying the U.S. would be the biggest beneficiary of a proposed hemisphere-wide accord.
The notion that a free-trade agreement would favor Washington over Latin America was particularly strong in the region's two biggest economies, Brazil and Mexico, where three of four respondents said the United States would benefit most.
Almost 40 percent said a free-trade accord would benefit both sides more or less equally. That view was strongest in Venezuela (71 percent), Argentina (48 percent), Colombia (46 percent) and Chile (45 percent). In Mexico and Brazil, only 18 percent of respondents agreed.