FCNNEWSSOURCE
Oakland's terrorist Riders walk free (San Francisco Bay View)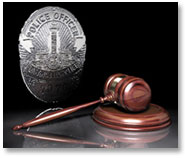 OAKLAND (FinalCall.com) – More than three years after the revelation that a group of cops, who called themselves the "Riders," had beaten, planted evidence on, and stole drugs and money from alleged suspects, a deadlocked jury acquitted them of eight charges and could not agree on 27 other charges, causing the judge to declare a mistrial and allowing the officers to go free.
The City of Oakland had already given more than $10 million to 119 plaintiffs of a civil lawsuit connected to the case.
"It's an insult to the African American community that police are not held to the same standard as they are in other communities; it is a dark day," said Attorney John Burris, who represented the 119 plaintiffs in the civil suit.
Two of the four officers known as the Riders were White and the others were Mexican. Most of their victims were young Black males. Of the 119 civil suit plaintiffs harassed by the officers, there were two Black women, two Hispanic males and the rest Black men. More than 100 people arrested by the officers had their cases dismissed due to the corruption.
After eight months of courtroom testimony, the jury deliberated for 55 days. Several times, they reported to the judge that they were deadlocked, but were ordered to remain in deliberation. Finally, more than a year after the trial began, making it the longest trial in the county's history, the jury found the cops not guilty on eight counts and a mistrial was declared on the remaining 27 police. The District Attorney is considering a retrial on those counts.
The former officers were freed and expressed a desire to get their jobs back. When charges were initially brought three years ago, the four cops were dropped from the force, but Police Chief Richard Word says they have no future as Oakland cops.
"I stand by my decision to terminate these officers," Chief Word told The Final Call. "These officers failed to comply with departmental policy and were terminated accordingly. Specifically, they refused to cooperate with an Internal Affairs investigation which is grounds for dismissal."
Chief Word says he respects the findings of the jury but also agrees with the City's decision to pay the civil plaintiffs.
"I support settlement of the civil case because the department needs to make systematic and operational changes to ensure incidents such as these never occur again," he said.
City Councilwoman Nancy Nadel, who represents the district the cops patrolled, denounced the verdicts. In a statement, she said the verdicts will be "a giant step backward in improving trust between the police and the citizens of West Oakland."
-David Muhammad
and Sharron Muhammad