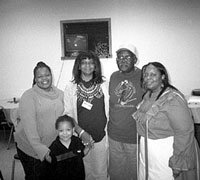 ENID, Oklahoma (FinalCall.com) – "History speaks of the 'Trail of Tears' in the past tense, and perhaps for the Indian nations it is, but for Black Indians 173 years later, we find ourselves still traveling this journey," Eleanor "Gypsy" Wyatt, chairman of the Freedman Descendents of the Five Civilized Tribes told those gathered at the first annual Enid, Oklahoma, Black Indian pow wow.
She was speaking of the forced march at gunpoint that thousands of Native Americans endured in the 1930s after the United States government decided that they wanted the Indian lands east of the Mississippi.
Ms. Wyatt said her ancestors marched on the trail, and like many Black families, part of their history has been lost. "Though my complexion is of a dark hue, my African brothers don't claim me for my hair is too straight or wavy, my nose is not broad, my lips are not full. My Choctaw and Chickasaw brothers won't claim me, although my features are much like their own. I am a reminder of the inhumane treatment against a people," she said.
In 1929, settlers found gold on the Cherokee lands in northeastern Georgia, and they wanted government officials to remove the Indians off their land. In 1830, Congress passed the Indian Removal Act, which was signed into law by President Andrew Jackson. The act argued that, "no state could achieve proper culture, civilization, and progress, as long as Indians remained within its boundaries." The bill called for the removal of all Indians in the southeastern United States to the territory west of the Mississippi River. In 1838, the first groups started out on their 1,000-mile trek, which became known as the Trail of Tears because of the horrors faced, such as disease, lack of food, water and bad weather.
Indian nations such as the Cherokee, Choctaw, Creek, Kickapoo, Seminole, Wyandotte, Lenapi, Chickasaw and Mohawk had their lands taken away because settlers and corporations wanted more land, according to historians.
The Cherokee arrived on March 24, 1839 in their new land called the Indian Territory, now Oklahoma, a word that means "red people."
Today, organizations, such as the Black Indians United Legal Defense and Education Fund and the Freedman Descendants of the Five Civilized Tribes, argue that the history of Black Indians has been left out deliberately by government agencies such as the Bureau of Indian Affairs (BIA).
"Our current struggles arise from what seems to be a concerted effort by the highest levels of U.S. government agencies responsible for the fiduciary and trustee duties to deny Black Indians their rights under the Treaty of 1866, giving slaves held by the five tribes equal rights, as full members of the tribes.
"I charge the BIA with ethnic cleansing, racial discrimination, ethnically exclusionary procedural systems and breach of contractual obligations," Ms. Molette said. She said the main purpose of the First Annual Black Indian Pow Wow in Enid was to call "members" of the five tribes back home so that they may re-claim the heritage that was lost due to the forced exile. Historians have estimated that at least 18 percent of the Indians that survived the Trail of Tears were Black.
Robert Finley, 62, told The Final Call that he moved back to Enid from California to claim his lost heritage. He said his father Robert Finley, Sr., would sit around the house on the weekends and hold conversations with his uncles in Choctaw. "I would ask them what language they were speaking, and they would tell me that I would pick it up as I got older, but that never happened," Mr. Finley said. He said that his generation was not encouraged to seek information about their Indian heritage. He said the elders felt it was difficult enough being Black, and adding the Indian to it would make life unbearable.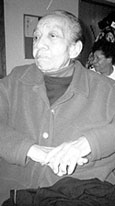 Pearl Mitchell, 86, is the matriarch in Enid's Black Indian enclave. "We never knew much about our Indian heritage," she said, admitting that she learned more about her true heritage at the pow wow than she had over the years. "It is good that the young want to know about their Indian ancestors," Ms. Mitchell added.
James Hakeem Sweeney, his sister Nzingha Beverly Sweeney and Charline Habiba Tramel traveled from Buffalo, New York, to attend the pow wow. "There is a part of my history here that I need to know," Mr. Sweeney said. He said his grandparents came from Oklahoma. Nzingha Sweeney said that she always felt that her grandparents, aunts and uncles were keeping secrets about their Indian heritage. "I remember looking at my grandfather with those cheekbones and high nose, and I would say there is more to where we come from," Ms. Sweeney shared.
"I have been to other pow wows because I am always searching for my Indian history. I have grandchildren and I want them to know where they come from, so they will know where they are going," Ms. Tramel said.
(If you are interested in gaining knowledge of genealogy techniques and family contacts, you may contact Angela Molette at the Southern Heights Heritage Center and Museum, 616 Leona Mitchell Boulevard, Enid, Oklahoma 73701, or call (580) 237-6989.)