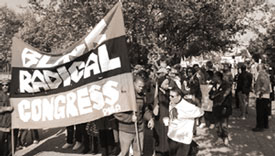 WASHINGTON (FinalCall.com) – It was not a "Black march" which brought as many as 100,000 protest demonstrators from 30 states here Oct. 25. But as the casualties and death toll of U.S. troops and Iraqi people continue to mount daily, Black voices were among those which led the anti-war movement's massive call for peace.
"Well, this is a vindication for me of what Martin Luther King Jr. started 35 years ago," the Rev. Walter Fauntroy told The Final Call at Malcolm X Park during the Black Voices for Peace (BVP) feeder-rally. "I've longed for the day when we would recognize that we needed to be a Black voice for peace."
Led by activist Damu Smith, 5,000 protestors heard from religious leaders, hip hop artists, and from one Democratic presidential candidate about what people in this country must do in order to bring U.S. troops home from Iraq.
"If you really love the troops, you'll bring the troops home and not risk one more day of American and Iraqi lives in Iraq," the Rev. Al Sharpton told the crowd.
"It doesn't matter whether you give (President George W.) Bush $87 billion, or $27 billion," he continued, "he shouldn't get a dime to continue a war that is wrong, that is immoral, that is wicked, and that is set up for business interests! Let's not haggle over how much we're going to give him to be wrong, let's tell him that we need to get this right.
"How are you going to send troops to Baghdad to fight for the right for the people in the capital of Iraq to vote, when you won't give the right for the people in the capital of the United States in Washington, D.C. to vote? How are you going to fight for healthcare in Iraq, and you don't have healthcare in Maryland? How are you going to have free public education in Iraq and you don't have it in Virginia?" he asked.
"We've got to make sure that the kind of things that Rev. Al Sharpton is talking about, are supported at the ballot box here in Washington, D.C.," said BVP founder Mr. Smith. "We've got to make sure that this brother gets the support that he deserves right here in Washington, D.C."
When the BVP joined the main rally at the Washington Monument and then joined the procession around the White House, the marchers took 55 minutes to proceed, marching 20-25 abreast, the width of a four-lane boulevard.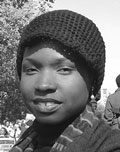 Among the marchers were hundreds of military family members and veterans who protested what one Air Force sergeant, who asked that his name not be used, called an "unjustified war." In addition, another 30,000 people marched in San Francisco, according to published reports.
As they passed an office building just three blocks from the White House, marchers cheered in waves, chanting "Bush lied. Fire him," the words emblazoned on a three-story-long banner unfurled by Code Pink, Women Against the War, from a window on the building's 10th floor.
"I'm here because this war definitely does affect me personally, and it affects all students in D.C. because of the budgets that are being cut," Milani Douglass, a Washington, D.C. schoolteacher and great, great, great granddaughter of abolitionist Frederick Douglass told The Final Call at the rally. "In our school alone, we lost 12 people last year, 12 much needed people. So, I'm here to make sure people are aware of the issues that are at home. Sometimes things that happen in the world do affect us at home."