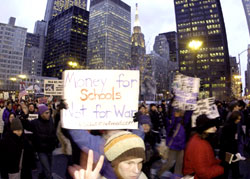 ATLANTA (FinalCall.com)–"This war is really going to be costly to cities that are falling apart at this point. Cities across the country are cutting back on school budgets, fire and police (protection), they are cutting back on libraries and ultimately it is the taxpayers of these cities that are going to have to pay for this."
That statement, made by Greg Speeter, executive director of the National Priorities Project (NPP), sums up a fiscal war that is taking shape in the homeland, even as U.S. troops battle Iraqi forces thousands of miles away.
State governments are hollering for more funds to pay for the federally-mandated security costs for terror alerts–green, yellow, orange, red–and major companies are looking for ways to cut costs, primarily through layoffs and even declaring bankruptcy.
Additionally, workers are crying about the increased costs of medical benefits, prescriptions costs and the slashing of options they have for what they are paying for.
"The reason why 150-plus cities have said we don't want to go to war is because they realized that they can't address the needs here at home," said Mr. Speeter.
But pay for the war, we must. To wit, President Bush on March 25 delivered his proposed $75 billion war budget to Congress: $63 billion for transporting troops to Iraq, fueling ships, aircraft and tanks, and airlifting tons of supplies to the theater of operations; $8 billion to allies in the war–Jordan, Israel, Turkey, Pakistan, Egypt, Afghanistan, the Philippines and Columbia–post-reconstruction of Iraq and humanitarian aid; and $4 billion for homeland security.
"The situation in any war is fluid. I reminded (Congress) of that fact, and so I'm asking Congress for flexibility in how these funds can be allocated. They heard that message. They also heard the message that the need is urgent. The wartime supplemental is directly related to winning this war and to securing the peace that will follow this war. I ask Congress to act quickly and responsibly," Mr. Bush told reporters.
A message for the president
Using a figure of $100 billion, NPP has calculated the cost to taxpayers in each state and selected cities for the war with Iraq before the U.S. fiscal year ends in October. As an example, Mr. Speeter said New Haven, Conn., a city which last November cut 100 employees from its state budget and in March cut 150 more jobs from its Board of Education, is estimated by the NPP to pay at least $36 million for this war.
"What I am concerned about is not just the cost of this war, but the cost of this whole policy of pre-emption," Mr. Speeter said. "I don't think that Iraq is the only country we are going after. We already spend two-and-one-half times on the military than what we spend on education, housing, job training, food and nutrition, and welfare programs combined. So, it is an incredibly expensive war and the Pentagon budget is skyrocketing and will continue to skyrocket through the rest of this decade."
In teacher lounges in practically every high school in America, the discussions eventually turn to the topic of cutbacks in salaries, jobs and loss of benefits.
"Unfortunately, we have a person who is proving himself more of a warmonger than the education person he campaigned as in his run for president," Queens, N.Y., high school chemistry instructor Steve Jackson told The Final Call.
He spoke of the exorbitant costs of war that most Blacks aren't in favor of, "although we do support our troops."
"It is just that with nothing monetarily coming back to the education budget, there will be many children left behind, as well as teachers, after-school programs and schools that will continue to close," he said.
In 2001, President Bush won the passage of his prided No Child Left Behind Act, which promised swift and funded reform of education. The act also guaranteed access of military recruiters to the records of high school students who might be of selective service age.
Dr. William Spriggs, National Urban League director for the Institute for Opportunity and Equality, says the war budget proposal should be of no surprise and that it merely reflects the administration's standard to maintain the wealthy of this nation at the expense of its poor.
Anti-war activists note that while billions are spent on war, more than 30 million people in the United States go hungry daily and homelessness is on the rise. The U.S. Census Bureau reports an estimated 33 million residents live below the poverty line and identifies children, single mothers and the elderly as the most likely to face hunger. U.S. labor statistics show that the poverty rate was 11.7 percent in 2001, up from 11.3 percent the year before, with rates nearly double that among Latinos and Blacks.
"(Pres. Bush) has already proposed to give away to the wealthiest two percent (of the population) a trillion dollars with his proposed budget cuts that the wealthy corporations are getting," Dr. Spriggs said. "We're worried about the $75 billion while he gives away a trillion. He's been criticized about his deficits but he said that he doesn't care about deficits. This means to him that money doesn't matter. It's like seeing a man spend $40 on liquor when his children need new shoes," he said.
Industries suffer
Inside the United States, it appears that no industry has cried the financial blues more since Sept. 11, 2001, than those of aviation, transportation and tourism. Executives at American Airlines, the world's largest carrier, reached a tentative deal with its unions at Final Call press time avoiding bankruptcy and employee walkouts.
"Everybody is on their P's and Q's', petrified about their jobs here," a LaGuardia Airport-based baggage handler told The Final Call, on conditions of anonymity. "We are just hoping this war ends quickly because this is a people business and we depend on them to fly. If they don't, we lose. It's just that simple," the worker lamented.
With the prospect of a prolonged war in Iraq devastating the industry, the company was also in urgent talks with a consortium of banks for fresh financing in case bankruptcy becomes inevitable. There is additional speculation that the Texas-based airline will get some form of bailout from Mr. Bush because of their support of his governorship while in Texas and the fact that the airline bears the country's name.
"We haven't seen a raise across the board in five years," a Delta Airlines ramp worker who identified himself as Hebrew told The Final Call at the Atlanta Hartsfield International Airport. "I mean, to us people of color, this war is unacceptable. They (Whites) built up the conflict and we are paying for it, either by taxes or in layoffs. Now we are next on the war's hit list. We work shorter hours and still have to turn the planes around on time–though they come in late. No salary increase, but cost of living continues to climb. That's dangerous because when people go hungry, they don't want to hear the politics of the ruling party," he said.
Many have already filed bankruptcy in order to salvage their stake in the embattled industry. American posted an industry record of $3.5 billion in losses last year. Delta recently announced a 12 percent cut in its flights and passenger accommodation and US Airways continues to function under strenuous labor agreements with its unions.
Globally, travel and tourism accounts for 195 million of the world's jobs or 7.6 percent of total employment, according to a report published by the New York City-based World Travel and Tourism Council (WTTC).
The airlines comprise 11.2 percent of all the world's exports, 9.6 per cent of all capital investment and 3.9 per cent of all government expenditures, in U.S. dollars totaling more than $900 billion.
As the world's largest economy, the United States will realize massive shock with an estimated loss of 450,000 jobs, and a decrease in their economic value of the travel and tourism industry of 3.7 percent by the close of 2003, the WTTC said.
"In the event this worst case scenario takes place, we will look for immediate and decisive action from governments to protect and secure this vital world industry," said WTTC President Jean-Claude Baumgarten. He called for strong and proactive public-private partnerships to develop emergency contingency plans that would help mitigate the impact of war, ranging from tax breaks to increased levels of investment by governments.
A prolonged war in Iraq would destroy more than three million jobs in the global Travel and Tourism industry and eliminate billions more in economic value in 2003, WTTC concluded.
The Wall Street barometer
When the war began, Wall Street investors initially envisioned a quick victory in Iraq and stocks soared with great anticipation. Now, with images of death and prisoners of war in Iraq, stocks plummeted and home sales have dropped. A devastated market witnessed the Dow Jones plunge 300 points March 24 on speculation of a longer than anticipated war.
"To those members of the public who are financially literate, Wall Street and the Dow can provide indications as to how the U.S. war effort is really going," Cedric Muhammad, publisher of BlackElectorate.com and president of BlackElectorate Communications Inc., told The Final Call.
He said that in some ways, the financial markets have replaced the news media as the most diligent investigators of fact. In 1990, he said, many astute financial observers were able to deduct from a rise in the price of oil that Iraq was going to invade Kuwait two months before it occurred.
In many cases those involved in the stock market have better sources of information than do reporters; and in this war–in a part of the world where oil and multinational corporations have such vested interests–it is possible to learn from an oil executive, construction company or defense contractor what you can't learn from the government or media outlets, he said.
"If the public were informed and educated as it should and could be, the masses could follow the words and actions of traders, speculators and investors and learn much more than they could by simply watching the cable channels or network coverage," he said.
"Some have argued that in order to see how the war is going one only has to watch the stock prices of defense contractors. It is an interesting argument," Mr. Muhammad continued. "For example, the argument is being made on Wall Street that a drawn-out war benefits Raytheon and Lockheed because it would mean that their products–the Tomahawk and Patriot missiles–would be purchased in order to replace the missiles that were used in conflict.
Northrop Grumman and General Dynamics Corp. could receive more business in the event that aircraft carriers, fighter jets and tanks need to be replaced. So the activities of those who place their money into the stock market based upon how these companies may be affected are giving constant indications as to how the conflict is going," he said.
How will Congress respond?
Meanwhile, members of both parties appear eager to support the President's call for funds to troops deployed in Iraq, but many are complaining that he really intends to retain an extraordinary amount of control over most of the funds proposed, limiting congressional oversight.
Mr. Bush, on the other hand, emphasized to U.S. lawmakers that his request couldn't be treated routinely and the budget should not be viewed as an opportunity to add "pork" projects.
But already a lot of recommendations to add to the bill have been received, according to House Appropriations Committee Chairman Bill Young (R-Fla.), one of the bill's leading authors. The congressman and his Senate complement, Republican Ted Stevens of Alaska, both said they will try to keep the proposed price tag close to the administration's figure.
As leaders attempt getting it passed through Congress by the April 11 date requested by Pres. Bush, everyone expects the price tag to rise, even the Congressional Budget Office (CBO).
Last September, the CBO explained that estimates of the total cost of a military conflict with Iraq and its aftermath were highly uncertain and depended on such factors as war strategy, duration of the conflict, number of casualties, equipment lost, and the need for reconstructing Iraq's infrastructure. It now appears that the number of U.S. ground forces ordered to the Persian Gulf area already exceeds the CBO estimates 1.3 Army divisions and one Marine brigade. These estimates are beyond the amounts already budgeted for routine operations, CBO said.