FCNNEWSSOURCE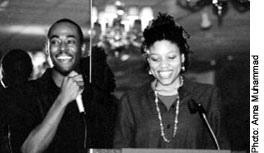 The first celebration of Black Marriage Day was a great success, according to organizers, participants and founder Nisa Islam Muhammad, CEO of the Wedded Bliss Foundation. Plans call for making the observance an annual event.
In over 30 cities, large and small, Black couples, clergy, activists, singles, divorcees and religious leaders devoted time over the March 23 weekend to attend events dedicated to helping people have happy, successful marriages.
"The entire weekend was much more than I ever expected," said Ms. Muhammad, who is also a Final Call staff writer". Cities were creative and showed a dedication to changing the myth that Black people aren't interested in marriage."
Ms. Muhammad credits the Honorable Minister Louis Farrakhan with enlightening her and inspiring her work to promote marriage.
The celebration and analysis of marriage, its benefits, how to maintain it, and how to approach a lifelong partnership stretched from Atlanta to Belleville, Ill., on the outskirts of Chicago.
Pastor Karen Jethroe spearheaded celebrations for Inner Circle Ministries in Belleville. Her program included a skit that dramatized the need to lose emotional baggage from previous relationships before entering marriage.
"All and all, it was good and definitely will be repeated in a bigger and better form next year," predicted Pastor Jethroe.
Motor City enjoys 'Black Marriage Day'
In Detroit, a "Black Marriage Day 2003" weekend seminar was held at the Akwaaba Center and other locations, and a demand for more is already coming from Motor City residents, said organizers.
Minister Dawud Muhammad, of the Nation of Islam's Muhammad Mosque No.1, lectured at the Northwest Activities Center and his pro-marriage message was followed by a mass ceremony for couples to affirm their vows.
"Despite the unfortunate number of divorces and separations that take place, the workshop showed the desire amongst our people to be happily married. They simply lack the tools," said Min. Dawud.
Maria Muhammad led coordination of Detroit's activities and Lawrence A. Muhammad helped work to bring the weekend program together.
Danni Stillwell, who helps people improve and change their lives, said, "To honor the union of Black marriage with a day of sharing and reflection has been a stroke of genius. To be a part of such a celebration has given me new insight into what the union of marriage truly is. It is our responsibility to insure that our people have all of the information and tools needed to lay a strong foundation for our families. This day, this God-given day, is such a tool."
Akua Budu Watkins, an activist and political consultant, argued marital relationships in the Black community need to be celebrated and validated. "We live in a society that is forever focused on what's wrong with marriage. It is time for us to stand up and affirm Black marriage as a foundation of our community," she said.
The idea for Black Marriage Day started last July while Nisa Islam Muhammad was presenting a workshop at the Smart Marriages conference. "Essence magazine was there and heard me talk about the need for a Black Marriage Day to focus our attention on the successes rather than the failures of our marriages," she explained.
Essence then printed two articles on Black Marriage Day, Black Enterprise, an event co-sponsor, did an advertisement and the word spread like wildfire over the internet.
DeLonda Owens-Shumpert organized the event in Milwaukee. Her spiritual home, Balm in Gilead Church for All People, hosted a marriage conference entitled "Woven Lives Together." It included gift baskets full of goodies for all participating couples. Books on marriage, sex, family, and finances were available as well as gift giveways that included an overnight stay at a resort and couples massages.
"We also recognized two couples, a newlywed couple and a couple who were married for over 41 years. Our workshop was wonderful!" said Mrs. Owens-Shumpert. "Our pastors did an awesome job together including the biblical roles of husband and wife, and a Q & A. We ended with renewing our vows and being serenaded in song by one of our brilliant voices in our church. Afterward we were served cake. It was a wonderful day."
'It should be every day'
On the East Coast, Baltimore's People Helping People USA organized a seminar March 22 and had spiritual celebrations at various religious institutions on Sunday, March 23. The organization is planning marriage education classes and a couples retreat later in the year. Angel Muhammad was thrilled after the seminar. "It should be every day. It's not only about married people but applies to everyone," she said.
In Memphis, the celebration was called long overdue, fresh and enlightening. Almost 100 people–married, single and divorced–participated in a weekend conference titled "My Best Friend Next to God: A Marriage Conference."
Sponsored by AS-ONE Marriage Ministries, in conjunction with Muhammad Mosque No. 55, conferees participated in workshops like, "Building Wealth in Marriage," "My Best Friend Next to God: Partnership in Marriage," "Fighting for Your Marriage: Reconciling God's Way," and "Is This the One? The Value of Courtship in Modern Times."
Along with workshops there were plenary sessions on crafting a family mission statement and addressing the different way males and females often perceive emotional needs. As day one came to a close on Saturday evening, participants stood and recited the Black Family Pledge in unison.
Conference co-convener Askia Muhammad of AS-ONE Marriage Ministries remarked, "The institution of marriage is under attack and is not being placed as a priority within the society. The marriage conference helped in waging war against the enemies of marriage and family by placing much needed focus and attention on the base of any family, which is male/female relationships."
A major highlight of the conference came at the Sunday, March 23, closing session. After a insightful address on partnership in marriage, Min. Anthony Muhammad, the Memphis representative of the Nation of Islam, conducted a vows renewal ceremony under the direction of Rev. Sato, local representative of Rev. Sung Myung Moon's Family Federation for World Peace and Unification. Emotions ran high as couples came to the podium after the ceremony to express their renewed commitment to one another and the sacred institution of marriage.
Each family was presented with a "Certificate of a True Family" and a copy of the Million Family March Wedding vows, delivered by Minister Farrakhan during the historic Million Family March in 2000. In Birmingham, Ala., couples testified to the benefits of marriage at the regular Sunday meeting of Muhammad Mosque No. 69.
Elmwood Church in Atlanta marked Black Marriage Day with a Sunday program and the input of its Marriage Enrichment Ministry, said Karen H. Jackson. She was also looking forward to continued Black Marriage Day celebrations.
"I'm starting a revolution for love," said Nisa Islam Muhammad. "I want to change the hearts and minds of our people to reconsider marriage. It benefits the couple and is the best way to raise children.
"We're counting down to next year. We're counting the marriages we save, the divorces we prevent and the children who have the gift of a two-parent family. More and more of us want to be in that number."

(Reported by Final Call staff and Maria Muhammad in Detroit and Donna Muhammad in Memphis.)