JABRIL.MUHAMMAD
[Editor's Note: The following excerpts are from an article that appeared in Volume 16, Number 51 of The Final Call.]
***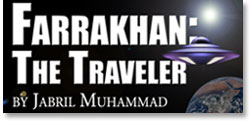 So in the history of the circumstances in the life of Hannah, leading up to the birth of Samuel, we have the essence of an answer to the two questions raised in my last two articles dealing with: what is going on when we are suffering injustice and seemingly have no answer that addresses our appeal from the ultimate source of justice–Allah Himself? The other question involves what is going on when we are praying to Allah for that which we seek and which we have good reasons to believe we should receive and have done all that we know to do to obtain it and much time has passed and we yet do not have it–what is going on?
The other wife, who was blessed with children, unjustifiably mocked and scorned her for something over which she did not have complete control, or no control at all. The text states that the Lord had closed her womb. What does this mean?
It could mean that she did that which activated aspects of the laws of nature over which, of course, Allah has complete mastery, as they are from Him. And, as a natural consequence, she was unable to bear children. On the other hand, this could refer to something God Himself deliberately did that prevented her from being able to bear children. Which was it?
The other wife treated her wickedly. Did God factor in her wicked treatment of Hannah as part of His plan to accomplish something wonderful and beneficial for the people through Hannah's anguish and pain?
Time and again the Honorable Louis Farrakhan, as his teacher before him, sought to get across a great principle of life which is especially important at this time. It involves the principle that more important than what God either does to us or allows to happen to us is what He is doing for us; for our ultimate benefit and of benefit to come to others through us.
We can illustrate this in the lives of both the Honorable Elijah Muhammad and Minister Farrakhan. Both men suffered greatly. The Minister still does. But there can be no doubt that the hand of Allah was, and is, over their suffering, both for their personal benefit and for the benefit of countless others, now and in times to come.
Hannah was dealt with unjustly by the other wife. If God had granted her relief from the injustice, that's all she would have gotten. She would have gotten justice and that would have been that. However, He had in mind something greater than simple justice for her. To accomplish this greater blessing, there was something she had to do in cooperation with Him and His plan. At the base of what she had to do was open her heart up in greater prayer to Him. He required greater inner development of her.
The exercise of her spiritual lungs enabled her to take in ever greater measures of divine inspiration. He wanted her to use the pain she was undergoing at the hands of the other wife as part of her overall motivation to seek means of nearness to Him. The closer she was getting to Him, the closer she was getting to her true self.
He would not relieve her of the pain of her oppression until she was fit to receive what He really intended for her. He was not going to come down to where she was to grant her what He had in mind for her. His desire was that she come up to the proper level He deemed best for His wise purposes. He wanted her to travel the uphill road. He knew this would develop the strength in her required to make the proper use of the blessing He intended to grant her.
Now the text does not show that her prayer to the God was for relief from her oppressor. Her prayer was for a son. Nevertheless, the God would not grant her desire until she had reached a certain level of qualification. When she got to where He wanted her to be, He not only blessed her with this magnificent son, named Samuel, but later blessed her with five other children. In the tenth verse of the first chapter of the first Book of Samuel, we read that she prayed in bitterness. In verse eleven, she finally reached the stage where she made a vow to the Almighty and promised Him what she would do with the child if He would enable her to become pregnant. It wasn't until verse eighteen that she developed, or grew, to the state that she was no longer downcast.
In granting her desire for a son, in Samuel, the Almighty was at the same time accomplishing what He already had in mind, not just for her, but for the nation. What happened to the other woman?
In the Problem Book, we are told that "The average person breathes three cubic feet of air per hour, but the uncle of Mr. W.D. Fard breathes three and seven-tenths of a cubic foot per hour." In number six, we are again told the amount of air the average person breathes per hour. Then, we are told that "the second uncle of Mr. W.D. Fard breathed 4 and 1/2 cubic feet of air per hour." Of the third uncle, we are asked: "How much air did he breathe more than the average man?"
Why are we told this?
***
In 1984, the Honorable Louis Farrakhan prayed for contact with his teacher. In that same year, he and I climbed a certain mountain in Tepoztlan, Mexico. I recalled that, when he got to the top, he had the inspiration to call out in thanksgiving to Allah. I took a picture of him. I intend to publish that picture in the next printing of "Is It Possible That The Honorable Elijah Muhammad Is Still Physically Alive???"
In September of the next year, he was granted one of the most powerful spiritual experiences any human being has ever experienced. It was more than a vision.
***
Comment: Minister Farrakhan had to reach a certain level of spiritual development before he was granted this stupendous experience which, among other things, marked him out as one of the greatest spiritual giants we've ever had the privilege of knowing or will know–other than his teacher.
In a speech he delivered June 17, 2002 at Temple Baptist Church in Washington, D.C.,
he stated: "History says that those who are moved by the spirit to go contrary to the flow of traffic toward madness, and who wish to be recorded as a sane voice, though crying in the wilderness for peace, are often reviled and persecuted, maligned and evil spoken of by their contemporaries, who never quite get to know them until after they're gone."
There are wonderful lessons in the life and example of Minister Farrakhan. Let's improve our knowledge and understanding of him and spread them to others–for their sakes and ours.
More, next issue, Allah willing.