FCNNEWSSOURCE
Previous Farrakhan The Traveler Articles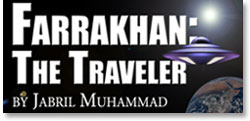 Last issue, I quoted a part of the Honorable Minister Louis Farrakhan's words about his book: "I don't think the book is studied. I don't think it's known."
I responded with: "By the help of Allah, we are going to do something that will help spread this book as fast as we can, in the short time we have left." My response is what every Believer's response would have been if you were in my shoes at that moment.
I'm apologizing for being late in requesting The Final Call to replace the current ad on this page with one advertising "A Torchlight For America".
Be it the Will of Allah, a nationwide sales campaign is underway to market a book written 13 years ago by the Honorable Minister Louis Farrakhan. Its title: A Torchlight For America.
It's more than coincidental that such campaign occurs at this time when the clouds of confusion have reached the intensity that they have reached in the heads of the nations of the earth.
Brother Wahid Muhammad informed me of the good news that last Friday night (July 21) the campaign to market this book was launched in Phoenix, Arizona, under the leadership of Minister Patrick Muhammad. It was announced by an assistant to Min. Patrick on Friday, July 21 and by him on Sunday, July 23. On the 21st, the only two books owned by Muhammad's Mosque No. 32 were sold. On the 23rd, several orders were made.
An order for 100 books was sent to The Final Call. Brother Wahid told me that the Secretary of Muhammad's Mosque No. 32 told him that the Brother taking the order said that No. 32 was the first mosque, which took a large order of this book in a very long time.
I imagine that orders are being taking for this enlightening book from all parts of the Nation of Islam in America. I imagine that meetings have been and are ongoing to develop marketing strategies to move this book where it has not been during its history. I imagine this book appearing in public and private libraries; on the required or suggested reading lists in high schools; community colleges and universities throughout America.
In one dictionary, the word "torchlight" is defined as: "the light from a torch or torches." In this same dictionary, there are three definitions that refer to something physical that emits some form of light. The definition of "torch" that perfectly suits this book, or that best identifies it, is "a source of guidance or enlightenment."
There is a limit to the time that a torchlight provides light and guidance. There was a limit to the trumpeting of God's truths to the Children of Israel, Pharaoh and his people by Moses and Aaron.
It's written in the Book of Amos and elsewhere and in the Holy Qur'an that there is a limit to the time the truths proclaimed by Minister Farrakhan (and his teacher) were to deliver Allah's truths to us–the ex-slaves–and to the slave-masters and their children, as well as others.
It's written in Amos 8:11, 12 that God "will send a famine in the land, not a famine of bread nor a thirst for water, but of hearing the words of the Lord."
"And they shall wander from sea to sea, and from the north even to the east, they shall run to and fro to seek the word of the Lord, and shall not find it."
We must sell/market "A Torchlight For America"–a book that not only represents the thinking of Minister Farrakhan, but his heart, mind, soul and spirit. So we must sell/market this book in a manner that also represents his thinking, heart, mind, soul and spirit.
This takes me to a critical area. In order for us to sell and market his book or message properly, we must Close the Gap.
First, I owe it to the reader to explain why this article does not continue the interview I conducted with the Honorable Minister Louis Farrakhan on July 15, 2006, which appeared in the last issue of The Final Call.
It served its purpose of contributing to a massive nationwide sales campaign of a book written and published 13 years ago by Minister Farrakhan entitled, "A Torchlight For America."
My last four articles were from interviews of Minister Farrakhan for a book entitled, Closing The Gap. This was because I thought that I would write a few articles announcing this book. I thought that I would provide a sampling of what this book would contain of magnificent answers of Minister Farrakhan that would aid the Believers through the increasing darkness, which will soon grow to its greatest intensity.
So I decided to send articles to The Final Call that contained two or three of the interviews of Minister Farrakhan. I thought that a sample of his extraordinary answers to my questions would stimulate deeper or wider interest in this upcoming book than merely a few words from me.
However, Minister Farrakhan presented me with a far better idea. He thought that I should inform the reader of the circumstances under which this book was formed–especially this part that developed during this past June and July.
This made immediate and 100-percent good sense to me. Every book, to one degree or another, carries with it a story or narrative that is unseen or unread by the reader. Every book is conceived and produced in a set of circumstances or context, which may or may not change between the time of its conception and the time it is published.
Although this is not always true, the circumstances under which many books are conceived and go through until they are published are important; others are relatively not important. In this case, it is important for a fuller appreciation of the book, when it is born–be it the Will of Allah.
Here was Minister Farrakhan's idea. He felt that my commentary on the time I spent with him and the book that is coming from this time, my questions and the answers he gave me, should start you to want this book when it is published.
I intend to present what went through my mind when, or as, I formed the questions that I asked him. I asked him questions pertaining to "the dark hour." I owe it to the reader to share why I know that Allah guided me to question him as I did.
I was emotionally moved by his answers. I want to share with you the "why."
Then, the Minister wanted me to hear some of the music that he was working on. They are songs that should drive the word he teaches even deeper into the hearts of those who already have, or will have, the divine word.
Those who hear this music ought to be inspired to want to know much more about Minister Farrakhan, who is so greatly misunderstood–but it is not because he can't be understood. He is misunderstood because he is so totally misrepresented by those who know the value of his message and person, and are frightened by the peoples' hearing that message.
At present, the publishing date may be between August 30 and the middle of September.
More, next issue, Allah willing.